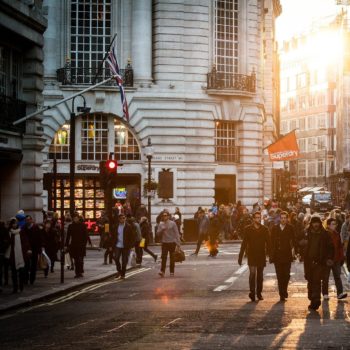 In this exclusive article penned for ExchangeWire, Elodie Lachuer (pictured below), VP global product marketing at S4M, discusses how brand marketers can effectively establish and manage campaigns for increasing store visits.
With Christmas less than a month away, the scramble to buy the perfect gift is on. Last year, the UK was the highest spending market in Europe, with a huge £567 on average per person dedicated to Christmas shopping. This year, a majority of shoppers is expected to spend the same, if not more. And while 17% of those have a £500 budget, another 13% say they're ready to buy if they find the right gift, regardless of price.
To get their bite of the apple, brands are doing their best to attract Christmas shoppers to stores. And today, they do so increasingly through drive-to-store advertising.
This type of advertising includes any campaign with the direct intention of increasing customer traffic to stores. With nearly £6bn forecast for 2023, drive-to-store technology is well on its way to dominating the UK ad market and effectively represents the future of retail. So, it's not surprising advertisers are turning to it to reach their customers.
Because of this massive shift, the need to stand out has become paramount. An easy way to do so is by being the best at running successful drive-to-store campaigns.
Here are a few things brand marketers should keep in mind to create a campaign that will get customers into stores.
Before launching your campaign
First, it is vital to understand incrementality. It's by measuring the number of incremental visits to your stores that you'll know whether your drive-to-store campaign was effective or not. You can do that by excluding all organic visits or those influenced by other media, and only focusing on the additional visits directly generated by your campaign.
That's why having a control group – who doesn't see the ad - and an exposed group – who sees the ad – is necessary. It's only by calculating and comparing each group's visits to your stores that you'll know how well your ad performed. Try to keep in mind the following criteria to ensure valid comparisons: choose similar audiences, build them in real time to avoid seasonal variations and change them along with the targeting criteria.
Once this is done, design smart location targeting strategies. Don't be afraid to rethink proximity targeting. It's not just about radius, but about your customers' travel-time to store and how you can overlay it with data, identifying zones with a strong affinity to your stores. And to boost your strategy and increase your audience reach, target your competitors' own catchment areas, or stores that are complementary to your product.
During your campaign
Simply displaying your ad isn't enough. Your ad should be measured and optimised. This means buying in-app space to get the most accurate GPS location data from your prospects, as well as their device ID. This is crucial for you to measure footfall uplift – the improvement of the visitation rate to your store due to your campaign. But more important still, this means delivering your ad while giving shoppers the best user experience possible. You can do so by using their real time location with Dynamic Creative Optimisation to show them the nearest available store.
Be choosy with your provider and assess their technology. Are they able to deliver the disruptive location strategies you're looking for while using creatives that integrate seamlessly into the user experience? If the answer's not a resounding yes, you're not on the right track.
Always combine machine and human efforts for optimum results. The first will help you optimise and find the combination that works best for your audience by automatically using different targeting, formats, placements and publishers. By using carefully curated creatives, the second will help you drive interactions and give you the best chance to stand out and generate store visits. For this combination to achieve an outstanding business outcome, use a drive-to-store platform that can measure and deliver incremental visits, while optimising your media spend in real time.
After your campaign
Insights are powerful. Surround yourself with world-class drive-to-store partners to get the full insights on your campaign. And don't forget to use them to optimise future activations. A few examples are as follows: How many additional visits to stores were generated by your campaign? Which day of the week or time of the day delivered the greatest number of visits? or the average time it took between ad exposure and visit?
Finally, make sure campaign results are properly vetted, and your tech provider isn't marketing its own homework. It's imperative you go through a trusted independent third-party actor to assess your success metrics. Run your campaigns with platforms that offer you a choice of measurement vendors and have them integrated into their platform for in-flight optimisation, and the highest possible return on ad spend.
With a large majority of advertisers switching to drive-to-store, you must stand out from the crowd. It's not just a question of playing the drive-to-store game, but mastering it. Our guidelines give you actionable steps to follow to improve your performance and ensure your drive-to-store campaigns are the best there is.