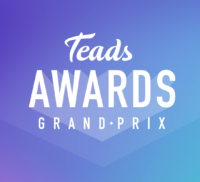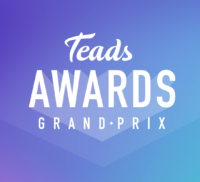 Teads, the Global Media Platform, announced the winners of the first Teads Awards Grand Prix. Judged by a prestigious panel of marketeers, the awards celebrate the best in mobile creativity from around the world. Judges included:
Meredith Herman, VP global marketing services, GSK
Kristen Colonna, VP marketing enablement, Pernod Ricard
Nicolas Comestaz, VP global media, COTY
Kimberley Gardiner, senior vice president marketing, VW of America
Kenneth Wilhelm, director portfolio, Nestlé Purina North America
Justin Baum, creative director at Lenovo
After 6 rounds of awards over the past 12 months, the Grand Prix Awards served to surface the best in class of mobile advertising. The winning creatives were selected from more than 3,000 submissions from 30 markets across US, LATAM, EMEA and APAC, making the Grand Prix  a true celebration of collaboration, creativity and innovation in the digital space.
Awards were split across 3 categories: Best Optimised Display, Best Optimised Video and Best Optimised Campaign through L'Atelier. L'Ateliers are Teads' proprietary creative workshops - bringing brand and agency teams together with Teads Studio's designers, developers and creative strategists in focused sessions. By bringing all key stakeholders into one session, L'Ateliers are a unique, energising, environment where digital assets can be matched against campaign KPIs and created in real-time.
The winners are:
Best Optimised Display
Gold - Pernod Ricard for Campo Viejo
Silver: Ford for 2020 Ford Ranger
Bronze: Samsung for Samsung ZFold
Judge Meredith Herman, VP global marketing services, GSK, said: "This is a fantastic creative, highly impactful and arresting, really bringing the campaign to life. The idea is seamlessly translated into a mobile format. The visual pour of colour literally "lights up summer" stood out as a perfect example of a brand 'show', rather than a, 'tell' execution." Congratulations to Pernod for doing such a good job at adapting the campaign for mobile. They nailed the ability to breakthrough with creativity that delivers a clear and compelling message."
Best Optimised Video
Gold: Nestlé for Purina Cares
Video with Branded Skin & 3D Effect
Silver: GSK for Sensodyne
Bronze: Cartier
Judge Kimberley Gardiner, senior vice president marketing, VW of America said: "Purina did a fantastic job of creating impact and breakthrough here, humanising the content to create real clarity of message.
Through the 3D-like feeling and a fun story, they created a super simple and fun execution that makes feeding a pet very relatable within a dynamic video ad."
Best Optimised Campaign - Delivered through Teads L'Atelier
Gold: Heineken for Strongbow
Video Scroller, and Flow Effect
Silver: Nestlé for Nespresso Ice
3D Cube, Video with 3D Effect & Flow Effect
Bronze: GSK for Otrivin
Videos with 3D Effect and Vertical Video with 3D Effect
Judge Justin Baum, creative director at Lenovo said: "This campaign had very strong branding in the awareness stage and clever use of the perspective with the bottle close-up and the person getting drenched sideways. Using interesting angles created an eye-catching start, then a simple and clear consideration message came to life across the suite of creative. Most importantly, Heineken demonstrated a simple, clear and impactful execution here which is critical for mobile activations. It was the best combination of giving the viewer a visceral feeling (of summer and refreshment) and showing what the product is (with the 'Apple into the glass') in a visually interesting way. The overall Strongbow atelier is really powerful, all units play with the intrinsic apple flavour and refreshing nature of the drink, really brilliant."
For further information about the awards, including the full shortlist and links to all the creatives can be found here.
All winners, full video : https://vimeo.com/568451188/0fc3c5965d
Best Optimised Display winners: https://vimeo.com/568428439/9fa5e31c62
Best Optimised Video winners: https://vimeo.com/568441584/96b5b61560
Best Optimised Campaign winners: https://vimeo.com/568428476/b5459e34b2