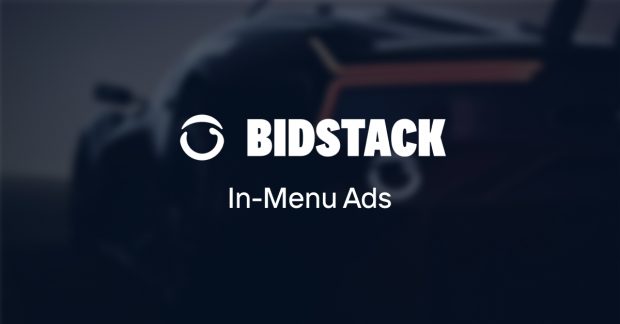 Bidstack is delighted to announce a new ad format and gaming touchpoint for brands with an innovative 'in-menu' offering. The mobile format offers clickable display banners that allow brands to deliver integrated ads into game menus, user interfaces and loading screens.
The ads, which blend seamlessly into the game's UI, can be bought on a programmatic basis and create a highly viewable and interactive touchpoint for brands looking to connect with the gaming audience.
The new units respect the gaming experience by putting players in control of the interaction. The units appear as an in-game banner alongside other menu items and players can click on them to discover more.
For game developers, in-menu ads mean that they can now run integrated campaigns across two touchpoints with Bidstack. The new format opens up an entirely new revenue stream for game developers globally. Bidstack's gaming partners will also be able to monitor ad performance via their analytics and reporting service, AdConsole, which will track impressions, clicks and revenue generation.
A number of publishers within Bidstack's portfolio have already signed up and integrated the in-menu SDK  including Motionlab Interactive. The first campaigns are expected to run in the coming weeks as brands turn their attention towards performance to drive conversion as they move towards the holiday season and into the new year.
Alan l'Anson, head of apps at Motionlab Interactive said, "I am really happy to be adding in-menu ads to complement the in-play ads already provided by Bidstack in our game. The gaming experience is respected with these alternative monetisation solutions and they help to support user retention. The integration process for the in-menu solution was smooth and simple and customer service continues to be exceptional from the Bidstack team."
Of the new format Alan Ngai, vice president of products at Bidstack said, "I'm extremely excited about the launch of the in-menu ad format which the team have been able to develop and launch in line with our product roadmap. The format is highly scalable for both game developers and media buyers, fulfilling the needs of game developers looking to diversify their incremental income and media buyers that are striving to reach gaming audiences through manageable and recognisable ad platforms. There's plenty more to come from our in-menu format and we look forward to bringing more elegant and cutting edge tech solutions to market for our clients."
Antoine Jullemier, head of supply at Bidstack added, "from a publisher perspective, the in-menu format opens up the genre of publishers we can work with given its placement in a game's UI. It reinforces our portfolio with scale and diversifies the audience that can be reached. In-menu is complementary to our in-play ads and provides our publishers with an immersive and sustainable monetisation strategy that combines both brand awareness and performance-based advertising."
Yasin Dabhelia, head of automation said, "I'm delighted to be able to offer our advertising partners in-menu ads, which is our first format available on the open marketplace. This native performance ad format feels natural to gaming environments and upholds the non-intrusive and highly viewable integrity that we strive to achieve with our publishers. It is a scalable product that will broaden and diversify Bidstack's attractive and growing addressable audience."

Bidstack
Bidstack is the leading in-game advertising and video game monetisation platform.
We bridge the gap between the interactive entertainment industries and advertisers by enhancing the gaming experience with immersive advertising.
We unlock gaming...
Powered by PressBox