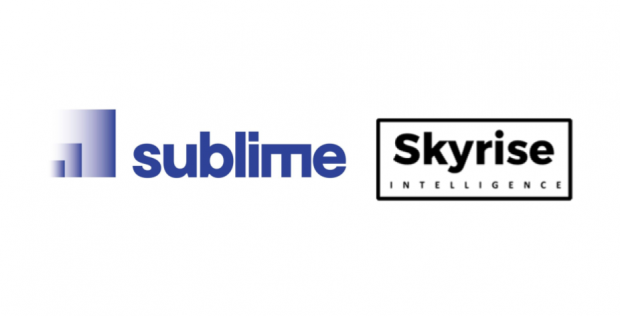 Sublime, which has recently been acquired by the Azerion Group, offers impactful, tailor-made and unobtrusive advertising experiences in the United-Kingdom and abroad, is now using insights from Skyrise Intelligence, enabling businesses to leverage mobile phone data for more effective planning and programmatic activation of high impact campaigns.
Skyrise Intelligence uses anonymised and aggregated data working in exclusive partnership with one of the UK's major network operators, to give an unrivalled view of consumer and market behaviours, based on up to the minute and historical signals across a 20 million strong dataset.
With a uniquely connected view of digital web and app consumption joined to location and movement patterns, Skyrise enables advertisers to target bespoke audiences without any reliance on cookies or other individual identifiers.
The partnership is a first-to-market opportunity for high-impact advertisers to use anonymised, aggregated insights from Skyrise Intelligence which are now available within the Sublime platform in the form of easy-to-activate audience solutions, enhancing Sublime's targeting effectiveness in the UK.
Sublime's creative solutions already enrich brand advertising campaigns with engaging creative placed in high quality environments reaching more than 45 million users each month. The company is now able to offer more effective audience targeting using historic, anonymised and aggregated data from Skyrise Intelligence. The data is turned into insights that can help advertisers look at the past, evaluate the present and predict future market trends.
Speaking about the partnership, Emir Teffaha, Managing Director Northern Europe from Sublime said "Offering effective advertising solutions to marketers is the number one priority for Sublime. By working with Skyrise Intelligence brands and agencies will now benefit from a better understanding of customer behaviour with unique audience targeting at scale to enhance and improve campaign effectiveness"
Ben Wilkins, director at Skyrise Intelligence said, "the partnership will enable brands and agencies to reach bespoke telco-powered audiences with ease, across the platform. The always-on nature of mobile device data means that it is unrivalled at describing modern consumers. At the same time, as we move towards a privacy-first environment it is important that advertisers prioritise users' privacy. Combining the amazing creative Sublime is renowned for with sophisticated audience targeting is a cookieless solution that will excite advertisers across the UK."

Skyrise Intelligence
Skyrise Intelligence is a next generation media planning tool unlike anything else in market, harnessing the power of mobile phone data. Truly privacy first, with no reliance on cookies, MAIDs or other PII identifiers. We work with the UK's largest t...
Powered by PressBox

Sublime (formerly Sublime Skinz)
Sublime creates and delivers ad experiences that activate, captivate and inspire digital audiences at scale. It offers a high-impact ad solution where market-leading technology is combined with a creative-first approach; Sublime simplifies the delive...
Powered by PressBox