Picnic Partners with Vyde to Create New Conversational Ad Format for BritBox
by ExchangeWire PressBox on 17th Aug 2022 in News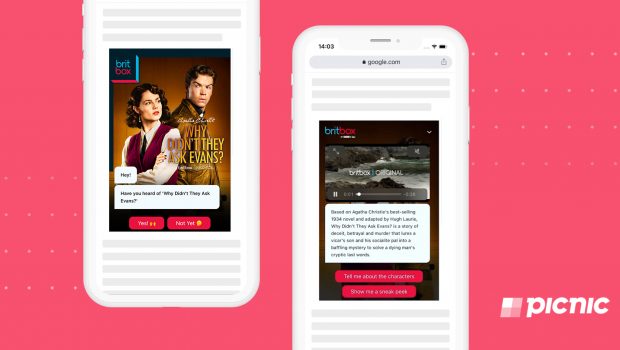 Picnic has partnered with privacy-first conversational technology company, Vyde, to add a brand new ad format to their Social Display offering. Inspired by the popular messaging interaction from social apps, the new format was used for the launch of BritBox series 'Why Didn't They Ask Evans?'

Following the successful launch of new ad format 'Clips' last month, Picnic now brings 'Messenger' to its growing range of Social Display formats. The 320x480 Messenger format drives user engagement by giving users control of their ad experience through an immersive two-way conversation. 
In a pilot campaign with Total Media and BritBox, the format empowered users to be in control and learn about the new 'Why Didn't They Ask Evans?' series by asking questions through a selection of prompts. The user-led sequence repurposed existing brand assets including static images and videos to appear mid-conversation. For example, users could choose to learn more about show characters such as Bobby Jones and Lady Frances Derwent, before being given further options to view 'sneak peek' videos or go to the BritBox site.
Post-campaign data has revealed that the format generated high levels of user engagement, with a long average dwell time of 24.96 seconds and an average engagement rate well above industry benchmark at 0.92% - contributing to the success of the wider campaign. The new format enabled BritBox to drive awareness among the target audience of TV drama fans in a novel way on user-friendly inventory outside the walled gardens of social media.
First aired on April 14th, 'Why Didn't They Ask Evans?' is a three-part adaptation of the iconic 1934 Agatha Christie novel. The crime series stars the familiar faces of Hugh Laurie, Will Poulter, and Lucy Boynton, and is available exclusively on BritBox.
Hannah Moody, account director of Total Media says: "Picnic have been great partners for us as they consistently look to create innovative formats that answer whatever creative challenge we put to them. In this case, they really listened to the show-specific content to create the Messenger format which stood out from the crowd and successfully engaged our target audience to generate demand for this new title."
Aminat Fahm, client strategy executive of Vyde, adds: "Using an open dialogue, the unit empowered users to control their own ad experience, enabling BritBox to build a stronger connection with their audience. Performance smashed our benchmark targets for interaction rate by 270%. We also achieved an attention time of 24.96 seconds! This really highlights the benefit of working with unique partners like Picnic to leverage their unique inventory to power the format. Working with Picnic and Total Media was an easy and rewarding experience. Very proud of the results we were all able to achieve!"
Picnic continues to pave the way for innovative and user-first Social Display solutions inspired by the intuitive elements of social media, and will continue working with Vyde to deliver engaging conversational formats for advertisers.

Picnic
Picnic Media is a leading premium mobile ad formats company, delivering high-impact, social-style ad formats on a unique marketplace of the highest quality mobile inventory. Their intuitively engaging advertising campaigns allow advertisers to increa...
Powered by PressBox
AudienceConversationalSocial DisplayStreaming