Seedtag's Contextual AI Reveals Drivers of Online Interest in International Women's Day
by ExchangeWire PressBox on 8th Mar 2023 in News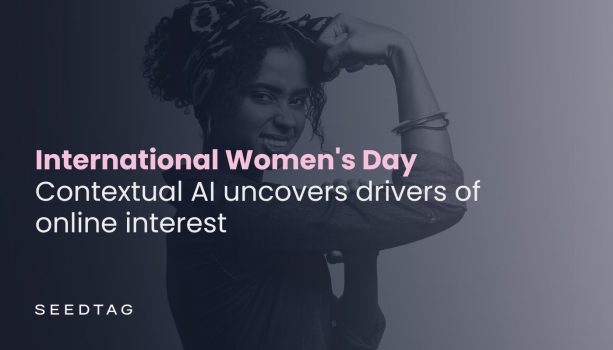 Seedtag, a leading contextual advertising company comprised of 49% female staff, with 48% of management positions being occupied by women, has revealed the key online content drivers for International Women's Day (IWD), using its state-of-the-art contextual AI technology LIZ©.
The key theme of IWD 2023 is "DigitALL: Innovation and technology for gender equality", and using AI-driven contextual analysis to gauge online interest in IWD is one of the many examples of the intersection between technology and gender that is important to Seedtag. From its inception, Seedtag has been dedicated to inclusivity and equality, with key markets led by women, including France, the UAE, Mexico, Brazil, and Colombia.
To understand key drivers of interest in IWD, Seedtag's leading contextual AI LIZ© analysed millions of articles from across Seedtag's global publisher network in the period surrounding IWD. Using natural language processing, LIZ© can determine which terms and topics generate the most interest from site visitors. Its IWD findings* include:
There was strong overlap between "embrace equity" and other topics related to representation: 8% of relevant articles related to this category linked to the fight against racial discrimination, while 7% were related to the LGBTQ+ community
Behind "Embrace Equity", the categories "Transversal Feminism" (6%), "Women's Health" (5%) and "Women in Sport" (3%) generated the most interest
Myah Edelstyn, senior international sales manager at Seedtag said: "As more and more of our work and leisure takes place in the digital world, we need to make sure that women are fairly represented amongst those who build this world, and profit from it. Only 22% of tech roles in Europe are filled by women, with even worse figures at senior levels. At Seedtag, we're proud that half of our workforce is female, 48% in management positions, and women are the senior leaders in many of our key markets.
"We are always striving to improve gender representation, particularly as women advance in their careers, so it's fantastic to see this year's IWD is themed around technology. This gives women across the industry an opportunity to join forces and tackle the barriers to gender equity, and explore the benefits of equal representation."
On 30 March, Seedtag is championing female leaders in the industry by organising a webinar, "Women in AdTech: A Gender-Responsive Approach to Innovation", which will highlight leading women in the sector and the role technology and innovation can play in empowering women and bringing about equality. The webinar will take place at 3:00 pm GMT / 10:00 am EST, and allow panellists to talk about their experiences in the industry, highlight progress towards female representation in tech, and innovative ways to reach DE&I goals.
It will be hosted by Jocelyn Lo, global brand & communications director at Seedtag. Panellists include Michelle Sarpong, head of display, audio & OOH activation at the7stars; Anam Amin, senior digital supply & product manager at Publicis; Alexandra Stewart, director of business development at The Trade Desk; Danielle Darko, EMEA digital director at EssenceMediacom; and Kaily Groover, director of investment & media at VaynerMedia.
Registration for the webinar can be found here.

Seedtag
Seedtag is the leading Contextual Advertising Company that creates highly impactful and engaging solutions for relevant premium visual content, powering targeting and returns for top publishers and the finest brands. The company's contextual A.I. a...
Powered by PressBox
AdvertisingAIContextualWebinar