WIREDEX LISTING
Required fields are marked *.
WHAT IS WIREDEX?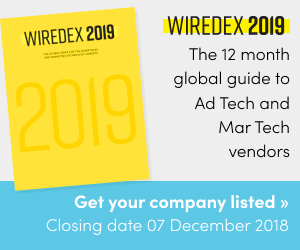 WireDex is your curated guide to 1000s of global ad tech and mar tech companies across 16 key business categories (listed below)
We curate companies from across 4 continents, 35 markets and assign them into categories that are most relevant to your specific business requirements
The guide will be distributed through our 25+ global conferences, industry trade shows and partner organisations
WireDex is also available on request to our 150K online audience of marketers, agencies, vendors and publishers.
We created WireDex as a handy reference for global marketers agencies and publishers
Wiredex is a 12 month guide, and will be updated again in August 2019
WireDex key business categories
Publisher Ad Server
DOOH & OOH
Managed Service Providers
Native
Self-Service DSP
Audio
Measurement, Verification & Attribution
Social
Affiliate Marketing
In-App
Ad Exchange, SSP & Header Bidding Tech
TV
Data Management & Activation (DMP,CDP)
Video
Advertiser Ad Server
Blockchain