Phil Duffield, Managing Director Adap.tv, On Their Commitment To Destroying The Inefficiencies In TV & Video Advertising
by Ciaran O'Kane on 5th Mar 2012 in News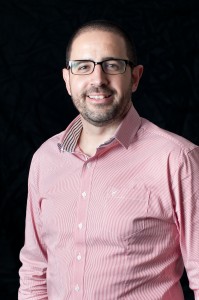 Managing Director of Adap.tv, Phil Duffield, discusses their increasing activity in the Australian, South East Asian and Japanese marketplaces.   He says how the adoption of traditional media buying by today's industry has created silos in TV and video resulting in massive operational costs and time for both buyers and sellers and how 2012 promises to be very exciting with new strategic  products in the pipeline and more global expansion.
Can you give an overview of Adap.tv and its offering within Australia and the wider APAC region? What markets are you active in?
Adap.tv is the leading programmatic platform for buying and selling video and the world's largest video ad marketplace. The Adap.tv Platform offers automated technology for buying and selling video. It's a single platform for all video screens that can be easily configured to meet advertisers and publishers business goals.  The Adap.tv Marketplace is the largest global exchange in volume.  With the option to transact over spot, committed and RTB inventory, buyers and sellers always get total clarity into pricing and inventory. We have just launched a new office in Sydney, Australia and are also active in New Zealand, Singapore, Japan, Hong Kong, Malaysia, Indonesia and Thailand.
How does Adap.tv's differentiate itself from competitors within Australia and the APAC regions?
As a company, we are committed to destroying the inefficiencies in TV and video advertising. Our unique position in the industry and programmatic approach to buying and selling video enables us to address the three most important challenges that advertisers and publishers face in today's market. The first is the fragmentation of audiences. Consumers are no longer just watching traditional television. They are watching video on myriad platforms – Web, mobile, connected and linear TV. Now multiply each of these channels by hundreds of publishers and the challenge to effectively reach an audience is exhausting.
Second, there are operational inefficiencies. In today's video ad landscape, there are multiple ways that video can be bought and sold – spot, committed, RTB – and there are multiple partners to work with. Unfortunately, the adoption of traditional media buying by today's industry has created silos in TV and video. The result is massive operational costs and time for both buyers and sellers.
Finally, there is pricing and performance opaqueness. When it comes to understanding the trade-off between pricing and performance, buyers and sellers are left in the dark.
On a global level can you give a top line overview of online video consumers? Gender? Age? Any insight into the Australian and APAC markets?
According to a recent online consumer report, 70% of Australians now watch video online and spend an average of 5.5 hours each week watching TV shows on the web. What this tells us is that online video has become mainstream and as a result, it's fueling rapid growth in the Australian video advertising market. In 2011, Australia witnessed over a 300% increase in video ad spend from 2010 ($43.7m up from $10.3m in 2010).
Does your Australian and APAC business model differ to the UK and US business models? How does Adap.tv empower both buy and sell sides within the video channel?
Our business model and vision remain consistent worldwide, but our approach to every new market varies depending on the maturity of the industry in that particular territory. One thing that is certain however, is video buyers and sellers face similar business challenges, regardless of country – fragmentation of audiences and the proliferation of viewing devices.
Adap.tv empowers agencies and marketers by providing them with automated tools that enable them to plan, buy and measure campaigns across all devices – Web, mobile, connected and linear TV. These tools need to be flexible so that they meet campaign objectives which can vary from buyer to buyer.
Likewise, we empower publishers by giving them more efficient ways to package and sell their inventory to hundreds of buyers at once. Like buyers, they need tools that are flexible and configure to specific business goals, but that also provides finite control over inventory and pricing.
How much local inventory is available in Australia and the wider APAC region? How big is the demand for local online video? How quickly are publishers growing the inventory pool?
We currently have around 75 million Australian impressions available in the Adap.tv Marketplace on a monthly basis, reaching approximately eight million Australians per month. From a wider APAC perspective we currently have over 500 million impressions per month across the Adap.tv platform.
The demand for local online video is very high, but unfortunately the demand outweighs the supply at this stage. Local publishers are trying to grow their inventory pools but this has to be done very carefully as to not effect the users experience on the site.
Quality local video inventory will be the biggest issue effecting growth of online video spend in AU throughout 2012.
What growth potential does the Australian and APAC region have compared to say US and UK markets? What will be the key growth drivers?
The growth potential in Australia and SEA is huge. We have an audience with a desire to watch a massive amount of video online, which therefore creates fantastic video advertising opportunities across all online and mobile platforms.
You can't really compare Australia to the US or UK as the inventory pools available across these territories are so much higher. This is the exact issue that could stifle growth in Australia and a challenge that we must overcome as an industry. If we want to continue the growth trajectory over the next few years, then access to premium inventory, as well to more automated tools, must increase.
With online budgets increasing, are we seeing budget shifts or overall increased expenditure?
I think overall expenditure is increasing in Australia but we have also seen a big shift in revenue from magazines and newspapers and to some extent TV to help support the growth in online video and mobile.
Does Adap.tv offer real time bidding (RTB) on all video inventory? What formats does your RTB offering support?
We offer programmatic solutions to buyers and sellers so they have the flexibility to buy inventory how they wish. The can trade solely on RTB or they have other options available to them as well, including spot, upfront and IO.
We support all ad formats. In fact, Adap.tv co-founder, Teg Grenager, is leading the video standards committee for the IAB in the United States, most recently working on VAST 3.0; a standard that will undoubtedly shape out industry in the years to come.
How key is transparency within the Adap.tv model?
Transparency is a vital component of Adap.tv's offering and something that separates us from our competition. We have deep-remoteed relationships with over 90% of our publishers who use our technology to run their entire video advertising businesses. It is not simply a tag-based relationship.
Brand safety is also of the utmost importance to use. We have built-in verification technology to ensure that each and every URL is reviewed carefully and we work closely with third-party providers such as Ad Expose and Ad Safe to ensure complete transparency with all our advertisers.
What role does targeting play in Adap.tv's offering? Regional? Local? Re-targeting?
Targeting plays a large strategic role in Adap.tv's offering. Clients have access to standard targeting options such as vertical, age, gender, HH income etc. But where it gets really exciting is the ability to access third-party data from over 30 integrated sources including BlueKai, comScore, eXelate, Quantcast, TRA and Nielsen. Advertisers also have the ability to bring in their own user data to target specific groups they have identified as potential customers.
What's your view on how TV and online video may work together in the future? Will one cannibalise the other or will they be complimentary?
Our view is that TV and Video advertising complement one another.
It's important to acknowledge that TV is not going anywhere fast. Viewership remains high, providing unsurpassed reach that's hard to replicate in any other channel. It continues to represent the lion's share of spend for big brand advertisers and is usually the first line item on a media flow chart.
That being said, TV consumption is becoming increasingly fragmented – with certain audiences (specifically younger demos) shifting some of their viewing to digital sources such as Web, mobile and connected TV.  In fact, a recent Nielsen report suggests that the heaviest TV viewers are the lightest online video viewers & vice versa. This online video becomes a fantastic complement to TV. It allows advertisers to reach segments of the population that might be under-exposed to the broadcast schedule (e.g light TV viewers).  And it ensures that a brand's message is more evenly distributed across a specific audience versus a typical TV schedule that builds frequency disproportionately against the heaviest broadcast viewers.
Additionally, multiple studies have shown the advantages of cross platform exposure to driving messaging and brand lift.  In other words, when viewers are exposed to a message across both TV and online video, they tend to have better recall and intent scores.  This is another reason why savvy advertisers are increasingly looking at online video as a critical component of the TV mix.
What's next for Adap.tv in the next year? Innovation? New markets?
2012 promises to be a very exciting year for Adap.tv as we not only have some very strategic new products in the pipeline, but we also plan to continue our global expansion.  Specifically, we will continue to be very focused on providing our customers (agencies, publishers, ad nets and agency trading desks) with the most advanced programmatic buying and selling tools that make the video advertising transaction as easy as buying a book on Amazon.
A great example of this innovation is our just announced Upfront Marketplace that brings programmatic buying (automation) to the typical way video advertising is traded via a painfully inefficient paper and phone-based process… the RFP.  Over the next few months, we will be announcing some extremely innovative products that will also make it easier to plan, buy, sell and measure TV and video effectively.  These are just a sampling of how Adap.tv intends to transform the TV and video industry!
Phil Duffield will be speaking at the ExchangeWire Ad Trading Summit (ATS) event in Sydney on March 13.
Learn How Media Buying Is Changing at ATS Sydney March 13 – EarlyBird Tickets Now Available to ATS Sydney March 13
Follow ExchangeWire APAC on @ew_apac
TagsAd FraudAd NetworkAdvertiserAgencyAPACAustraliaDigital MarketingDisplayExchangeMedia SpendProgrammaticPublisherSearchTargetingTradingTrading DeskTransparencyTVVideo