AppNexus To Guarantee 'Fraud-Free' Traffic 
by Ronan Shields on 5th Nov 2014 in News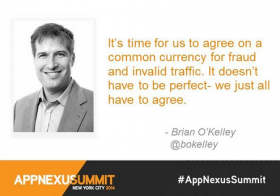 AppNexus today (5 November) announced a tie-up with a host of third parties, including WPP's Xaxis, DoubleVerify, Integral AdScience, to agree a common currency on what constitutes click-fraud, and also announced an initiative where it won't charge advertisers for invalid traffic. 
The announcements were made at the AppNexus Summit in New York, where CEO Brian O'Kelley told attendees the company has partnered with DoubleVerify and Integral AdScience to agree a common definition of what constitutes fraudulent traffic, in response to thigh profile controversies over the issue, both on AppNexus and elsewhere.
O'Kelley vowed to cut-off all sources of such traffic on its exchange, plus not to charge advertisers for traffic that both firms deem to be invalid. Furthermore, AppNexus also announced that Microsoft, PubMatic and Xaxis will also back the initiative. 
"As long as everyone points the finger at everyone else, and doesn't agree on a common currency, then the problem will continue," said O'Kelley.
"I think it's time for us to agree on a common currency for fraud and invalid traffic… It doesn't have to be perfect, we just have to agree. I thought that I'd be the only one up here saying this, but I've spoken to people at Rubicon Project, Pubmatic, Yahoo and Microsoft and they all agree," he added.
The Certified Supply Program will examine inventory supply initially using AppNexus' proprietary technology and ultimately DoubleVerify and Integral Ad Science's independent third-party verification technology.
Inventory that is found to be correctly represented and verifiable, with no non-human traffic, will be denoted with the "Certified Supply" label.
The certified supply programme is currently live, although all parties are tweaking the operation, with the 'no fraud' guarantee not launching until the first quarter of 2015.
In a press release announcing the launch, Larry Allen, Xaxis, SVP, business development, said: "The AppNexus certified supply programme is consistent with our approach – ensuring expanded revenue for publishers and true performance for advertisers."
AppNexus also invited Wenda Harris Millard, MediaLink, president, to speak at the event about her latest initiative with the US chapter of the IAB to a study in fraud and corruption in the ad tech industry, including stackable ads, bot traffic, etc, in an attempt to try and quantify the financial impact of the problem.
"We've been looking at things that devalue digital media, and what's exciting is that we're working with the IAB by commissioning a massive study to try to quantify corruption in the supply chain, from a real number standpoint, so we don't have to continue guessing," she said.
TagsAd FraudAdvertiserMedia SpendProgrammaticTrading