Despite Global Variances in Programmatic, We're All Moving in the Same Direction
by Lindsay Rowntree on 8th Dec 2016 in News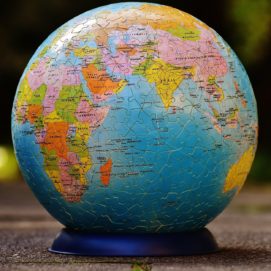 We can all agree the programmatic industry has, and will continue, to move at a rapid pace. In fact, programmatic ad spending is expected to take 63% of the digital display market by the end of this year, according to eMarketer. As Matthieu Betton (pictured below), European commercial director, Sojern, writes, there are very good reasons for this, as algorithms advance and continue to become more accurate, marketers will reap the benefits of sophisticated targeting and increased conversions while maximising their budgets.
This growth is set to continue mirroring the lightning growth of mobile with mobile programmatic ad revenue expected to reach USD$9.3bn (£6.4bn) this year, according to eMarketer. That being said, although as a whole the programmatic industry is indeed growing, there are certainly variances across the globe in terms of education and adoption.
The United States and Europe are, in my opinion, two of the most advanced markets in terms of the adoption of programmatic advertising. Programmatic already accounts for more than half of US digital display ad spend and areas for further adoption include mobile and video, which are growing trends in this region. US and European advertisers are investing heavily in programmatic; and there is a widely acknowledged comfort among buyers and sellers with programmatic technology fueled by its undeniable efficiency, unparalleled ability to pair rich audience data with ad inventory, and its improved audience-targeting capabilities beyond cookie-based devices. Being further down the path of adoption brings with it potential barriers to overcome. US and European advertisers are staying awake at night contemplating potential barriers to adoption such multi device measurement, fraud, and ad blocking.  
The question is not so much whether programmatic is here to stay, but how fast advertisers are making programmatic the key component of their digital strategy. Historically, programmatic has been the home for direct response campaigns because of its advantageous volume/price ratio. Today, the ramifications of programmatic advertising go deeper. Sixty-two percent of UK companies have adopted programmatic for branding — citing increased efficiency and the ability to target the right audience in real time. Just like for search a few years ago, many brands are now considering bringing their programmatic buy in-house. This goes hand-in-hand with a better understanding of their own data and customers, thus giving them the opportunity to truly establish one-to-one communication with their customers, at scale, thanks to programmatic.
Even though we talk about widespread adoption throughout these markets, there are still areas that are lagging, such as Southern Europe, which could be classed as slightly further behind in terms of adoption, compared to the likes of the UK, France, or Germany. Part of the problem is that some of these markets are still dominated by large media owners that fight against the rise of programmatic. By capitalising on their relative dominance in their home market, they limit the inventory available programmatically. It is clear, though, that their relative dominance won't last unless they comply with the new rules of the game: transparency and scalability.
When we turn our attention to APAC, there are clear differences when it comes to the programmatic industry and online advertising as a whole. APAC is a very fragmented region, and there is confusion about how to effectively monitor a campaign, especially a regional one. Marketers in this region are faced with obstacles, due to the vast differences between countries, cultures, and politics making performance tracking across the market challenging. There is still a level of education going on in terms of how to best use programmatic to drive performance. On the face of it, programmatic and the use of data can come across as fairly complicated and daunting to some brands. That being said, adoption of programmatic across the region, particularly Australia, is, without doubt, gaining momentum. Companies are increasing digital headcounts by up to 20 per year, emphasising the strong human element behind this powerful technology. Considering programmatic is still comparatively new to the region, this is extremely encouraging for the future of advertisers, who are increasingly adopting ad tech tools. This region has learned quickly from other markets' success and failures with programmatic, vastly improving marketing efficiency. It is an exciting time for programmatic advertising in APAC; and the next two years will show more evidence of the benefits it can bring to marketers, brands, and providing consumers with a positive online experience.
So, having looked at the regions that are quick to embrace the latest and greatest from ad tech, let's take a moment to address the Middle East & Africa region, that is considered slower to adopt, but has enormous potential. Over the past five years, according to NU-Q Ad Revenues Estimate, the advertising industry in MENA has shown stable growth. From 2010 to 2015, growth was a modest 2% compound annual growth rate (CAGR). The reserved growth is largely due to the sluggish transition from traditional to digital media ad spend. Digital still represents only 10% of ad spend, compared to 30-35% spend on print. Adoption of digital marketing varies widely across the region. For example, Dubai is one of the most modern cities in the world and, as a result, has been quicker to adopt the latest trends in digital marketing, compared to other parts of the region.
Bear in mind that some countries in MEA, including sub-Saharan Africa, are still struggling with online connectivity. Collectively, MENA countries trail other regions in innovation and adoption of new technologies including programmatic buying. I believe that this region shows considerable potential supported by the high levels of digital consumption in the region, a young population, and the fact that MEA is second only to APAC in terms of mobile penetration. Growing mobile broadband and smartphone usage is driving an explosion in data in the region and digital ad spend is increasing at 37% per year, estimating to reach an astounding USD$1b (£791m) in 2017, according to CloudSocius.
Don't dismiss this region. It may be slower to adopt, but we know that once this region makes the informed decision to take advantage of a new technology, it moves quickly and efficiently. The many opportunities of digital advertising are still to be realised in this region and I believe that it's an exciting time for those involved in this industry.
So, what do we know for certain? We know that the clear benefits of programmatic are globally understood, but the adoption rates vary across different regions. We know that we have reached a point where consumers are demanding an unprecedented level of unobtrusive personalisation and now expect brands to approach them with tailored offers at exactly the right point in the purchase funnel across multiple devices. This is a global trend, not a regional trend, which we expect to accelerate over the next year, leading to brands elevating targeting to focus on not just the right time, but actual micro-moments.
We think that 2017 will be the year that header bidding, one of the most technically sophisticated forms of programmatic advertising, is embraced by advertisers and publishers alike. We also know that the days of last-touch attribution are numbered. As an advertiser, it is vitally important to understand the full user journey, from first contact to purchase, and to recognise each channel for its contribution. Sophisticated algorithmic attribution models are being thrown into the spotlight and will be widespread in the coming year. I think most importantly though, despite the varying paces of the ad tech industries across the globe, we can expect that, with the monumental growth of programmatic and huge advancements in ad technology, brands that continue to manually buy ads will fall behind those that champion automation. However quickly we are moving, one thing is for sure: we are all moving in the same direction.