Would Isambard Kingdom Brunel Have Built Programmatic Pipes This Way?
by Lindsay Rowntree on 16th Dec 2016 in News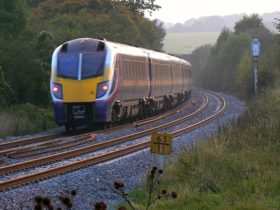 The great Victorian engineer designed much of the UK's underlying connective infrastructure: dockyards, the Great Western Railway, suspension bridges, and innovations like tunnels beneath rivers. It was the GWR, Brunel's greatest achievement, that connected Plymouth to London by rail. But, writes Paul Wright (pictured below), CEO, iotec, we seem to have forgotten that the track also runs in the other direction.
In the modern world of advertising, all roads lead to the capital. Agencies, brands, publishers, and vendors; all the major players are located there. But, in the emerging ecosystem of advertising technology, it doesn't have to be this way. Just as was the case in Brunel's time, London does not have a monopoly on engineering.
In fact, whilst the capital appears to dominate the growing cluster of ad tech businesses, if you look behind the curtain, you will find that many actually carry out development in far-flung places like Ukraine.
There are some good reasons behind this pretence. Whilst vendors' sales and marketing operations need to interface with London-based customers, the people who build the product do not. Just as London property prices challenge businesses, they are also driving many talented developers to stay at home or in the university towns and cities that offer them up in the first place. And some of the best of those towns, cities, and universities are in the South-West of England.
If you haven't been to Bristol, Bath, Plymouth, or Exeter recently, you may not be aware of the new revolution that is taking place. There are now more than 10,900 technology companies across the South-West, employing more than 135,000 people.
The just-released Tech Nation 2016 report from Tech City UK and Nesta cites digital advertising and marketing as being a specialist sector for Bristol and Bath, which also make up the most productive tech cluster in the UK, clocking sales of £296,340 per worker, ahead of London.
Developers there are amongst the most specialised in the UK when it comes to programming language selection, according to the report's analysis of GitHub profiles. It's no wonder companies like Oracle, IBM, Just Eat, Hewlett Packard, and IMDb are located in the region.
And it's easy to see why my company, iotec, is headquartered here. It was founded in Plymouth when three hardcore data scientists from the Exeter-based Met Office began harnessing experimental machine learning technology for something besides weather forecasts. Now iotec is a leader in helping brands and agencies precision-target ads for true customer intent and, though, of course, we are present in London to the fullest extent you would expect, engaging with all our customers and prospects, all technology development is carried out by our 40-strong team at our Plymouth headquarters.
We are not the only ones. Data-driven video advertising intelligence firm Coull also carries out development in Bristol, whilst selling through offices in London and San Francisco. Inventory demand unifying platform Switch does it all from Southampton (okay, that's not technically in the South-West, but you get my point). Bristol's social TV analytics startup SecondSync proved their value when they were acquired by Twitter in 2014.
Why wouldn't any of this be the case? The region has the highest proportion of university-educated workers in the country, and four top universities, relationships with which can catalyse technical development. For example, our team employs several from Plymouth University; and this month we are moving to a new office at Plymouth Science Park, a great facility that houses university spin-outs.
This is how innovation used to be done in the UK, when technologists and researchers mined for gold and found something of clear value to business. By contrast, too often, technologies are developed without first considering their true purpose in the market and whether they're set to fill a gap or void. 
In a world of ad tech that is now rife with vendors with very similar-sounding offerings and the same intrinsic problems, like lack of control and transparency, I think that building our platform far from the madding crowd has allowed us to develop a distinct offering that we could not otherwise have done.
The South-West also offers a more unique quality of work-life balance, giving employees the opportunity to build great products at work, whilst also enjoying the great outdoors. And let's not forget the best surfing beach in the world is based in Newquay!
If you think that innovation only happens in Shoreditch, I would urge you to visit Engine Shed, the historic building at the entrance of Brunel's Bristol Temple Mead station that is home to the Webstart incubator, the Invest Bristol & Bath organisation and to SETSquared, an enterprise partnership with universities in Bath, Bristol, Exeter, and Southampton that has helped early-stage businesses in the region raise more than £100m in early-stage funding. Or go to Plymouth Science Park, where we are moving to, which has a whole host of innovative businesses, including green-tech energy company WITT, local optical filter company Artemis Optical, virtual mobile repair shop iOutlet, among many others.
This is no plucky provincial "we can do digital, too" story. The South-West now has the infrastructure, the support, and the talent to show why it is becoming a bona fide technology region, one that can help take ad tech vendors in a different direction, one with a more global outlook.
Consider that Brunel didn't stop with Plymouth, nor London, nor rail, even proposing to extend the Great Western Railway westward through a network of steamships. He knew that geography is no boundary to progress. I think he'd be pretty proud.