Xaxis COO Damien Healy Discusses Accountability in Marketing & the Future of Data
by Lindsay Rowntree on 2nd Feb 2017 in News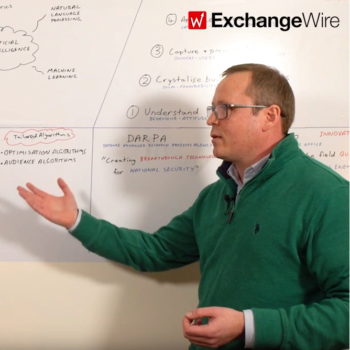 In association with Xaxis
In a special edition of TraderTalk TV, ExchangeWire speak with Damien Healy, COO, Xaxis EMEA about the growth of data and how it's used, the rise of artificial intelligence, and how this impacts the changing role of the marketer.
This episode was filmed in Healy's tech lab, his personal space where, as a self-proclaimed technologist and futurist, he builds drones, experiments with VR, and houses one of the most powerful computers in the country.
Marketers as data curators
The discussion between Healy and ExchangeWire's head of content, Lindsay Rowntree kicked off with Healy detailing the changing role of the marketer. In a world of exponential technology, Healy explained that the marketer needs to be accountable for data curation. In the future, the accountable marketer will have all data ready to transfer to media vendors, like Xaxis, which then makes the media vendors accountable for results delivery for the marketer.
"Most marketers recognise they need to have control of their data", said Healy. "It is fundamental to the marketer being successful in the media landscape." Healy explained how, while important, the data is not the output – it's, ultimately, about the marketers understanding their consumers, which will be borne out of data.
Looking ahead, Healy believes marketers need to decide which partners they will leverage to help them thrive in the more complex programmatic ecosystem. See the full discussion between Healy and Rowntree about the changing role of the marketer below.
Data's evolving role in marketing
In the second part of the TraderTalk TV with Healy, he discussed how machine learning has developed the way data is used and processed.
Healy explained that marketers need to understand what value they're trying to get from their data – data shouldn't be an objective, but should be fundamental to marketer efforts.
The discussion moves onto the trending topic of marketers building their own algorithms, a trend Healy believes there is too much buzz around. Healy explained that vendors, like Xaxis, are taking real-time signals from a marketer and judging how to disperse media in the right way. Using these marketer-tailored algorithms means that advertisers can focus on the fundamentals of creating value through driving attention with the right proposition and pathway to the desired consumer outcome.
Healy talked passionately about AI and how it is controlling much of the world we live in today. Experimenting with AI and machine learning is important for Healy, who uses the example of neural networks and how Xaxis are leveraging these with their Co-Pilot initiative.
The full discussion about the future of data is below.