New CEO for Rubicon Project; Sky Pushes Programmatic Platform
by Sonja Kroll on 17th Mar 2017 in News 0 Comments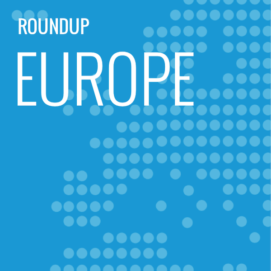 ExchangeWire round up some of the biggest stories in the European digital advertising space. In this week's edition: Addante stepping down as Rubicon's CEO; Sky expand AVx platform; OpenX give more insights into publisher pages; Integrations for The Trade Desk; VertaMedia start in the UK; Mediasmart open Paris office; and Insert integrate with Adobe.
New CEO for Rubicon Project
Rubicon Project have appointed a new CEO. Michael Barrett replaces founder Frank Addante at the helm of the ad tech provider.
Barrett joins Rubicon from Millennial Media, where he was also CEO. Addante is going to concentrate on his role as chairman of the company, focusing on Rubicon's strategy and thought leadership.
"I have been appreciative and proud to serve our team as CEO for the past ten years. I love this company and I'm proud to continue in our mission as chairman and founder", Addante comments on the leadership change.
Barrett hopes to continue the thought leadership of Rubicon Project in the industry. "Rubicon Project have a strong leadership position, a strong balance sheet, and an aggressive and innovative product strategy", he says.
Barrett's appointment as CEO comes after several months of upheaval at Rubicon Project, including lay-offs, the departure of high-ranking managers, and revenue losses. Tuesday's Q4 revenue results were down 23%, compared to last year, with a net loss of USD$18.1m (£14.6m).
Sky AVx expand platforms and inventory
Following a pilot program in collaboration with Omnicom, Sky Media are now ready to start the second test-and-learn phase for their programmatic TV activities. The media giant will expand platforms and inventory of their audio visual exchange Sky AVx, thus putting more emphasis on their programmatic solutions.
AVx will now enable real-time audience buying on Sky's own TV and VoD inventory. Partnering with Videology, the exchange will also provide a DSP which will facilitate the media purchase and allow clients to choose what advert a user sees at that given moment.
"Sky are on a journey to deliver a programmatic solution in the efficient, effective, measurable, and brand-safe environments advertisers demand ", comments Graeme Hutcheson, director of digital and Sky AdSmart of Sky. "These first steps are significant and will allow real-time ad decisions to be made in a live broadcast environment for the first time."
Emphasising the transparency of the transactions, the entire process has been made fully Clearcast-compliant to ensure that the right ads play out at the right time, to the right audiences.
Sky say that more partners will be added to Sky AVx in the future.
OpenX launch Ad Footprint
OpenX want to simplify the performance of desktop and mobile pages for publishers. A Google Chrome plug-in is offered as a free tool to help publishers get a more comprehensive view of the interplay of ad displays and web page performance, as well as consumer experience.
According to OpenX, publishers receive page analyses through the tool, evaluating page loads, comparing and ranking the performance of any given page against other pages, and recommending optimisation measures. Ultimately, the goal is to optimise the user experience in balance with the monetisation needs of the publisher.
"At OpenX, we recognise that a publisher's success relies on their ability to expertly balance user experience and business objectives", explains Caleb Sotelo, staff engineer and director, OpenX Labs. "The tools publishers rely on today only provide insight into one variable of speed, rather than approaching page performance as a multi-variable equation, which is why we built Ad Footprint."
Trade Desk add integrations and inventory
Thanks to a new integration with Ligatus and enhanced cooperation with Sharethrough and TripleLift, The Trade desk expand their native offering with video and additional display inventory. The platform now supports native video ads with up to five minute run time. The native video integration also provides a title, description, and location for the video, as well as relevant messaging in a consumer's content feed.
"Highly targeted video ads in a native environment result in a better experience for the consumer, leading to higher brand recall and engagement", explains Jeff Green, founder and CEO, The Trade Desk. "Our integration with Sharethrough and TripleLift offers advertisers the ability to deploy native video programmatically, incorporating more integrated and captivating content into their overall media plan, through one dashboard."
The integration with Ligatus gives Trade Desk clients access to more than 1,400 publishers.
VertaMedia video monetisation platform expands to UK
A new video monetisation platform enters the UK market. VertaMedia are opening an office in London, led by Iain Kelly as Country Manager UK. The UK will be the starting point for further expansion in European markets after having explored the markets through various partnerships, VertaMedia tell ExchangeWire.
"We've been in partnership with a number of European and UK companies for a good while now; and as we go forward, we see an increased interest in our services, so our expansion is a bid to keep up with the demand", says Alex Bornyakov, CEO and founder, VertaMedia. "We see huge potential in these markets where programmatic video is concerned and, consequently, we are putting a great deal of effort into providing a service that is as efficient as our US operation."
Following a global expansion drive, VertaMedia are planning to fill a number of further country manager roles in the future, covering France, Germany, and Australia.
So which market is next? "We expect to open an office in Germany in the next quarter, and continue our expansion in France in the third quarter of 2017", Bornyakov says.
VertaMedia are headquartered in New York.
mediasmart open in France
And another market entrance: Spanish DSP Mediasmart expand to France and open an office in Paris. Two new hires will look after Mediasmart's French business.
The expansion into the French market follows increased activity on the market for Mediasmart:
"France has been a key market for mediasmart over recent years, and we are looking forward to consolidating our position there with a local office. We aim to reinforce our commitment to the French market and are pleased to rely on the experience and local knowledge of Aniss and François", says Noelia Amoedo, CEO, mediasmart.
This is the third European office for Mediasmart after Madrid and London.
Last year, Mediasmart partnered with Gameloft to make the inventory of the game maker available via Mediasmart's buying platform.
Insert integrate with Adobe
Ahead of Adobe's marketing summit next week, the company announces an integration with Insert. The Israeli in-app marketing platform allows marketers to leverage their existing Adobe audiences, digital assets, and analytics to deliver personalised experiences for app users. Conversely, Insert feeds their in-app data to Adobe's Analytics Dashboard for data insight into the customer journey which can be utilised across all marketing channels.
"This two-way exchange of data and assets puts mobile marketers and customer experience managers on the cutting edge", said Shahar Kaminitz, CEO, Insert. "It brings the personalisation components of Adobe's massive marketing cloud to the world of mobile apps and addresses the dynamic life of app users. Companies can leverage their hard-earned understanding of their customers to target their app users in ways that would otherwise be impossible, and maximise the return on investment in their mobile app."
TagsEMEAProgrammatic