SpotX Forms Consulting Arm; Krush Launches Advertising Solution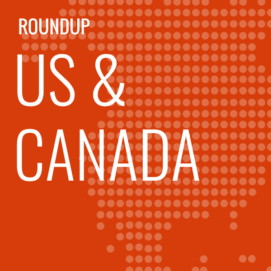 ExchangeWire rounds up some of the biggest stories in the US/Canadian digital advertising space. In this week's edition: SpotX to guide video advertising strategies; Krush enters the programmatic space; Sizmek introduces frequency capping; Centro rebrands media platform; Accenture acquires Clearhead; and CommuteStream expands in the US.
SpotX forms consulting arm to guide OTT and broadcaster video advertising strategies
SpotX, a video advertising platform out of Denver, CO, is forming a consulting arm called Advanced Solutions Group to help guide advertisers' and media owners' video advertising strategies, especially in emerging areas like OTT.
As the world of linear television and digital video converge, SpotX has formed this group to help broadcasters, TV networks, and others, transform their businesses with technical and operational assistance, including data activation, technical setup, and product development. Allen Klosowski joined SpotX in 2013 to head the mobile and connected-TV initiatives and will be leading the group as VP, advanced solutions group.
Klosowski tells ExchangeWire, "We're seeing large enterprise customers increasingly recognise the need for a modern ad server that includes traditional direct and programmatic in one stack. These customers have unique requirements, and often require consultative assistance to bring this modern approach into their existing business models. Additionally, the brands and agencies that want to move into this space also are bringing enterprise-level requirements around data activation and audience engagement. Our newly launched Advanced Solutions Group is designed to provide a full consultative solution between enterprise advertisers and media owners (providers, telcos and MVPDs) in live and linear OTT, and beyond, where there are converging business models and new business requirements. We're seeing huge growth in live/linear OTT, so a big focus of the ASG is to assist with the technical expertise to help both sides maximise their effectiveness."
SpotX has recently partnered with OTT players Sling TV and Samba TV and works with most advertising OTT service providers in the US.
Krush launches fully managed advertising solution
Krush Media, owner of popular social media apps like ooVoo for millennials, has expanded their digital advertising offering launching an advertising solution to execute ad campaigns that engage and monetise audiences across all screens. The launch of this solution enters Krush into the traditional and programmatic space along side of the already-established Publisher Direct Network and ooVoo Audience Extension solutions.
"Krush Media is focused on helping advertisers deliver highly targeted programmatic ad campaigns that are first-party and data-driven to publishers direct. By working directly with publishers, we're able to maintain high-quality and effective ad inventory for our clients. Our services are based on a three-pronged approach – using data, tech, and direct inventory to help advertisers activate highly successful ad campaigns, and we ensure our publisher clients have the highest yield in monetisation. For the past few years, we've utilised this strategy and approach to media for our popular social app, ooVoo, which is owned and operated by Krush Technologies – the parent company of Krush Media. Today, with the launch of Krush Media, we are excited to offer these services to all publishers and advertisers across digital media space", Jeff Chi, co-founder & COO, Krush, tells ExchangeWire.
Sizmek introduces server-level cross-DSP frequency capping
Sizmek, a creative-optimisation and data-activation platform, has launched cross-DSP frequency capping as a first iteration of their cross-media plan optimisation solution, enabling agencies and advertisers to achieve ideal ad exposure for each user across media plans, with the goal to eliminate wasted ad spend.
Mark Grether, executive chairman, Sizmek tells ExchangeWire: "We're very excited to provide our agency and advertiser clients with a cross-DSP frequency-capping solution, as the tool helps solve one of the most pervasive issues the ad industry faces today: targeting the right consumers, the right amount of times across the entire media plan. The number of tech platforms used to buy media is nearly doubling every year, and advertisers continue to use multiple parties to purchase media. Our solution combats these obstacles by supporting holistic buying decisions across multiple insertion orders that are part of the same media plan. The result is less wasted ad spend and a better customer experience."
Sizmek's frequency-capping solution aims to reduce fragmented media buys and optimise campaigns across multiple IOs and DSPs and give ad buyers tools to manage budgets with engagement data, including flexible viewability measurements, completion of video, and converted users.
See more coverage from ExchangeWire.
Centro rebrands media platform to 'Basis'
Chicago-based Centro, a digital advertising and media management software company, is rebranding their self-service platform to 'Basis'. Basis unifies digital media planning, buying, and optimisation across all programmatic and publisher-direct advertising and integrates programmatic advertising and direct-to-publisher media buying and execution in one platform.
"Basis represents the next phase and evolution of programmatic and automation software in the digital media industry. It is a technology that no other ad tech company or DSP has ever created and we want it to stand on its own in the market. It's the most comprehensive and full-featured media automation and intelligence platform built that brings together disconnected people and systems from ideation through activation through reconciliation", Shawn Riegsecker, CEO, Centro, tells ExchangeWire.
The Basis platform supports display, social, video, and mobile channels, including smartphone and tablet apps, mobile web, and mobile video campaigns, offering programmatic buying, RFP automation, vendor organisation and management, and more.
Accenture acquires Clearhead
Professional services company, Accenture, has acquired Clearhead, an Austin-based digital optimisation company, to strengthen Accenture Interactive's personalisation services. Clearhead helps brands test, redesign, and personalise customer experiences and digital products, boosting Accenture's suite of digital customer transformation services for marketers across the industry.
"Brands are beginning to realise that experimentation is the new normal and has to be core to their culture, capabilities, and operations in order to offer engaging digital experiences", said Jeriad Zoghby, global personalisation lead, Accenture Interactive. "There's tremendous potential in this market, as some clients are looking to increase the tests they run by a factor of ten year-on-year. Brands are recognising that this is the only way to compete with the experiences digital native companies provide. With Clearhead's talent and methodology, we can help brands achieve their ambitious goals."
"Clearhead and Accenture Interactive share the belief that continuous experimentation is key to providing the best digital customer experiences and digital products", said Matty Wishnow, founder and CEO of Clearhead. "We're excited about how Accenture Interactive works with clients, using agile tools in a collaborative environment to give them the ability to become more user-focused and nimble. Together, we will scale our optimisation capabilities and add more value for brands."
CommuteStream expands transit advertising targeting in the US
CommuteStream, a transit-mobile advertising network, has expanded from Chicago, Boston, and Pittsburgh to 11 additional US markets. They work with 84 transit apps in several US cities on campaigns such as Lyft, Coyne College, and Devon Financial services, using predictive analytics and travel pattern data, learning the routines of commuters to help businesses serve them relevant, location-based advertising.
"CommuteStream's growth reflects both the increasing demand for location-based targeting within the marketing space, as well as a growing need for more efficient and less-intrusive advertising in the app space", said Samuel Pro, CEO and co-founder of CommuteStream. "While brands are certainly doing impressive things with location-based tactics, capitalising on the commute can take these efforts to a new level. Data-driven, commute-based targeting can help marketers better engage with riders and is a no-brainer for boosting the performance of transit-based out-of-home advertising."
"Ad-blockers were born out of irrelevant ads displayed in intrusive ways", said Pro. "When people feel the need to block ads, that simply means they are seeing bad advertising. We can do better, and our offerings reflect that. When combining relevant content with a seamless user experience, location-based marketing strategies can prove highly effective in resonating with consumers."