Sizmek Acquires RocketFuel; Rubicon Acquires nToggle
by Diane Harding on 25th Jul 2017 in News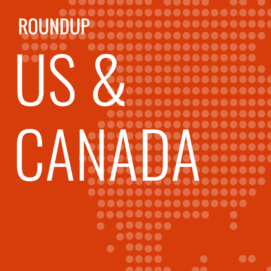 ExchangeWire rounds up some of the biggest stories in the US/Canadian digital advertising space. In this week's edition: Sizmek buys RocketFuel; Rubicon buys nToggle; Cedato launches video tech stack; AerServ launches Cost Per Completed View (CPCV); PebblePost Closes Series B funding; and Zeta acquires Boomtrain.
Sizmek acquires RocketFuel
Sizmek, the Austin-based creative and data platform, has agreed to purchase RocketFuel and their AI-powered marketing platform to the tune of USD$125m (£96.2m), leading to a valuation of RocketFuel at USD$145m (£111.6m).
Mark Grether, executive chairman, Sizmek tells ExchangeWire: "Our goal with this acquisition is to engage consumers across the entire media plan by integrating Rocket Fuel's predictive marketing platform and AI capabilities with Sizmek's creative optimisation capabilities. Through this alignment, we will provide advertisers with the full buy-side stack that they're looking for to optimise campaigns and maximise ROI across the entire customer journey all in real time. We're very excited to help agencies, marketers, and analysts better engage with consumers by informing the creative optimisation and media execution."
Randy Wootton, CEO, Rocket Fuel, said: "By integrating with Sizmek, we're effectively combining the powerful brand-building insights delivered via our Predictive Marketing Platform's Decision Engine, with Sizmek's creative optimisation platform. This union creates one integrated, full-funnel solution to enable agencies and their brands to address key performance objectives across paid, owned, and earned media. This transaction accelerates our global expansion efforts in more than 70 countries, which empowers us to provide agencies and brands with more tools, exceptional service, and support worldwide."
As this transaction is expected to close in the third quarter of 2017, RocketFuel will once again become a privately-held company.
See more coverage from ExchangeWire.
Rubicon Project acquires nToggle
Global exchange, Rubicon Project, has acquired nToggle, a technology company that uses machine learning to streamline bid requests, for USD$38.5m (£29.5m).
With rising infrastructure costs from increased amounts of bid requests received by DSPs, due to header bidding, nToggle's technology will make it easier for DSPs to target their audiences as well as reduce costs from infrastructure constraints by compressing inbound queries per second (QPS) up to 80%. Rubicon is aiming to make this optimisation technology available to buyers in the next few months.
Tom Kershaw, CTO, Rubicon Project, tells ExchangeWire: "The acquisition of nToggle underscores Rubicon Project's commitment to strengthening our exchange with tools and services that make it easy for buyers and sellers to transact based on their evolving needs. In the age of header bidding, programmatic advertising has become extremely difficult for buyers – too many transactions and not enough capacity. Adding nToggle to Rubicon Project's technology platform furthers our ability to help buyers improve the effectiveness of their advertising campaigns by enabling them to find their audiences faster and with less 'noise'. And, for our sellers, we can now do a better job making sure the right impressions reach the right buyers – meaning higher revenues.
"nToggle's machine-learning technology enables our buyer clients to find and win more of the inventory they're looking for by enabling them to filter traffic based on a variety of attributes. This intelligent filtering includes an 'automatic' option, based on our machine-learning technology, as well as buyer self-service to allow them to take control of their traffic exchange with Rubicon Project. In the coming weeks, we will be adding the nToggle systems to our data centres and rolling this out to all of our buyers as a core feature of our exchange."
Cedato launches video tech stack for publishers
Cedato, a programmatic platform for video, has launched a video technology stack for publishers. This technology gives midsized publishers a way to deliver, run, and monetise optimised video across any screen and content, with a self-serve UI, as well as outstream video units and an open API for custom format creation.
"Publishers of every size struggle with programmatic video; but this is especially true for mid-tier publishers that lack the resources and technical expertise to effectively tackle the demands. We built an easy-to-integrate platform specifically with them in mind. Our team has been fine-tuning this video tech stack for over a year, which includes a lightweight cross-screen player, yield optimisation, and ad serving capabilities. As an all-in-one solution, it helps publishers overcome the technology gap and scale much more quickly", Dvir Doron, CMO, Cedato, tells ExchangeWire.
AerServ debuts Cost Per Completed View (CPCV) for mobile video
Irvine-based, AerServ, a mobile video technology company, is launching the ability for programmatic mobile video buyers and sellers to transact on a Cost Per Completed View (CPCV) basis. This new metric will limit low engagement views for in-app advertisers, and now app publishers can be paid only when their video ad units are watched until completion, while demanding higher eCPMs and helping advertisers connect with very engaged audiences.
Andrew Gerhart, COO, AerServ, tells ExchangeWire: "The industry is seeing a strong push towards quality measures of engagement, with brands only wanting to purchase inventory that is verified as viewable, as measured by independent third parties. AerServ wanted to take this to the next logical step by allowing brands to only purchase inventory that is viewed through to completion. For publishers, it allows them to bring brand advertisers into their user-initiated video placements, which typically command high pricing due to the near 100% completion rates and 100% viewability ratings. CPCV get us closer to providing the industry what they are looking for, which is viewers who are paying attention and highly engaged with advertising."
PebblePost Closes Series B Equity and Debt
Programmatic Direct Mail company, PebblePost, has closed a Series B round equity and debt funding, for a total of USD$47m (£36m). The Series B was led by RRE, term loan with Horizon Technology Finance and secured credit facility with Silicon Valley Bank (SVB).
"Our latest round of funding is a testament to both brand and consumers' overwhelming embrace of the new, respectful form of advertising made possible by our Programmatic Direct Mail® platform. Several hundred marketers who are benefitting from it will appreciate how this will fuel our product and the channel's further evolution", Lewis Gersh, CEO, tells ExchangeWire. "PebblePost plans to use the funding to enhance our customer operations, expand our product, and enter new markets, in addition to adding more world-class talent. We've hired a GM for our first international expansion, the details of which will be announced shortly."
Their Programmatic Direct Mail solution connects in-home online activity to in-store activity, delivering tangible media within 12-24 to postal hubs, creating dialog and engagement between consumers and brands.
Zeta Global acquires Boomtrain
New York-based, Zeta Global, a marketing cloud technology company, has acquired Boomtrain, an AI-driven marketing platform, to become the personalisation engine within their digital marketing hub, ZetHub. Integrating Boomtrain's engineering and data science teams will bring Zeta's headcount to over 1,300 employees.
"We are delighted to announce the addition of Boomtrain's world-class team and technology to Zeta Global", said David A. Steinberg, Zeta's co-founder, chairman, and CEO. "My co-founder John Sculley and I believe machine learning will fuel next-generation marketing technology. This acquisition accelerates Zeta's already significant investments and achievements in machine learning to enable the world's leading brands to deliver 1:1 marketing at scale." This is Zeta's 10th acquisition in 10 years, after recently closing a Series F round of financing for USD$140m (£107.4m) in April of 2017.