Sizmek Agrees to Acquire Rocket Fuel; Media iQ Receives Investment
by Sonja Kroll on 21st Jul 2017 in News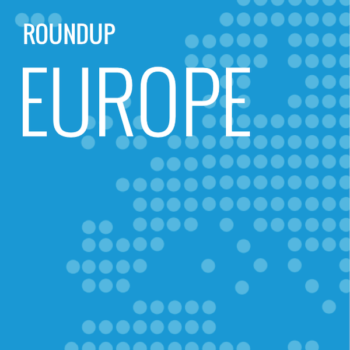 ExchangeWire rounds up some of the biggest stories in the European digital advertising space. In this week's edition: Sizmek-Rocket Fuel deal; Big investment round for Media iQ; Smaato and adsquare partnership; Taptica buys Adinnovation; Publisher optimisation tool launched by IAS; Appnext and Forensiq collaborate; Partnership between Teads and DataXu; and Admedo and Cablato cooperate.
Sizmek buys Rocket Fuel
Literally a big deal: Sizmek is buying Rocket Fuel. The US-ad tech provider has to fork out USD$125m (£96.2m) for the marketing platform, leading to a valuation of Rocket Fuel at USD$145m (£111.6m). While the transaction has not been finalised yet, the acquisition agreement is definitive, Sizmek says.
"The acquisition of Rocket Fuel brings omni-channel creativity and AI-enabled decisioning together under one roof, providing our clients with a self-service predictive marketing platform that optimises campaigns across the entire media plan", explains Mark Grether, executive chairman, Sizmek. He considers the acquisition of the predictive marketing specialist "the next logical step in marketing automation – media optimisation and full creative optimisation combined, bringing together the context and the creative for the optimal consumer experience".
For Rocket Fuel, the integration with Sizmek is a way of expanding within a new organisation: "This union creates one integrated, full-funnel solution to enable agencies and their brands address key performance objectives across paid, owned, and earned media", says Randy Wootton, chief executive officer, Rocket Fuel. According to Wootton, the transaction will accelerate Rocket Fuel's global expansion.
The acquisition is slated to be completed within the third quarter of 2017, the companies have said. Rocket Fuel will transition into a privately-held company.
Media iQ receives investment from ECI Partners
After receiving significant attention from third parties interested in acquisition and investment, analytics provider Media iQ have opted for a substantial investment round from private equity firm ECI partners. For an undisclosed investment in Media iQ, the investment company will receive a minority stake.
Speaking exclusively to ExchangeWire, Media iQ founders Gurman Hundal and Lee Puri reveal that the new capital will be invested in the commercial growth of the company, as well as in product development and in increasing the headcount. Accepting investment from an external partner was a strategic choice in order to keep control of their company.
Besides portfolio diversification, market expansion is at the top of Media iQ's list: "We're looking at the Middle East as a potential region", says Puri, "and a really exciting market for us to be looking at is India." In terms of product development, Media iQ's proprietary analytics platform, AiQ, may be expanded, soon. Says Hundal: "We want to make AiQ much more accessible to our clients, enabling them to leverage the platform to build their own product features. Powering AiQ to the next stage is going to be a big part of our strategy."
Smaato and adsquare partner
Smaato launches its first-ever exchange-side integration by joining forces with DMP adsquare. By combining Smaato's in-app inventory and adsquare's data portfolio, the two partners are hoping to enable their clients to target unique audiences at scale. Additionally, Smaato is providing its publishers with the capability to serve contextual audiences to advertisers in real time.
Speaking to ExchangeWire, Smaato CEO Ragnar Kruse, explains the benefits of the integration: "There is a clear industry trend towards 'audience buying', but this can only be achieved at scale by adding a data exchange on top of an ad exchange, which Smaato and adsquare are pioneering today. The integration of adsquare's rich data into Smaato means that mobile advertisers will finally be able to target one billion mobile users as consumers with unique interests, behaviours, and preferences based on 40+ different data providers through 450+ demand partner platforms. The industry is learning that through mobile in-application advertising it is possible to target consumers with much more accuracy, thereby moving away from pure website buying and selling."
With the initial integration release, Smaato will offer adsquare's pre-built premium audiences for the markets USA, UK, Germany, France, Italy, Spain, Denmark, Sweden, Norway, Finland, Austria, and Switzerland.
Taptica buys Adinnovation
Established in 2010, Adinnovation specialises in smartphone application and mobile advertising marketing promotion, implementation, management, tracking, and media site monetisation. After a previous partnership, the Japanese mobile marketing specialised is now being acquired by Taptica. The acquisition will thus expand Taptica's current presence in the Asia-Pacific region from China and South Korea to Japan.
"Adinnovation has already seen great success in the Japanese mobile marketing space, so it is a great match for us as we look ahead to our company's long-term goals", says Hagai Tal, CEO, Taptica. "At Taptica, we pride ourselves on quality over quantity and Adinnovation was a perfect match for us with their alignment in this practice. Adinnovation's high internal standards and high performance team will benefit Taptica's clients that have come to rely on Taptica to provide quality and consistent results."
With the acquisition, Taptica is gaining a third foothold in Asia, following last year's opening of Taptica's Seoul office. "Japan's advertising industry has been fairly isolated from global collaboration efforts", explains Hiromitsu Ishimori, president and CEO of Adinnovation. "The opportunity to work with Taptica in a larger capacity is a great advantage to strengthening the Japanese market's ability to look outside of Japan, and as Taptica seeks to reach consumers around the world, Adinnovation's expertise and resources will help Taptica further tap into Japan and the Asia-Pacific region as a whole."
Integral Ad Science launches publisher optimisation tool
More control over viewability, ad fraud, and brand safety equal more transparency and better quality – that's the motivation behind Integral Ad Science's new publisher tool. The new optimisation tool promises publishers to automate processes and, thus, avoid impression waste in real time. Additionally, it can customise viewability, brand safety, and invalid traffic goals based on specific advertiser requirements, as well as monitor and prevent fraudulent activity across devices.
"Brands and agencies continue to call upon publishers to respond to challenges in the industry around viewability, brand safety, and fraud", said Dave Marquard, VP of product management at IAS. "With our Publisher Optimisation solution, publishers have the data and tools that were typically made available to advertisers only. This visibility allows publishers to analyse data that eliminates waste for the entire industry."
Based on IAS's proprietary AI technology, the publisher optimisation tool relies on machine learning models and leverages a state-of-the-art technology stack and specialised algorithms to optimise viewability. Sergei Izrailev, SVP of Data Science, IAS, explains the concept:"Because our code runs on a page before an ad is sold, we can send signals about the ads on the page to our AI engine and make accurate predictions in real time."
Appnext collaborates with Forensiq
A new cooperation between mobile discovery platform Appnext and Forensiq is to improve quality and protect advertisers from buying fraudulent mobile inventory. In the battle against ad fraud, Appnext is not only deploying their own anti-fraud team, but is using Forensiq's technology to detect human-like bots and decline fraudulent conversions.
"Appnext has its own tailor-made antifraud system, which differentiates it from other companies active in the ad-tech industry. Forensiq adds an important layer which will further improve our detection capabilities. Appnext is a self-serve platform, allowing every publisher and advertiser to simply log in and start generating campaigns. This has prompted us to design a system that would be able to detect fraud as it happens. It performs checks before serving the ads and validates the source of traffic. It has strict control over the ad placement and continues an ongoing control over the traffic source to cover a vast percentage of the activities", explains Carmel Zimroni, VP product, Appnext.
"Mobile advertisers are well-aware of fraud and the way that fraudsters are becoming more sophisticated. This has led to advertisers wanting to rely upon a credible third-party company, to verify the traffic as fraud-free. Forensiq is helping Appnext improve fraud detection capabilities by decreasing instances of fraud to as low as 1% and provide an important validation to the existing detection process", says VP EMEA Forensiq, Mark Wrighton. "In the current phase, Forensiq technology was implemented in all Appnext serving tools and both of our detection teams are working with the combined solutions."
Forensiq's solution can be cross-checked by clients to combine data for more effective fraud-prevention.
Teads partners with DataXu
A partnership between DataXu and Teads incorporates DataXu as the first DSP in market certified to purchase Teads Studio video units programmatically, allowing DataXu's clients to access video ad formats from Teads.
"By allowing advertisers to buy Teads Studio video units programmatically, we're opening up a new opportunity to incorporate these custom units into a variety of media plans", explains Emi Gal, CEO Teads Studio and Group CMO. "We're excited to partner with DataXu to bring programmatic access to our interactive video inventory to our joint customers."
With the partnership, the two companies are hoping to meet the demand for premium inventory and individually targeted messaging. "The combination of these high-impact creative units from Teads with our programmatic expertise represents our latest value-add", said Rory Edwards, VP of business development, DataXu.
Admedo and Cablato cooperate on enhanced programmatic creative
DSP Admedo is collaborating with the martech provider Cablato in a bid to offer enhanced programmatic creative that activates data with precisely tailored messages. In order to deliver highly effective audience targeting, Admedo is linking up with Cablato's technology which automatically individually customises ad contents in real time to match individual consumers' needs and preferences.
"The market and DSPs in general do not put a strong enough emphasis on quality of creative", says Nick Moutter, co-founder and CEO, Admedo. "With Cablato, we have found that, from product to service, and commercial model, the companies are strongly aligned. We look forward to working with Cablato to continue innovating in the space and rolling their unique solution out to Admedo customers.
Commenting on the new partnership, Cablato CEO Adrian Pearmund said: "We continually look for new ways to use data to increase engagement, make ads more appropriate, memorable and fun, and give consumers the information they need to make better choices. Admedo is fantastic at bespoke audience targeting and we're looking forward to enabling the team to build on already impressive offer through facilitating truly personalised ad content."