How Marketers Can Navigate the World of Advanced Television
by Diane Harding on 2nd Oct 2017 in News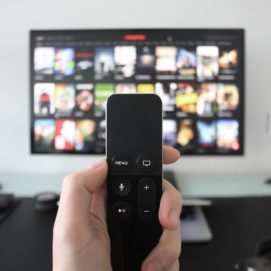 As consumers are watching more and more content across multiple devices, advertisers are trying to figure out the best way to effectively find, and get in front of, valuable audiences with Advanced TV buying. Writing exclusively for ExchangeWire, Jay Prasad (pictured below), chief strategy officer, VideoAmp, talks about the challenges marketers face when it comes to budgets, measurement, data management, and the technology available to support a marketer's Advanced TV buying strategy.
Some would argue that the opportunity to market to a sizable group of like-minded consumers no longer exists. Technology has forever changed our behaviour. Families are no longer routinely gathering in the living room to focus on a single screen to be passively informed, entertained, or persuaded. The fragmented media landscape, coupled with our myriad connected devices, has made it challenging for advertisers to reach a large and relevant audience, let alone make any impact on that audience.
Nowhere is this more apparent than in the advertiser's go-to source for effective reach – the TV and video marketplaces.
While consumers are steadily increasing the percentage of their time spent watching both live and on-demand content, gathering enough reach and frequency to make a difference is akin to pulling together a jigsaw puzzle of devices, vendors, channels, content, and data.
Meanwhile, the marketing and tech worlds are continually innovating better, faster solutions to throw on the 'tech pile' – cobbling together a dizzying array of platforms and point solutions, combined with the traditional, very manual procedures of the upfront and secondary markets – creating blind spots in the fundamental mission of a marketing department: to own, manage, and optimise the customer journey.
Should TV be bought just like digital?
Enter Advanced TV, the full digitisation of the TV/Video transmission and processing infrastructure. This long-awaited innovation has now given consumers power over exactly how, when and what content they watch. Simultaneously, it has given content owners the ability to distribute a single piece of content across all devices with little overhead.
While Advanced TV is now an integral part of the contemporary home, providing marketers with a single marketplace in which to buy and sell viewing audiences across time, place, device, and content owner (that includes more than repackaged remnant digital inventory) is a new and exciting thing.
Big Budgets, Big Measurement & Big Data
Per eMarketer, 'digital' media (mobile, display, social, email, search) today represents a bigger chunk of the overall marketing pie, approximately 38.4% versus TV, which comes in at 35.8%. That gap is anticipated to widen over the next three years with digital growing by a 10 point margin. The key difference between the technology decision-making factors a marketer uses today versus tomorrow lies at the intersection of three interconnected ripple effects of Advanced TV.
Data-driven media doubles: When the total percentage of the budget that is bought through a data-driven marketplace doubles to near 75% of the total marketing spend, the amount of scrutiny into any gaps in the 'tech pile' will skyrocket.
The quantity of relevant data triples: After scrutiny increases and that much activity is being monitored, increasingly huge amounts of relevant behavioural data will be infused into the process from all parts of the customer journey.
ROI accuracy increases: Today, most TV and video is labeled effective or not effective based on simple delivery metrics. As in, did the intended audience have a high probability of seeing the ad? If the answer is yes, then job well done. Once the previous two effects are on the rise, the existing measures of delivery monitoring will not be considered sufficient to justify the decisions made on media budgets; and a truer ROI based on audience impact will be examined more routinely.
Today's demand-side and buy-side platforms aren't set-up to easily or effectively parse this many sources or this volume of data at the speed needed to help advertisers make quick or automated decisions on their overall video budgets.
Secure, agnostic & explorable
Though data silos, and their hopeful destruction, have been talked about for years, they nonetheless seem to be as indestructible as cockroaches.
As Advanced TV buying becomes more mainstream, more and more data types will become available and relevant for targeting, segmentation, and other insight-recognition tasks. To be as accurate as possible in determining the outcomes for such a large percentage of the overall budget, marketers should ensure that their planning and buying solution for Advanced TV is ready for these challenges.
Short of an embedded artificial intelligence analyser to guide in execution, common capabilities should include:
– Safely sharing sensitive customer information
– Quickly adding new data sets
– Having the flexibility to mix and match these assets
These capabilities give marketers the ability to view the predicted outcomes of using various data sources and/or types, and better anticipate the overall effect on their planning decisions. Systems that can't meet these needs seem to take forever to onboard new data or require 24 hours to run queries simply are not sophisticated enough to handle Advanced TV.
A platform to access the whole video marketplace
The beautiful thing about Advanced TV is that, as long as video content exists around which one can place advertising, then that media can be bought – in a single transaction – across spot, national, OTT, remnant, upfronts, scatter, and digital. It is all consolidated into a single 'total video' market.
As of today, content owners haven't completely wrapped their heads around this concept. But as each day passes, the market moves closer. According to eMarketer, in 2016 the media purchased via the data-driven TV market was about USD$3bn (£2.24bn), or roughly 4% of the total spend on TV in the US. However, in just three years, that number is expected to skyrocket 1,250% to represent about 50% of the market in 2020; and that is a conservative estimate.
These numbers change dramatically when you look at how much of the market is heavily influenced by programmatic data analysis. While accessing the total video market to directly purchase inventory is not yet available, any decent Advanced TV platform should be able to aid in optimally matching ad space (bought via upfronts and other laggard areas) to easily buy video across all sales channels, direct, private marketplace, and open auction.
Precision targeting, frequency monitoring, learned optimisation patterns, and fraud-free viewability are some of the key components that make it easy to piece together an optimal media path – moving fluidly with the customer journey across TV, OTT, digital devices, and then back to TV, before purchase.
Of course, such a platform should also give content owners visibility into the content and experiences in which marketers and consumers are truly interested. It must deliver real value by matching highly sought-after audiences with the marketing content that will be of interest to them.
For now, marketing organisations will be cautious in selecting technology partners and platforms. More due diligence and more scrutiny will take place more often. Given the budget and impact at stake, a technology solution for marketers to take full advantage of the Advanced TV revolution shouldn't be selected with any less discretion.