10 Years of the iPhone: How Mobile Has Changed the Advertising Game
by Lindsay Rowntree on 4th Oct 2017 in News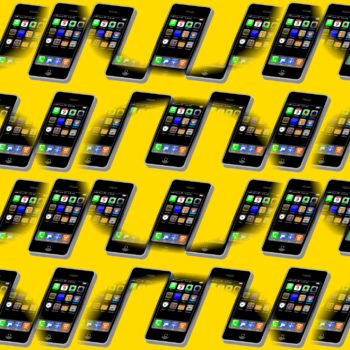 This year the iPhone turns 10 years old, and what a decade it has been. From how consumers use their devices, to how advertisers reach them, the world has turned upside down and there's no turning back. There have been peaks and troughs, successes and challenges, and the next decade looks like it will be nothing if not complex. The mobile advertising industry is booming, but does the future look bright for the iPhone?
It feels like 'The Year of Mobile' has finally been and gone, but it took a long time coming. 2011 was first touted as the year of mobile, from a marketing perspective; and while smartphone ownership and usage shot up, with 1.08 billion smartphones in use and Google's Android OS having experienced an 886% YOY growth, investment from marketers never really followed suit. Only last year (2016), did the industry largely believe that the year of the mobile had finally arrived, after mobile web usage overtook desktop for the first time and, in the UK, mobile accounted for 99% of growth in internet ad spend. It seems, despite the challenges that still exist in the mobile space, advertisers and consumers are finally on the same page.
What took them so long?
Advertisers have been given a bit of a bad rap from the wider advertising industry when it comes to mobile strategy. Mobile is where the consumers are, so why are they not throwing money at it?
Time for a bit of perspective. The first banner ad went live in 1994. A decade later, internet advertising in the US accounted for only 3.6% of total ad spend, yet 67% of all US homes were online, according to DoubleClick's 'The Decade in Online Advertising' report in 2004. Furthermore, display ads only represented 20% of that 3.6% total – approximately USD$1.4bn (£1.08bn), versus double that investment for paid search. Fast forward to 2016, a full 22 years after the first banner ad, digital accounted for 37% of total US ad spend, with display overtaking paid search, making up 48% (USD$34.56bn [£26.64bn]) and 46% (USD$33.28bn [£25.65bn]), respectively. We've come a very long way, but it's taken an incredibly long time to get here.
Back to mobile, and after years of uncertainty in the advertising industry about the viability of mobile as a serious medium, the penny has finally dropped and, as IAB CEO Randall Rothenberg stated in response to the 2016 IAB revenue report: "Mobile fuelled the internet economy in 2016, with advertisers showing their confidence in digital to achieve their marketing goals. This increasing commitment is a reflection of brands' ongoing marketing shift from 'mobile-first' to 'mobile-only' in order to keep pace with today's on-the-go consumers."
What part did the iPhone play?
The iPhone is almost anything but a phone and, most importantly, it's always by our sides. This provides consumer insights on a scale never seen before; and the multidimensionality of mobile makes the linearity of traditional desktop display look basic – it was all so simple then. The iPhone certainly changed that dynamic. As James Shepherd, EMEA commercial director, M&C Saatchi Mobile, explains: "It was Steve Job's vision for the iPhone of integrating the mobile phone with colour touchscreens, full internet browsing, and MP3, that provided the blueprint for the smartphones we use today. Ten years on, mobile is now the default gateway to the internet and provides advertisers with limitless opportunities to engage with consumers in increasingly creative and dynamic ways, both behaviourally and contextually."
iPhone: The new Nokia?
The iPhone deserves to be lauded. Analysts estimated there were over 700 million iPhones in use by the end of last year, which was a 20% increase on 2016.
The iPhone market is still growing and that number could reach one billion by 2020. But iPhone sales are slowing and by June 2018, the same analysts believe 35% of iPhones in use will be two years or older. No iPhone model has received the same level of interest as the iPhone 5, launched in 2012, which sold out 20-times faster than the previous generation. Just months later, following disappointing total sales of the iPhone 5, after a string of problems with the handset came to light, and Apple had to justify that iPhone sales were trailing behind Android in every market except the US.
Before the advent of the smartphone, Nokia was the golden child of the mobile handset market, with its total phone sales peaking at 120 million in 2010. Not long after, the former giant began to encounter problems, when the technological development of its Symbian platform was being overtaken by stiff competition. In 2011, it announced a partnership with Microsoft, to focus on the Windows Mobile operating system on Nokia handsets. In 2014, Microsoft ended up buying the manufacturer for USD$7.9bn (£6.1bn), yet ended up writing off the entire acquisition value last year. It all happened so fast and was a sorry sight for the nostalgic generation who grew up in a world where the name Nokia was synonymous with the mobile phone.
It's a stretch to predict the iPhone would go the same way in the near future; and it would take a serious misstep by Apple for that to happen, but there are things to consider. In 2016, Apple saw its first sales decline of the iPhone since 2001, breaking a 15-year streak. The smartphone market is still booming, but with limited technological advancements happening in the telecoms industry versus the smartphone heyday, such as 3G and 4G LTE, there's no real compelling reason to upgrade.
What's more, Android has been actively skimming off iPhone customers, consistently achieving over 50% market share in some of the biggest markets globally. In 2013, Spain almost completely shunned iOS, which had only a 3.2% market share, with the rest of the country opting for Android. Sure, the Android operating system isn't synonymous with one particular handset and Apple definitely has the edge when it comes to smartphone revenue, given that Android OS software is available as an open-source freebie and the Google Nexus doesn't have anywhere near the same scale, but Apple's biggest asset is almost its potential downfall.
In the first quarter of 2017, Android garnered an 87.1% global market share, versus IOS' 13.7%. The US, Japan, and the UK have the biggest iOS market share, but it's a very different picture across the rest of the world, especially in emerging markets, where the hefty iPhone price point renders it nothing more than an aspirational product, if that. India, for example, recorded a 2.33% iOS market share in December 2016, versus Android's 76.85%. India's homegrown smartphone brands, such as Micromax, help to fuel the demand for the Android OS. In Brazil, Latin America's largest mobile internet market, iOS has a 12.91% market share, versus Android's penetration of 82.15%.
With almost all of Apple's eggs placed firmly in one, smartphone-shaped basket, the company needs to fortify its defences, as the competition is coming for it. The future of artificial intelligence, augmented reality, virtual reality, and chatbots is now firmly becoming the present, and the likes of Facebook, Microsoft, Amazon, and even Google (with its revenue still mostly being generated from search advertising), have the flexibility to take advantage and invest in new ways to innovate. They have no loyalty to the smartphone and are all working on products that could potentially render the iPhone screen redundant.
Apple needs to play the balancing act of investing in the next big technology, cautiously, yet at the same time, not move too slowly.
Apple's approach to data
Data privacy is important for Apple. It's not in the practice of transferring user data into the cloud for analysis – the data is kept on the iPhone. Its recently launched speakers, HomePod, only retain speech data for a few months, whereas Amazon's Echo keeps this data forever. The Safari browser has the ability to block ads and Apple also recently announced it would make it more obvious to iPhone users, if apps were using their location in the background, giving them the option to switch it off. All great for data privacy, but not so great for the advertiser.
Apple shut down its own ad platform, iAd last year, signifying a potential win for Google, in that Apple tried and failed to compete on the advertising front. But Apple was never going to be a strong contender here, given the company's fiercer protection of user data, relative to Google's. Advertisers were never particularly keen on the iAd platform anyway. On the one hand, the lack of compatibility with Adobe's Flash caused advertisers unnecessary headaches, but mostly, because advertisers weren't able to access audience demographics and behaviour. This culminated in the release of the Advertising Identifier in iOS 6, which essentially limited advertisers' abilities to track and target iPhone users.
In today's connected world, the data silo can no longer survive, even with the impending GDPR, which will give EU residents more control over how their personal information is collected and used. Connecting the dots may require more work and compliance, but it will still be possible. Apple needs to consider its data future, carefully, to find the right balance between capitalising on future technology and maintaining user right to data privacy.
The future is mobile
Mobile is a booming business. With over 400 companies on the Mobile LUMAscape, a number that has steadily increased since it was first published back in 2011, mobile no longer deserves to be classed as a media channel. It transcends everything – and Apple's iPhone has helped to make that a reality. But the future is 'mobile', not 'iPhone', and it's important that advertisers embrace the distinction. As M&C Saatchi Mobile's James Shepherd reiterates: "Mobile must be the default for all digital planning. And I don't mean mobile as a channel. I mean that all digital touchpoints – display, video, search, social (obviously) – must all be planned mobile-first. Brands that don't put mobile front and centre of their digital marketing strategies will struggle to reach and resonate with their audience."