A Tale of Two Ad Networks: How the Quiet Growth Story of Media iQ Defeated the 'Rocket Fuels'
by Ciaran O'Kane on 20th Oct 2017 in News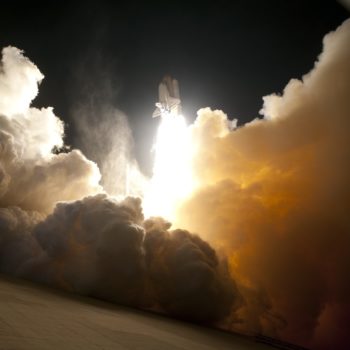 When I met Gurman Hundal seven years ago in a small Soho pub for the first time, he told me he was going to start a programmatic ad network. At first I thought, as a model, it would have no longevity; but anyone who has worked with Gurman knows and respects his deep understanding of advertising technology and what's possible operationally. Media iQ's core offering was going to be about 100% programmatic trading.
The main reason I was so skeptical of the Media iQ offering was their primary customers, namely the agencies. Holding groups had shifted their focus around outsourcing buying to third parties, and were aggressively looking to take ad net margin in-house.
Despite the rise of trading desks, Media iQ prospered. As did another 'programmatic' ad network, Rocket Fuel. The strategy at both companies couldn't have been more different, as they both built-out their business offerings.
The Rocket Fuel way
When former Rocket Fuel CEO George John went on to Mad Money and said they were the next Google, you knew its life as a public company was going to end badly. Its IPO was seen as a success at the time; but then, as a public company, it took its investors on an ugly, loss-making ride.
It was once valued at USD$2bn (£1.52bn) at its height – and was considered a shining light in ad tech. But the project was always doomed to fail. What future does an IO-based ad network have as a public company when its clients want to put it out of business?
Over the course of its history, it raised around USD$83m (£62.9m) in capital to hire and build technology. This capital was used mostly to hire some of the top ad sales talent in New York.
Even that was baffling. Why would an IO-based ad network need to raise so much money? Its tech was a basic bidder optimised to the post view, so that it could claim credit for display's flimsy metrics. The Rocket Fuel business was heavily relationship-dependent. It spent some of this money on hiring expensive ad sales people to secure flimsy IO business. In addition to this, the company also spent significant sums on marketing Rocket Fuel as a tech brand.
Rocket Fuel was a decent business while it stayed private. When it went public, all its financials were laid bare every quarter. Agencies that wanted to cut out the likes of Rocket Fuel from plans picked apart its numbers, and used them internally as a financial case not to use them. Inevitably, with budgets being squeezed, Rocket Fuel tried to go around the agencies and go straight to clients.
This is the ultimate business faux pas in an industry dominated by the holding groups. Once you cross the agencies, you are cut out.
Rocket Fuel's spiral downwards was inevitable. The stock took a hammering. There was a concerted attempt to pivot to an SaaS model. The problem is, when you are an IO-based business, it is almost impossible to switch the business without dumping significant revenue.
The other thing that ultimately killed Rocket Fuel's business was the shift to programmatic buying. The decline of managed-IO buying has been accelerating in the UK and the US over the past 24 months. Unless you have data or supply you simply will not survive. Rocket Fuel, a business built on the IO, didn't have a solution that fitted the realities of digital ad buying.
Rocket Fuel's recent acquisition by PE-backed Sizmek was inevitable. The company, once valued (foolishly) at USD$2bn (£1.52bn) by the public markets, got acquired for a realistic market value of USD$145m (£110m).
This story of Rocket Fuel should serve as a cautionary tale for ad tech hubris and ridiculous expectations. The ad network model is still the greatest monetisation model of all time, but no ad network should ever go public.
Adapting to reality & building a sustainable business
Most DR display plans have both retargeting and prospecting components. Trading desks were, at the beginning of programmatic, taking the easy retargeting money off the table – while prospecting was outsourced to third parties like Media iQ.
This is where Media iQ did very well in the early days. But its executive team realised very quickly that this was always going to be short term and it would not have longevity as holding groups ramped up their operations.
Media iQ could have easily followed the Rocket Fuel model. IOs are easy money, but you are always at the behest of a fickle partner. Agencies rightly understand the importance of trading, and its add-on value to its marketer clients.
Embracing the enabler model
How do you work with agencies that are trying to put you out of business? You need something differentiated. Building tech was not the answer, given how many tech stacks are now on offer. Instead, the company built-out a huge analytics backend to help clients, namely agencies, understand campaign performance to help their own trading solutions.
In effect, Media iQ has become the global white-label solution for programmatic trading. Its growth has also been built on an ability to localise this solution in different markets. Even with programmatic, you need to have a localised solution – otherwise it will not work. Media iQ has built a flexible approach in the geos. Understanding the agency business is important – and that is something at which they excel. They have hired well, and have senior product and strategy people globally that can build bespoke solutions for agency clients.
Can you scale without capital?
I would say it is nearly impossible to build a £100m business in ad tech without getting investment. In ad tech, Media iQ is an anomaly. It managed to build a global provider with billings north of a £100m, without any investment.
Lee Puri and Gurman Hundal have built a profitable model that is set for more growth, as they move their model into the US and APAC. The recent investment by PE firm, ECI Partners, is a testament to this growth story. And a win for European ad tech.
The Media iQ story is also another example of how differentiation can ensure longevity in ad tech. I am a firm believer that consolidation is coming, but there continues to be room for new companies that address real problems.
One ad net's story ended unceremoniously and another one's moved into a new phase, I think the industry should toast the success of ad tech's quiet growth story.