Q3 2017 IPA Bellwether Report Shows Internet Budgets Strong Despite Slow in Main Media Advertising
by Hugh Williams on 23rd Oct 2017 in News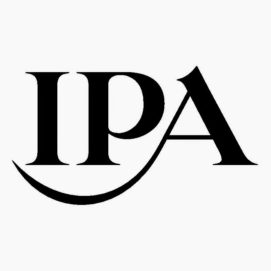 UK marketing budgets are paralysed by wider economic uncertainty, reveals the Q3 2017 IPA Bellwether report, released Wednesday, 18th October. Despite this, internet and mobile budgets are continuing to grow apace.
Report highlights
– Period of continuous marketing budget growth extended to five years, however, uncertainty undermines gains, as nearly 70% of respondents record no change in budgets since Q2
– Internet marketing underpins expansion, but main media stagnates
– Financial prospects continue to underwhelm
– Ad spend forecast to rise by 0.6% in 2017; no growth expected in 2018
Overall, there is a net increase in marketing budgets of 9.9%, with 21% of respondents increasing budgets, and 11% decreasing. This increase is notably down on Q2's 13.1% growth, and the lowest reading since Q1 2016.
Marketers cited the hard-to-quantify impact of Brexit negotiations, and the UK's future departure from the EU, as the primary sources of uncertainty. This was coupled with reports of reduced sales and investment and a desire to keep costs lean.
Subdued ad spend
The Bellwether report shows only a small increase for ad spend in 2017 (0.6%), with no growth forecast in 2018. The lack of growth going forward is largely due to slower economic growth rates (predicted at 1.6%), which underline the weakness in consumer spending. As investment, consumption, and wider growth improve in 2019 and 2020, ad spend is forecast to rise at similarly quicker rates, with predicted increases of 1.8% and 2.3%, respectively, for 2019 and 2020.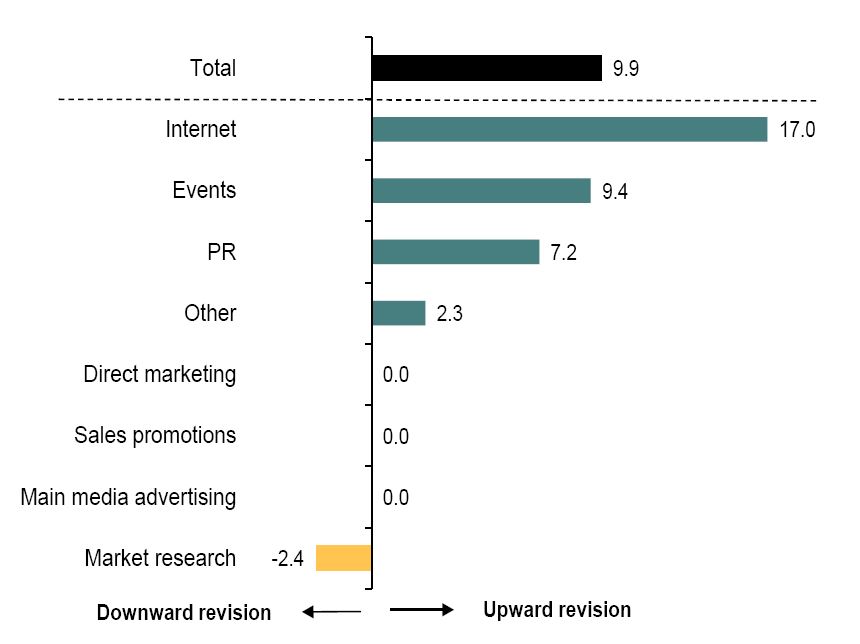 Internet marketing leading the way
Around 23% of the survey panel recorded an upward revision to internet budgets, compared to under 6% that registered a decline. The resulting net balance of +17.0% was down from +22.7% in Q2, but still amongst the strongest recorded by the survey since the onset of the financial crisis in 2008. Internet marketing budgets have now risen continuously for more than eight years.
ExchangeWire spoke to some of the online advertising industry's top thought leaders about what the latest report means:
The consensus was that the uncertainty surrounding the economic climate in the UK is what is causing spend to stagnate, as outlined by Mungo Knott, director of insight and innovation, Primesight, comments: "Unchartered waters create caution and marketers are expressing this in the latest IPA Bellwether Report. The lack of change in marketing budgets across main media channels demonstrates stability; but within this perhaps the perception of the immediacy of ROI from internet advertising is still appearing the safest harbour for marketing investment, with a higher (+17%) net balance change.
"However, the well-publicised current concerns around viewability and tech tax may be taking their toll, as confidence has dropped by 6% from Q2. For brands to continue growing in the long term, they should invest in mass mediums that provide good opportunity for brand building. Despite this quarter's results, we expect out-of-home to attract greater revenue in 2018 as brands will ultimately want to continue improving on trade."
Julia Smith, director of communications, EMEA, Forensiq and Impact Radius agrees: "This latest report highlights that uncertainty in the advertising market is still very much in-line with an unclear political and economic situation. There has been a cooling off in high proportions of budgets being distributed into high-ticket areas. However, it is positive that mobile and internet are still showing strong increases in spend – if slightly more reserved than in previous years. Interestingly, the rise in events and PR highlights a more strategic and content-led approach to marketing. This is probably driven by the complexities of ad tech and martech businesses, which require a more detailed approach to present."
However, Chris Duncan, managing director, Times Newspapers, News UK, feels that despite the uncertainty we face at the moment, the fact that marketing budgets are holding steady is optimistic: "Despite anxieties around Brexit, currency fluctuations, and inflation, it's encouraging to see that marketing continues to be a key driver of business growth, with 89% of marketing budgets being held or grown and only 11% being cut. To an extent, this could be seen as recognition in British business that communicating to your customers about the value of the products and services you provide is not a discretionary spend."
With the results in the IPA Bellwether report, Toby Benjamin, VP platform partnerships, Viant, feels that showcasing robust measurement is more important than ever: "It's been a tumultuous year for marketing budgets, with Brexit uncertainty and squeezes on spending – with a similar outlook predicted for next year. For marketers, this means it's now more important than ever to defend their budgets by proving ROI with robust measurement.
"This means being able to show the impact of digital advertising on sales. More and more advertisers are moving to a people-based approach in order to do this, which relies on first-party data to identify real individuals, serve them relevant ads, and directly measure a campaign's impact on sales, both online and offline. By proving the impact of digital ad spend on sales, and showing its value in the broader marketing mix, marketers can help guard their budgets against continued economic uncertainty in the coming months."
Despite the slowdown in ad spend, Wayne St. Amand, CMO, Visual IQ, feels that this is an unsustainable approach: "A wait-and-see attitude seems to be ruling the day. This approach may feel safer, given the post-Brexit climate, but could be dangerous for marketers over the long term. Show me a marketer in stasis and I'll show you an ineffective marketer. Budgets need to be committed soon or results will ultimately suffer. At the end of the day, results still matter and it takes marketing spend to produce them."
Andrew Morsy, MD UK, Sizmek, says that marketers in the UK are falling behind the ad spend of their US counterparts: "Research we commissioned with Forrester Consulting shows that UK decision-makers are spending less on advertising than their US counterparts, with only 24% allocating £2.5m (USD$3.3bn) plus in 2017, compared to 43% in the US. The fact that the UK falls below the US for ad spend is indicative of the uncertainty among UK marketers around Brexit, which could be undermining marketing gains, especially given nearly 70% of budgets remained stagnant in Q3.
"The positive takeaway from the report is the growth in online advertising, which rose 17% in Q3. The ability of digital and brands to combine creative, data, and media for optimal campaign performance across the entire customer journey makes it a more measurable and attractive prospect for businesses, compared to other marketing functions. Although the forecasts for 2018 are a little on the negative side, companies need to remember that, in times of economic uncertainty, marketing is a fundamental tool in driving brand awareness, loyalty, and ROI, as consumers turn to the brands they know and trust. To weather the storm and come out on top, businesses should be investing in marketing that gets measurable results, not holding back."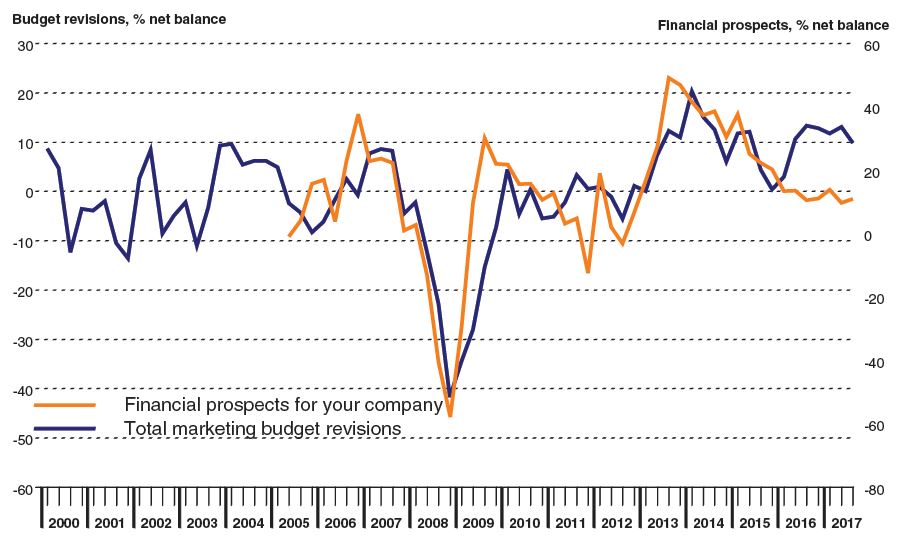 The role of GDPR in stagnating marketing budgets
Although the report points to Brexit as the main reason for stagnating ad spend, the impact of GDPR on these results should not be underestimated, according to Raman Sidhu, VP business development, Beemray: "Whilst it's true that Brexit has had an impact on marketing budgets, what the Bellwether Report doesn't show is the knock-on effect of GDPR.
"The confusion surrounding GDPR has held up a lot of deals, as the marketing purse strings are often now being controlled by businesses' legal teams – negatively impacting advertising confidence, results and, ultimately, marketing budgets.
"The advertising industry isn't historically known for being transparent. GDPR has shaken this up and highlighted that, now more than ever, it's imperative that marketers are open and get their houses in order. As such, GDPR is the catalyst for advertisers and brands to invest in software that brings them closer to the consumer, whilst respecting their privacy.
"Only by being transparent, and by ensuring compliancy from the off, can marketers hope to close deals and shift revenues – and budgets – back into gear."
From an investment point of view, Matt Byrne, UK director, FastPay, highlights that the ad tech space is still considered risky: "whilst adtech firms in particular are enjoying the increase in online and mobile spend due to marketers' reliance on digital marketing, the industry is always subject to change. As the industry is considered increasingly risky from the perspective of investors and traditional lenders, it's important that digital businesses find innovative ways of accessing the right type of finance to safeguard against turbulence in marketing spend, delayed payments from agencies or vendors higher in the payment chain, and the ongoing availability of capital".
An investment, not a cost
Despite the lack of growth, Michael Todd, head of advertising industry relations, Google UK, notes that marketing must be viewed as an investment and not a cost in these times: "The latest IPA Bellwether report paints a picture of a muted industry, with growth down compared to last quarter and uncertainty keeping marketers nervous. Despite this, it is important to remember that the UK, and entire media industry, is built on solid foundations and will be set up for growth as certainty returns in the months and years to come.
"During this period of instability, it's key for brands to see marketing as an investment rather than a cost, and that it can be a way to help garner success in uncertain times. Broader industry success is likely to be further enabled by investment in digital. Online marketing has proven itself indispensable with its excellent cost and return pointed out in the report – and I am confident that mobile will be an ever-more crucial part of this, as consumers' time on mobile increases and brands increasingly identify mobile as the key way to reach consumers, whether for branding or performance campaigns.
"While the somewhat stale growth predictions are, of course, a cause for concern, we are in an unusually volatile climate and we can hope that in years to come the entire industry will be boosted by the ongoing effectiveness and strength of the industry."
Chris Dobson, CEO, The Exchange Lab, echoes this sentiment, saying that at a time when the economy is this uncertain, online marketing offers necessary targeting capabilities: "Although economic instabilities may have dampened overall marketing spend, it's no surprise to see that digital advertising budgets are on an upwards trajectory. There's nothing new in marketers moving ad spend from traditional channels to online, but in this period of uncertainty, the data and insights that digital advertising provides, and which allow for better targeting and optimisation, are crucial. Digital enables brands, where relevant, to respond in real time to issues or crises, which just isn't possible in print or TV. And, crucially, digital ensures, at least where advertising is concerned, that uncertainty is not an issue."
Growth of digital, and especially mobile, is cause for optimism
Every cloud has a silver lining, which for this report comes in the form of greater investment in internet marketing budgets, with the emphasis here on mobile advertising. Jo Sutherland, UK MD, Fetch says: "I'm not surprised to see that digital and mobile investment is increasing. In fact, I'm sure we'll see an ever-bigger swing in this direction over the next couple of years. Mobile is where consumers spend the bulk of their time and money. With half of the UK's internet time being spent on their mobile, mobile search overtaking desktop, and smartphone shopping to account for two-thirds of UK e-commerce by 2020, it makes perfect sense for brands to be investing ad spend towards reaching customers who come attached to their most personal device."
Ruth Zöhrer, head of connections planning, Mindshare UK, points to the measurability of digital media as the reason it is succeeding, while the rest of the industry struggles: "With net income decreasing because of inflation and rising cost of living, consumers are looking to get the best use out of each pound spent. It is unsurprising that marketers are continuing to mimic this behaviour and sustaining investment into short-term, measurable options, like internet marketing, to capture existing demand in the most efficient way.
"However, amidst uncertainty, having the forecast unchanged for a second quarter begs the question as to whether this new normal is here to stay (at least for the foreseeable future): in contrast to last quarter's, we have moved into single digits (from -12.6% in Q2 to -8.2%).  This, coupled with the recent OECD report forecasting 1% growth for the UK even in the "least favourable scenario" (i.e. leaving the EU without a deal in 2019), begs the question as to whether now is the time to buck the trend and begin to invest in long-term, demand-generation marketing to create a competitive advantage into the future."
Will King, commercial director, Voluum, also sees cause for optimism in the report, stating: "The consumer move to mobile continues apace, with 20% of all consumer time now being spent in mobile app environments. Mobile ad budgets follow this trend, with Q3 growth pegged at 5.8%, up from 3.0% in Q2. It's encouraging that the mobile channel remains in a very strong and healthy position, despite such economic turbulence and instability."
Video & SEO also gives cause for hope
Ben Murphy, managing director UK, Quantcast, says: "The growth in digital advertising is excellent news for an industry that is coming through a difficult 2017. The growth in video in particular is proof that digital is continuing to transition its focus away from direct-response towards brand-building.
"The format shift from banner ads to video means that there is a bigger onus on advertisers to produce advertising that resonates, rather than relying on the scattergun approach of the past.
"Brand-building is also a long game and, in order to gain lasting trust, brands need a deep understanding of all facets of their audiences. Up until now, they have been reliant on static, panel-based insights; but as the nature of the industry changes, granular audience data, driven by live insights, will be the key to unlocking this, by making advertising much more relevant for consumers."
With marketers looking for measurable spend, money spent on search is also increasing, as Wulfric Light-Wilkinson, chief commercial officer, Quill, explains: "The latest Bellwether report shows that marketers are continuing to invest in search and SEO, with budgets rising to a seven-and-a-half year high. As most brands now have a sophisticated online presence, and are attempting to out-manoeuvre each other with agile search strategies, it's more vital than ever to spend more on SEO to get the same quality results.
"The increase in search spend is interesting, when compared to slower sales growth in main media advertising, where the budget, according to Bellwether, remains unchanged (down from +9.8% in Q2 2017). Reportedly, a total of 615 million devices are now blocking ads globally, with those not using ad-blockers largely ad-blind anyway. As a result, we're seeing an increased spend in content marketing, and in particular on SEO, to reach consumers tired of being bombarded with ads and instead looking for a more authentic and informative relationship with brands.
"Just like every element of the digital sector, SEO is rapidly changing and, whilst Google is continuing to dominate the area, the rise of voice assistants like Alexa and visual search (like that launched by ASOS earlier this year) is changing the way consumers search for brands and shop. We expect the sector to continue in its growth as marketers aim to stay ahead of the curve and ensure their brands remain searchable via these new technologies."
The importance of people
Joseph Worswick, joint managing director, Media iQ, highlights that the findings could represent an opportunity to make spend more efficient: "It is important that marketers are not pessimistic, despite the fact that marketing budgets have been paralysed due to economic uncertainties. If anything, it presents an opportunity to take more care, and be more precise with spend. In the case of technology, marketers can ensure technological investment works as hard as possible to collect data and generate informative insights, relevant for online and offline media channels. The latter should not be ignored, despite these reports on internet spend being more prominent. Furthermore, at the core of a great marketing team is great talent with a great capability around planning and creating accurate campaigns. Any paralysis in marketing budgets should not supersede the importance of hiring the best people in the industry."