Facebook Revenue Soars Despite Russian Interference
by Hugh Williams on 3rd Nov 2017 in News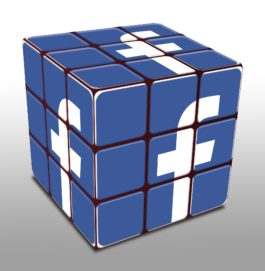 Facebook's revenue has surged to USD$10.3bn (£7.8bn), on the back of 47% growth year-on-year. However, its shares fell, as it announced its 2018 expense forecast.
The higher expenses for the coming year are mostly driven by expenditure on protecting the site from fake news and hate speech, which CEO Mark Zuckerberg says will mean higher costs.
He says: "Our community continues to grow and our business is doing well, but none of that matters if our services are used in ways that don't bring people closer together. We're serious about preventing abuse on our platforms. We're investing so much in security that it will impact our profitability. Protecting our community is more important than maximising our profits."
But those changes haven't hit Facebook's profitability yet, as it climbed 79% year-on-year to USD$4.7bn (£3.6bn).
CFO David Wehner says Facebook will boost its expenses 45% to 60% in 2018 in order to fund security efforts following the Russian intrusion, as well as original video, AI, VR, and AR. Facebook will hire 10,000 people to monitor content and ads, though some will be contractors, and it plans to double its security engineering work force.
Financial highlights
– Daily active users (DAUs) – DAUs were 1.37 billion on average for September 2017, an increase of 16% year-on-year.
– Monthly active users (MAUs) – MAUs were 2.07 billion as of September 30, 2017, an increase of 16% year-on-year.
– Mobile advertising revenue – Mobile advertising revenue represented approximately 88% of advertising revenue for the third quarter of 2017, up from approximately 84% of advertising revenue in the third quarter of 2016.
– Headcount – Headcount was 23,165 as of September 30, 2017, an increase of 47% year-on-year.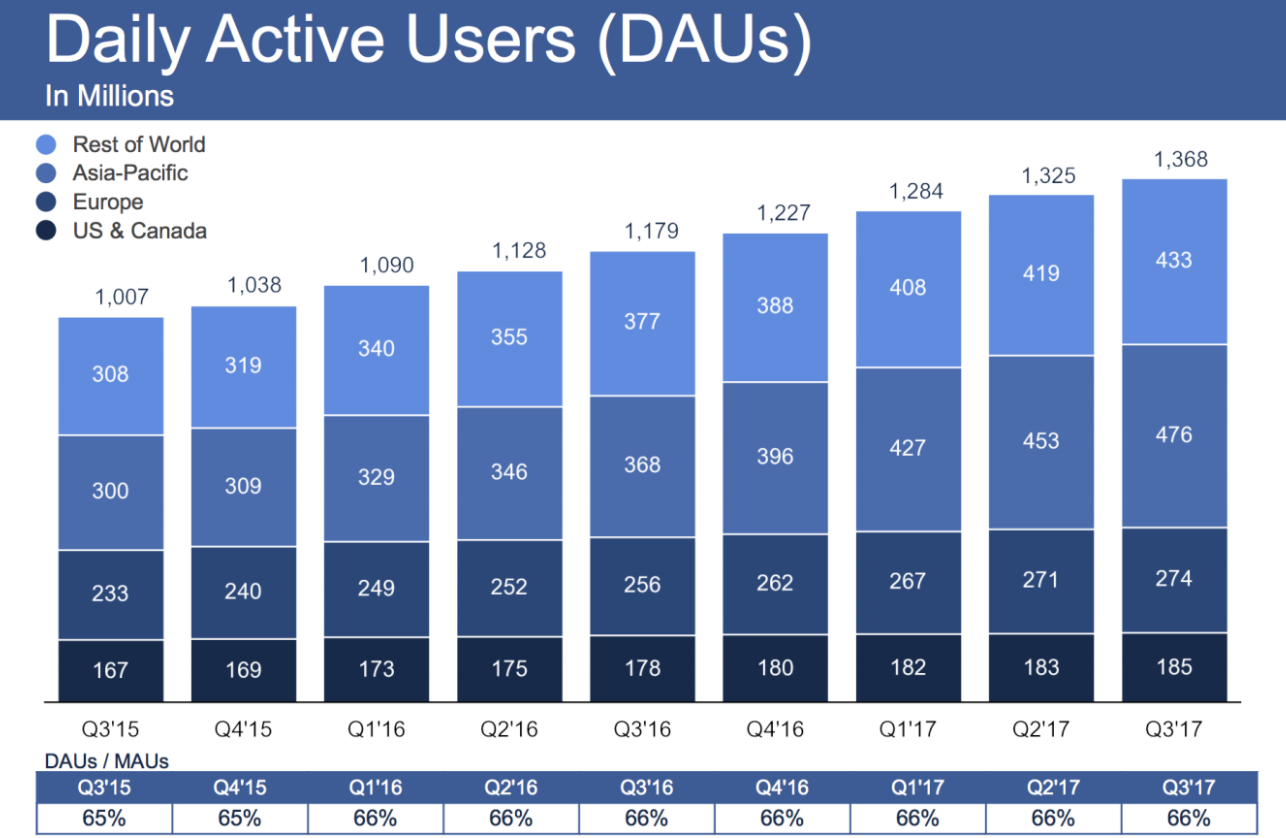 Facebook now has more than six million advertisers, while Facebook-owned Instagram has more than two million. Instagram Stories and WhatsApp Status now both have 300 millions DAUs, up 250 million in June and July. This means that these Snapchat clones are nearly twice as big as the entire Snapchat app, which has 173 millions DAUs.
The latest revenue growth also comes at a time when Facebook has been placed under even more scrutiny than it usually is. Following Russian interference in the US election using Facebook ads, Zuckerberg has supported ad transparency regulation, admitting Facebook could have a better understanding of who is buying their ads.
Facebook also recently caused panic amongst publishers when it ran tests of an updated News Feed which removed all posts from the feed, and relegated them to a different, hidden feed, with publishers having to pay to get back on to the feed. While this is only a test run across six markets, the alarm bells were ringing, with many worried about a wider roll-out.
Mobile as a proportion of overall ad revenue increased slightly, up to 88% from 87%, showing that Facebook has reached a stabalisation point in its shift to mobile. Revenue growth was 47% year-on-year, compared to 59% in Q3 2016, which matches Facebook's warnings that it's running out of space to show ads.