The Collision of Technology & Creativity
by Rebecca Muir on 21st Nov 2017 in News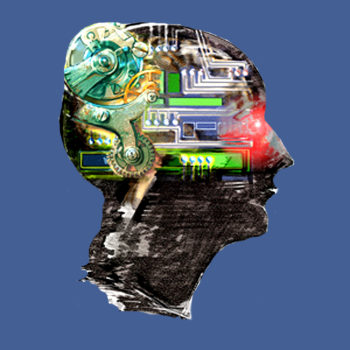 Today, content marketing is a £5bn industry, in the UK alone. The discipline has become increasingly popular over the last five years, inline with the growth of content sharing platforms Facebook, Instagram, Pinterest, and Snapchat. However, the relationship between artificial intelligence (AI) and content marketing is something that has existed under the radar for some time. In this piece, ExchangeWire speaks with Kuba Wieczorek, co-founder, Eve Sleep, and Tom Graham, Codec co-founder and product lead, about the work the two companies have done together to turn around Eve Sleep's content marketing strategy using AI.
Wieczorek (pictured right) spent 17 years working on the creative side of advertising; he doesn't use technical jargon, he doesn't claim to be an expert in digital marketing. However, he has successfully built Eve Sleep from a fledgling disruptive company to a mainstream high street brand in the digital age.
In 2014, traditional mattress companies' adverts were "light on detail, often focussed on the idea of a good night's sleep". When Wieczorek first started sketching ads, his creative vision followed a similar path – he focussed on brand messaging and imagery (see left).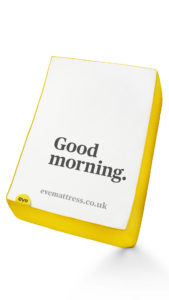 These simple, elegant ads were deployed in online advertising campaigns. Eve Sleep noticed that each digital channel they tried "worked well for three months or so and then performance would start to decline and [they] would kick off a new channel".
This performance-driven approach worked well for a while and, combined with word of mouth, sales figures were growing healthily. However, in order to grow into a mainstream brand that could challenge stalwart brands, Wieczorek knew they had to up their advertising game; and he wanted to start with "insights and the consumer".
Traditional media agencies recommended Eve Sleep invest in traditional media channels – "a bit of press, a bit of radio, test TV, etc." But Wieczorek was convinced that there must be a smart way to use the data they had from their online activity, rather than copy the decades-old strategies that have been used before.
In 2016, Wieczorek met Tom Graham, co-founder of Codec (pictured right) – a platform that accurately predicts what audiences care about through understanding interactions with rich media over time. The insights derived enable better content creation.
The Codec methodology is another example of how artificial intelligence (AI) and machine learning are being used in advertising. Previously, marketers would have relied on social listening software, market research, and creative brainstorms to define their creative strategy. Although these methods can be effective, to a point, they rely on guesswork and pose big risks financially and to a brand's image because they rely on analysis of keywords, not of people's interactions.
"Objective data allows marketers to move beyond a scattergun approach", explains Graham. "Sophisticated creative, made for a specific audience, allows a brand to cut through the reams of content consumed and get a consumer's attention."
To get to this point is hard, though – there is a lot of data that needs to be incorporated into the mix. "All the big data from social (Facebook, Twitter, Instagram), first-party data from brands and publishers, CRM and campaign performance metrics, needs to be crunched and combined with an actual machine learning AI analysis methodology", explains Graham. This is not a case of finding relationships and trends, but analysing images – and what is in those images, the text, the call to action, and other driving forces that led to engagement, or lack of.
For Eve Sleep, this means that they make strategic decisions based on data from very early on in the campaign planning process, not just for optimisation post campaign launch. This allowed them to make the most of small-scale budgets and grow the brand without blowing the budget.
Using data from Eve Sleep's CRM, Codec analysed thousands of Facebook profiles looking at how similar people use social media: what content they engage with and what they actively share to build a picture of the audience.
One of the specific insights they were able to provide Eve Sleep with was that their audience was interested in food, but they were not those who share pictures of food, they share recipes with pictures. This, says Wieczorek: "Made me think differently about our target market – these are people who want information and are not scared to consume more detailed material."
"It was difficult to sell in a very copy-heavy campaign" (see images below), says Wieczorek. "It was so different to anything that had been done before. The Codec report gave me the ammunition to convince our stakeholders. It enabled me to push through the campaign, which ultimately almost doubled revenue and increased prompted brand awareness from 1% to 11% in London in two weeks."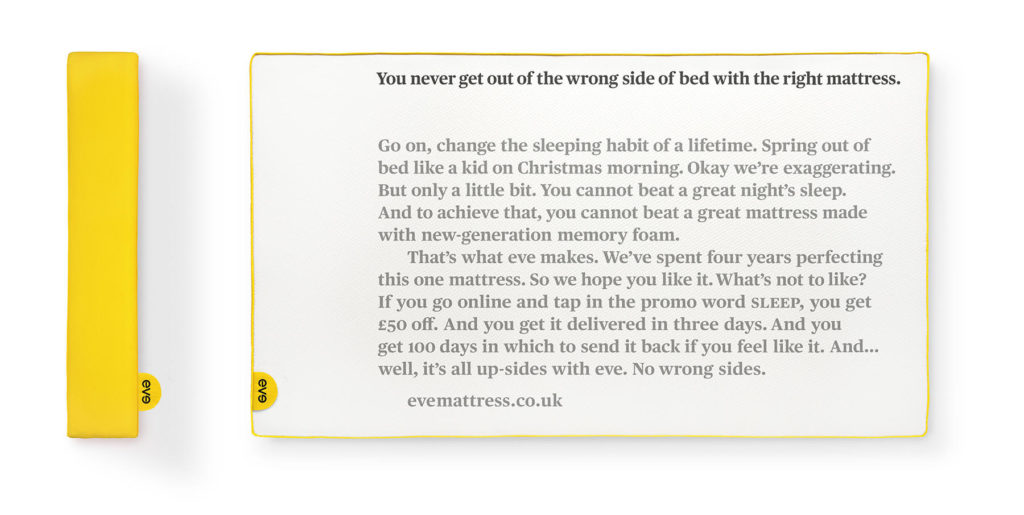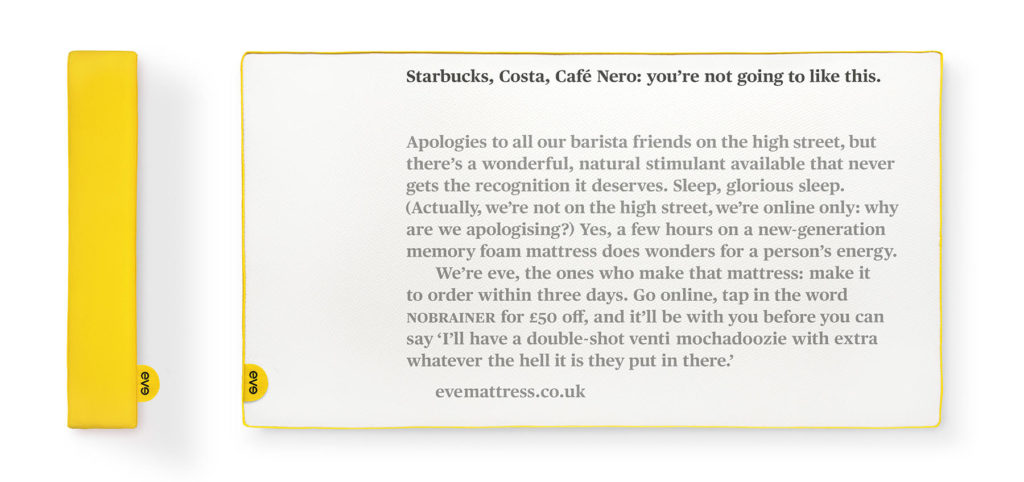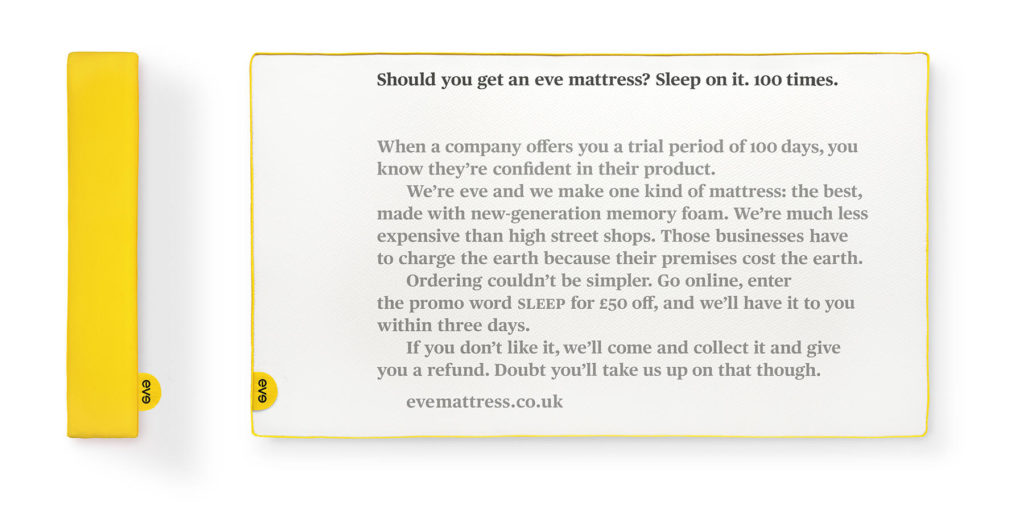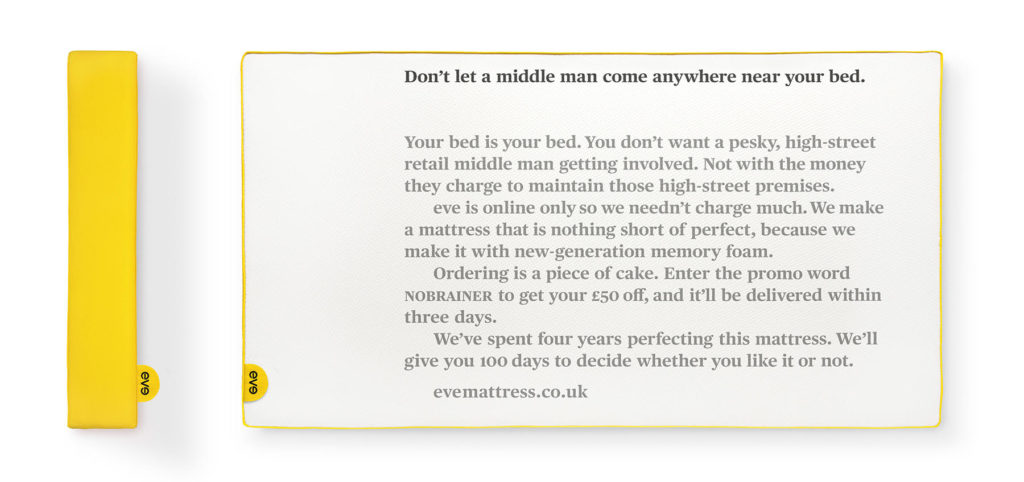 Artificial IntelligenceDigital MarketingDisplay