Data Quality Should Be Part of Every Conversation, But What Does it Actually Mean?
by Lindsay Rowntree on 16th Mar 2018 in News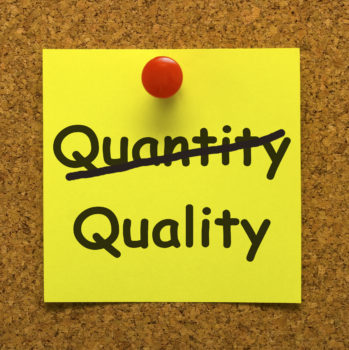 In association with Lotame
On Tuesday, the 20th of March, at Advertising Week Europe, Lotame will be hosting a panel discussion on the topic of data quality. The panel, titled, 'The elephant in the room: why data quality should be part of every conversation', will explore why marketers are starting to focus less on the quantity of data, in favour of its quality. Moderated by Lotame's managing director of EMEA, Chris Hogg, the panel discussion will centre on the marketer's quest for data quality, with industry experts from Lotame, The Specialist Works, Unruly, and Trinity Mirror delving into what actions marketers can take to seek out quality data, providing an understanding of how the quality of data can affect targeting and measurement and where a marketer should start, in an effort to shift from quality to quantity.
Here's a glimpse at some of the content that will be dissected through a multi-lens during the panel:
How do we define data quality?
Depending on the business application of data, and where you sit within the advertising ecosystem, data quality can mean all things to all people, so it's fundamental to define it. As Lotame explains, to even be able to start the conversation about data quality, it's helpful to disambiguate the term and unpick the most common meanings. Honestly, while the industry is moving in the right direction, with greater recognition of definitions and accepted methodologies, there is no absolute answer as to what defines data quality; but there are certainly four core facets to focus on.
Accuracy
Data segments are sold under demographic titles (e.g. '18-34 year-old men' or '2+ children in household') and interest/intent titles, such as 'in-market for a BMW', or 'tennis enthusiast'. The accuracy of the data means the extent to which the segment title describes the included data.
Accuracy is a useful definition because it recognises data's inherent value, separate from its use for targeting or analytics purposes. Lotame recently introduced Precision Audiences – demographic data segments that exceed Nielsen's Digital Ad Ratings (DAR) benchmarks, which demonstrates high accuracy.
Efficacy
Data effectiveness is situational, as data is used in different contexts for different purposes. A common purpose is for programmatic traders to apply data to campaigns. While data is a key contributor to campaign success, it's one of dozens of variables, which range from media CPM to frequency. As a result, it's difficult to isolate data efficacy. It's an attribute that can define data quality, depending on where you sit within the programmatic supply chain. Buyers may be more likely to view data efficacy as a sign of quality, whereas publishers may focus more on data provenance.
Provenance
This refers to the data's source. Data buyers gain confidence from knowing the name of the company, site, or app supplying the data. Prominent publishers and other well-known brands promote their data's provenance. So it's a common proxy for quality, but it still requires the data buyer to understand what data the provider is offering and how it's assembled. For example, Lotame's Syndicate product enables companies to distribute data, under their own name, to DSPs and other Lotame DMP clients.
Labelling
Similar to the labelling requirements for food ingredients governed by regulatory bodies, the goal of data labelling is for the provider to identify metadata about the segments. This includes information such as whether the data is declared, inferred, or modelled; when the data was collected; and if the data was on-boarded. The IAB's Data Transparency working group is pursuing a solution based on this premise, for which Lotame's David Justus serves as co-chairman.
This helps to hone in on what the key attributes of quality data are, but how does this apply to the different types of data, and what data is 'best'?
Demographic data is king
Today's marketers have thousands of data segments at their fingertips, with demographics being among the most universal and important.
Demographic data tells marketers which consumers are 'in target', the cornerstone of many effective media plans. And, when used in combination with 'in-market' indicators, demographic data helps marketers further zero in on prospects.
This is why the most sophisticated, data-driven advertisers, including the leading multinational CPG brands, rely on demographics to burnish their brands and attract new customers.
However, it does depend on the goal and the outcome. For example, quality travel data for awareness could be one definition, but quality for airline bookings could be entirely separate. Quality, in view of accuracy, trusted sourcing, and transparent collection, with measured indices, is a good start to understanding quality data within a certain business application.
Marketers can better assess data quality for demographics than they can for interest and intent audiences. Demographic data is objective, and binary (male or female), or divided into discrete segments (age, income, education). In contrast, interest and intent exists on a spectrum that's difficult to measure. Plus, DAR and VCE (Validated Campaign Essentials) provide convenient standards for measuring demographics, whereas a comparable benchmark for interest and intent has yet to emerge.
It's for these reasons that, if a marketer is new to data, and values quality, they should focus on demographic data.
How do you choose the right data provider?
With the core definitions of what quality data should look like made clearer, the next stage is to understand where this data should be sourced from. There are hundreds of data providers out there; and it can seem like a daunting prospect to run due diligence across all of them, but the following key factors to watch out for with any data provider indicate reliability and trustworthiness:
Stability
The ad-tech marketplace is crowded and ever-changing. Unsurprisingly, data providers come and go, so marketplace longevity, growth, and stability are signs of a quality data provider. Marketers should be looking to partner with a company that is established and stable. Lotame is a great example of this, being 12 years in the market, with a staff count of 150.
Commitment
There are many companies in operation today that offer services in addition to data provision. Often, these additional services are unrelated, so it's important for marketers to seek out data providers that show a commitment to, and focus on, the business of data.
Expertise
Data is complex and in constant flux. A good data provider brings expertise across platforms (web, mobile, television) and use cases (planning, execution, post-campaign).
How can your organisation become more involved?
Membership in industry trade groups and self-regulatory organisations shows a knowledge of, and commitment to, best practices. Trade groups and organisations to look out for include the IAB, NAI (Network Advertising Initiative), TAG (Trustworthy Accountability Group), EDAA (the European Interactive Advertising Alliance), all of which Lotame is a member.
Over time, it will become easier for marketers to be able to seek out quality data. Right now, there aren't enough measures in place to ensure poor-quality data isn't slipping through the net. Benchmarks for demographic data do allow data providers to start looking at it the right way, but more is required. However, all players across the supply chain must bear the burden, as everyone touches it in one way or another. While data providers certainly own a large part of the responsibility, so do the publishers and sellers of data. Ultimately, data isn't a 'magic button', and buyers need to focus on the right viewpoint for them, which isn't always whether it worked for them, or not. Data quality should be a measure of accuracy; and when used correctly within the broad scope of a campaign, it should lead to better performance, but it is not one and the same. 
To address the issue of data quality, Andy Monfried, CEO and founder, and Chris Hogg, MD EMEA, Lotame, will be joined by Yvonne O'Brien, data & insight consultant at The Specialist Works; Paul Gubbins, programmatic lead, Unruly; and Terry Hornsby, director of programmatic and ad product, Trinity Mirror on The Guardian Stage at Advertising Week Europe on Tuesday, 20 March at 12:55 GMT (located at Picturehouse Central W1D 7DH).
To request a special pass to attend Lotame's session, email events@lotame.com (space is limited).