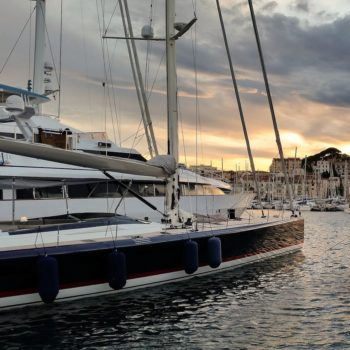 It's the time of year again when the media herd heads to Cannes. Cannes has always been a weird event for ad tech. Never invited into the main tent by the event organisers for fear of backlash from the 'creative' types, ad tech has built its own mini fringe festival around the main event. And let's be honest here, it's way more fun.
I am not one of those hypocrites who badmouths the festival, while still indulging myself in copious amounts of (free) rosé. For me, Cannes is a brilliant event where business gets done - in the sun.
Unfortunately, I won't be there this year due to ATS commitments in Singapore (now sold out, incidentally). But I always like to spin out an article on the eve of the festival, highlighting a few left-field talking points for those rose-fuelled chats.
Enjoy the festival, readers.
1. In-transit: a winner-take-all programmatic opportunity
In the age of ad tech commoditisation, product iterations are invariably fleeting, and the monopolistic power of the duopoly is always an impediment to any sort of meaningful growth.
As such, it is rare that you come across an opportunity for independent ad tech to prosper in a new programmatic channel. There are a few remaining specks of opportunity in digital media - thanks mainly to our friends at Google and Facebook.
One of those is in-transit media. What is in-transit media? Put simply, it's media shown on airlines, cruise ships, trains and buses. The media is predominantly hosted on media servers located on the transport entity - either piped through a seat screen or streamed to a device.
The marketing opportunity for in-transit is huge given the billions of in-market travellers available. The ad space is still nascent though. Most ads are sold directly without targeting or measurement.
While a chunk will be direct sold as the channel evolves, there is going to be need for programmatic solution to monetise the rest.
Surely, an opportunity then for Google to mop it all up? No.
The in-transit ecosystem is not your typical web-based scenario. No standards exist for in-transit, and the industry is populated with different ad servers and legacy media tech - so it's not a simple tags-on-page strategy.
Also, the mechanics of the auction are different. In the case of airlines, much of the buying will take place before the plane takes off, with winning ads being served to users during the flight. Stitching all this together requires a new ad tech solution built from the ground up.
One of the companies leading the way in building the in-transit programmatic layer is UK-based, Inadvia. For the past two years, it has been developing a bespoke platform to connect programmatic demand and this intent-laden supply. No easy task given the lack of standardisation and disparate tech solutions.
The prize is considerable: an addressable market of billions and a captive audience of in-market travellers. A worthy talking point for your rose-swilling week.
2. The return of Jay and JT
For a good part of this decade both JT Batson and Jay Stevens were permanent fixtures on the programmatic scene. Both men led the commercial charge for Rubicon, as it built its SSP business pre-IPO. JT left Rubicon in 2010 to learn about TV and radio, taking up a bunch of senior roles at the likes of DDS and Cumulus Media.
Having worked at both companies, Batson saw that the buying and selling of local advertising in the US remained massively inefficient. In 2016 he started to incubate a new solution, Hudson MX, to help address some of these problems.
The company has been in stealth for the guts of three years, quietly developing cloud-based tools to help buyers and sellers of local TV transact more efficiently - and giving this sector the same capabilities as digital, particularly around reporting and targeting.
You might think that workflow is boring. Understandable. But the addressable market isn't. This year alone the Hudson MX platform processed USD$2bn (£1.59bn) of local media buys for 30 leading agencies in 210 markets. And it's only the start of its journey - given it has only touched the sides in TV AND has yet to get started in radio and is still only US-focused.
With that in mind, JT recruited Jay Stevens to help him on the commercial side in 2018. Jay has had a stellar career in programmatic, having built Rubicon Project's international business (which accounted for nearly 50% of revenue when he left). After a stint at Adform, Stevens left to join Hudson MX as President in 2018.
Now both men are intent on applying their ad tech smarts to a legacy media channel - giving its buyers and sellers tech that helps evolve their sectors. And this for me is ad tech's real raison d'etre: namely, solving real-world problems and addressing pain points in our industry.
At Cannes this year, boring is the new beautiful.
As a side note, we always look forward to seeing the Jay Stevens Cannes linen suit line. I wonder if there will be any surprises in the linen collection this year?
3. Forget CTV, OOH is the bigger programmatic opportunity
You might have heard the constant bleating about connected TV at your favourite trade conference. It is apparently the new gold. Every ad tech vendor is panning furiously for their nugget to make their fortune.
It will be in vain for the majority. The reality is that connected TV market, outside the US, is a non-starter. A cursory look at your Roku options in the UK tells you all you need to know about the supply constraints.
The national linear broadcasters and streaming platforms wield huge control over our CTV attention. Outside of religious and niche country-specific offerings, CTV is a content desert in non-US markets. No amount of app video inventory can fill that void.
While CTV has commanded all the trade headlines, one well-established legacy sector has been quietly building a head of steam in programmatic. OOH, a USD$30bn (£23.8bn) ad market, is now in the early stages of programmatic adoption. And unlike CTV it has an abundance of supply ready to be connected to programmatic demand.
In a recent ExchangeWire piece on the evolution of OOH, VIOOH's Sue Hunt explains why the automation in OOH will be different than online:
"DOOH – even powered by programmatic – will never be, nor should it be, a one-to-one environment as experienced online."
OOH's flat growth over the past number of years can be attributed to its lack of accountability. But to be fair to the industry, it has been trying to evolve attribution around the true strengths of the medium as well as embracing the potential of data-driven buying.
With the development of new platforms and embrace of ROI-focused buying and selling, OOH is in a strong position to leverage the potential of programmatic.
I see a bunch of OOH opportunities for ad tech emerging in demand aggregation (ad nets), measurement, targeting and attribution. We will be discussing all this post-Cannes at our programmatic OOH event in October, which you should attend.
My advice to readers is to eschew the empty CTV chat at Cannes, and instead indulge in the programmatic delights of OOH.
4. The IO is in better health than ever
I have been writing about programmatic for ten years, and I can tell you now categorically that the IO has never been in ruder health. Programmatic was supposed to have killed the insertion order, but if anything it has empowered it.
Sure, the execution is now mostly programmatic, but the media plan is still heavily reliant on managed service.
There are four reasons why I think the IO will continue to be the mainstay of media buying at media buying agencies.
1. Procurement at brands HATE paying tech fees, preferring instead the low single digit agency payment model.
2. Given the low fees paid by clients, agencies need rebates to make margin. IO's are the best way to transact these 'fees'.
3. With the rise of ITP, we will see an increase in direct buys - meaning more IO business
4. Never underestimate the value of a good jolly in media. Underpaid media buyers can be easily wooed by flashy vendors - meaning more IO business for vendors
There are other Cannes talking points like identity, GDPR, ITP and SPO but they are too obvious for this list. Doubtless the festival will engender a few tasty discussions. We might even get a few M&A rumours.
If you are going, enjoy yourself. Don't dwell on the ridiculousness of it all. Amor fati, as the stoics would say. And if you are not going: be sure to enjoy those sweet lunchtime pints while your line manager is in the South of France.