The Appeal of Podcasts: Q&A with Sophie Harding, Mindshare UK
by Mathew Broughton on 18th Jun 2019 in News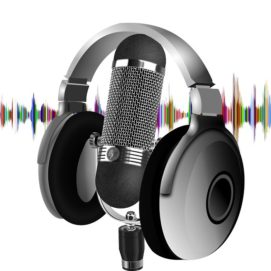 Despite not being an especially novel format, the popularity of podcasting has skyrocketed over the past few years, in part due to the ease of access afforded by audio streaming platforms. Podcasts have been proven particularly popular amongst the 18-34 demographic, with over half now trusting them over traditional television and radio broadcasts.
ExchangeWire speaks to Sophie Harding (pictured below), trends and insights director at Mindshare UK on why podcasts appeal to millennials, what opportunities this holds for advertisers, and how podcasting platforms can retain demand.
ExchangeWire: What are the main reasons why over half of 18-34 year-olds now trust podcasts over traditional TV/radio hosts?
Sophie Harding: Our Trends Report, which features quantitative research from over 6000 UK participants, revealed that podcasts are experiencing somewhat of a golden moment. Whilst they've been around for well over a decade, listening figures have been on the rise in the last few years and we can finally say that the medium has hit the mainstream. Indeed, according to RAJAR, the official body in charge of measuring radio audiences in the UK, over six million of us listen to podcasts every week. Interestingly, our findings revealed that the medium resonates most strongly with 18-34 year olds.
Radio has always been known as 'the trusted medium', named for the close relationship listeners develop with their favourite radio show hosts. Whilst this has not gone away, it seems podcasting is going one step further; our research revealed that 35% of people surveyed said they trust podcast hosts more than radio or TV presenters, rising to over half for Gen Z.
Podcasts enable listeners to explore their existing interests further or learn something new in a focused manner. There's a wealth of material available in the form of soap operas, political analysis, comedy, and sport, making podcasts an increasingly versatile format with the potential to secure a dedicated audience. Podcast hosts are therefore attractive as they talk about content directly chosen by and relevant to the listener. Moreover, the 'on demand' and targeted nature of the content is something that particularly appeals to younger audiences, who now expect this from much of the media they consume and enjoy sharing podcast suggestions with friends who have similar interests.
Speech is also a powerful medium in its own right – 92% of people that listen to podcasts do so alone, creating an intimate and personal environment. Combine with the above and it's no wonder then that listeners feel like they are building up a personal rapport with the host. Moreover, the host can easily tweak their material according to an audience's reaction to the previous episode, giving the impression of an ongoing dialogue between the host and listener. It's these qualities which make podcasts stand out from other broadcast mediums that aim to appeal to the masses.
From a trust perspective, there is also potentially something in the concept that podcasts started out as conversations recorded in the creator's home before being broadcast to a wider audience. Could this be contributing to a greater sense of authenticity in the medium than there is with big budget TV or radio shows? If yes, it will be interesting to see if trust levels are affected as bigger budgets are invested in the medium, both from a content and advertising perspective, and big-name tech brands, such as Spotify, Apple and Google, lead the way and big name advertisers appear with more frequency.
With podcasts in mind, what can traditional forms of broadcast media do to reinstill some of the trust & appeal for their platforms within the 18-34 demographic?
As podcasts grow in popularity and importance, brands should consider using them as part of a multi-channel approach to appeal to an 18-34 audience.
For example, we've seen that linking podcasts to popular TV shows is working well, with Strictly Come Dancing introducing a branded podcast recently, attracting huge audiences and arguably enabling the show to extend its reach. Love Island's daily podcast 'The Morning After' is also proving similarly successful, and it's clear that Global have made a smart move by going into partnership with ITV to bring this content to its platforms.
This is one of many podcasts radio brand Global has introduced into its Global Player app, alongside a variety of content that includes both original content and podcasts of their own shows. They will however have to compete with bigger brands such as Google, Apple and Spotify to make a dent in the UK podcasting mix going forward – no easy task.
We also predict that we'll see more daily format podcasts in the news space too, as big publishers continue to get on board. The recent release of the IAB and PWC's report into podcasting forecasts that in the US, podcasting ad revenues are set to reach USD$1bn (£0.89bn) by 2021.
As the medium grows in popularity, we expect that brands will continue to align themselves with emerging podcasting content, as well as develop their own material. By developing a multi-channel approach that bridges both digital and traditional media formats, brands may find they are able to attract the younger audience they so desire.
What more can podcasts do to appeal to other demographics, outside of the 18-34 age group?
Although our report revealed that podcasts resonated more with 18-34s, that doesn't mean the medium should be pigeon-holed. Indeed, one woman interviewed as part of our study within the 45-54 age category stated that she is addicted to podcasts and listens to 2-3 hours of them a day, completely taking over from her TV watching habits.
Although this is obviously not reflective of everyone we spoke to as part of the study, we still found that around a quarter of over 35s say that they tend to listen to more podcasts than music these days. Clearly then, other age groups beyond the 18-34 demographic are part of this growing podcast trend.
One factor to note was that the appeal of podcasts, for the over 35s, lay in their versatility in terms of mood and environment. People loved that podcasts could satisfy both ends of the attention spectrum, acting both as a medium to become immersed in, or one to be enjoyed whilst completing other tasks.
As podcasts continue to evolve, along with the proliferation of new devices and smartphone technology that is being used by large cross-generational audiences, we're confident that podcasts will be making just as big an impact across generations – just watch this space.
What are the main opportunities for advertisers in podcasting, and conversely, what are the challenges they face in the market?
The fact that podcast users have a greater sense of trust in this medium could provide an exciting opportunity for brands. Our research showed that over a third of London listeners never skip podcast ads, and almost half claim that they have made a purchase as a result of discovering something new on a podcast.
This suggests that there is much opportunity to be had for advertisers in podcasting. Indeed, big brands such as McDonald's and Nike are already exploring the opportunities branded podcasts could offer. For other brands, it may make more sense to align themselves to relevant existing content – opting for host read content, or dynamically inserted ads, for example.
As ad revenues increase, it is somewhat inevitable that we will be moving towards the inclusion of more non-live, pre-recorded ads, with the use of data enabling a level of targeting. However, it will be important not to push ad-loads up and to be aware that creative compelling ads still need to be top of the priority list. Measurement also still remains a challenge in the podcast space – a consistent offering would be welcomed, so agencies can begin to look beyond the number of downloads.
As we start to see a greater prominence of voice assistants in devices such as smart speakers and cars, more people will use them to listen to podcasts, offering brands unprecedented opportunities in this new and emerging media space. Content may need to be tailored to device and the context that people are listening in.
Indeed, as more interactions take place on screen-less devices, where there is no visual trigger, advertisers will have to consider a brand's sonic identity more and more, in order to stay relevant – both a challenge and an opportunity. Just as we come to associate a brand by its visual identity, advertisers should also consider how to give its audio identity a personality, whether through a memorable jingle, voice accent or music.
Given that part of the appeal of podcasts is their availability across a wide range of audio platforms, giving users a choice of which platform suits their needs, should podcasts move to a closed-wall subscription-based model, is there a risk of killing off demand before the format truly kicks off?
Not only is the sheer number of podcasts set to increase but so is the quality, as big-name media brands invest more money in well produced content with celebrities at the helm. Indeed, just last week Spotify confirmed that the Obamas have signed with them to produce a series of podcasts and other Hollywood A-listers are also jumping onto the podcast bandwagon.
As this happens, it is likely that podcasts will follow the route of music, TV, publishing and video and we'll start to see subscription-based models emerge, or some other form of payment for exclusive content. In China, where it is already the norm to pay for podcasts, listeners are even opting for a monthly subscription akin to Netflix.
But the environment needs to be right and we are not quite there yet in the West. It's not just about who is making the best, exclusive 'must see' content. The big draw of subscription models starts to happen when such a multitude of content is available; much like the TV/video subscription model that currently exists, people will be looking for curation of the content and personalised recommendations. AI is the key here and brands like Pandora or Google may emerge with an advantage. Notably, Apple just announced significant updates to its Podcasts app, enabling users to search by topic or host, and have added a machine-learning search function to improve this process.
Despite this, the introduction of some payment for podcasts is unlikely to kill off the format entirely. It's simply too tempting, for all the reasons we have discussed above. Yes, younger audiences in particular are used accessing a world of content for free, and podcasts have always been so, but there are also circumstances where if you give them reason enough, they will subscribe.
If the content is good enough and if subscriptions are perceived to be good value for money, the odds of it happening also go up. It is likely that we would start to see partnerships emerge so that users can get the most for their money. For example, Spotify is starting to introduce podcasts to its offering, so its subscription-based model could encompass both music and podcast content.
Either way, the likelihood of killing off podcasts is slim – people will no doubt still always be able to opt for a non-payment option or lesser subscription, where an advertising presence would be more prominent. Looking even further ahead, there is even more potential for the medium – with the greater prominence of voice assistants in a variety of devices, it will be easier to listen to podcasts in more places than ever before.
How much scope is there for new formats and genres within podcasting? How are these likely to be marketed?
We should expect to see more experimentation in podcast content and formats, as well as the creation of new genres. A broader range of content may emerge to include lesser used genres such as reality shows, soap operas and game shows, alongside niche podcasting material for the B2B market.
We have also started to see the beginnings of podcasts linking into other media formats – TV adaptations of popular podcasts, books, and mini-series. As bigger brands get more involved with podcasts we should expect to see content marketed more widely across their existing channels, making it a much more prominent part of their media mix.
And there is certainly huge scope for personalising podcasts and modifying the format for a bespoke audience. Entale Media is creating content where listeners can engage with pictures, maps, links, quotes and other chapters for an interactive and more rewarding podcast experience. The Guardian US has also launched a web-based audio platform that gives listeners extra content in the same way.
As people listen to podcasts in more situations and via more devices, we will also start to see content account for the listening environment more too – in-car listening for kids for example. Listening via smart speaker will also be something to consider; while this is not really happening at the moment, as people become more familiar with the technology, we expect podcast listening via these devices to take off.
Formats will likely adapt accordingly, with short form podcasts the result. Much like Twitter spurred shorter formats, smart speakers will do the same for podcasting. Listening environment, context and time of day might then be an additional consideration for more tailored material.