Where Are Ad Budgets in the Asia Pacific Travel Industry Heading To?
by Mathew Broughton on 2nd Jul 2019 in News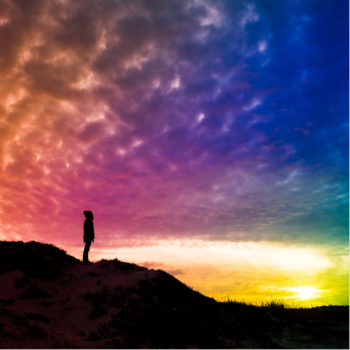 In association with Sojern.
While ad tech is a global endeavour which supports an innumerable number of industries, from fashion to beverages, it is important to remember a 'one-size-fits-all' approach may not be appropriate. For example, the global travel market is continuing to bloom, particularly in emerging regions, and with that comes opportunities for the ad tech industry.
In this exclusive article for ExchangeWire, Max Ueno (pictured below), VP of APAC, Sojern, details the state of the travel market in the Asia-Pacific region, along with highlighting the areas where budget will be prioritised going forward.
With 46 countries, over 3,000 spoken languages, and 14 time zones, the Asia Pacific market is incredibly unique and as a result travel marketers in that region face unique challenges. In Sojern's latest State of the Industry Asia Pacific Report, we look into how the region's travel marketers are allocating advertising budgets across channels, what they find most challenging, and technologies that may impact the future of marketing. We see many similar trends yet vast differences—which can add further complexity for travel marketers.
We know that last year digital advertising represented the largest portion of ad spend for Asia-Pacific travel marketers at 52% and we certainly don't see this trend changing. In fact, three in four travel marketers plan to increase their digital spend this year putting Asia-Pacific travel marketers among the top regions globally. When we look closer at specific channels, last year social media represented the largest portion (24%) of digital spend, with 19% coming from Facebook and Instagram and 5% from other social channels. This is a huge area of growth for travel marketers and there is no sign of ad spend slowing down on Facebook and Instagram in 2019.
Growing direct bookings is a top challenge for travel marketers in APAC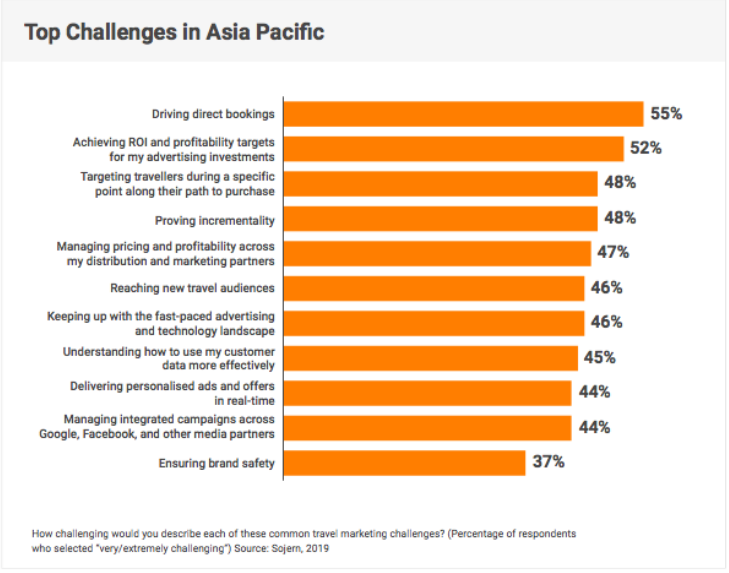 In the Asia Pacific region, over half (55%) of travel marketers surveyed saw driving direct bookings as a top challenge. Interestingly, and perhaps related to this, we see Asia-Pacific travel marketers leading the pack when it comes to decreasing spend on online travel agencies (OTAs) this year. One-quarter of travel marketers plan to invest less on OTAs, versus the global average of 19%. Indonesia and India lead the way, with 37% of respondents looking to spend less. Travel marketers are increasingly looking to technology providers to solve this challenge and help them to increase direct bookings and incremental revenue across their portfolio.
Say yes to investing in social media
In the past, marketers commonly perceived Facebook and Instagram as best for purely branding and not for driving conversions. However, over the past several years we have seen that shift. Facebook and Instagram have notably been introducing new ad products to actively change this perception. These new ad products have been designed for higher funnel objectives such as brand awareness and lower funnel objectives such as driving conversions via remarketing. Ultimately, Facebook has evolved and can now not only work for the full funnel but is becoming the most effective way to influence travellers at each stage of their journey from dream to destination.
Over half (51%) of travel marketers in this region said that Facebook and Instagram were best for direct response, placing it above paid search (41%) and programmatic display (21%). One-third of Asia-Pacific travel marketers believe that Facebook is most effective for driving reach and brand awareness. Almost a fifth of marketers (19%) said that Facebook was most effective at targeting new audiences and 14% said it was most effective at personalising messages and promotional offers.
A key trend we are seeing is the growing interest and shifting ad budget towards the Stories format. In fact, 56% of Asia Pacific travel marketers are planning to use Instagram Stories in 2019. However, there is a varied level of interest when looking between countries. Indonesian travel marketers are ahead of the curve, as 53% responded that they already used Instagram Stories in 2018, (global average at 44%) and 66% of them are intending to continue using or start using the format in 2019. This is hardly surprising as Indonesia's Instagram usage is ranked fourth globally. On the other end of the spectrum, 33% of New Zealand travel marketers do not currently use or plan on using Instagram Stories in 2019—perhaps reflective of the fact that only 35% of New Zealand used Instagram as of January 2018.
As videos generally help tell the story of travel—and travellers are increasingly consuming information through online videos—Facebook, YouTube, and Instagram are the most utilised ad video platforms in the region. When asked which types of social video advertising that travel marketers plan to use in 2019, Instagram stories came up top at 56%, followed by Facebook stories at 54%, YouTube at 45% and Snapchat at 53%.
APAC's ad tech future - real-time data, messaging apps and connected TV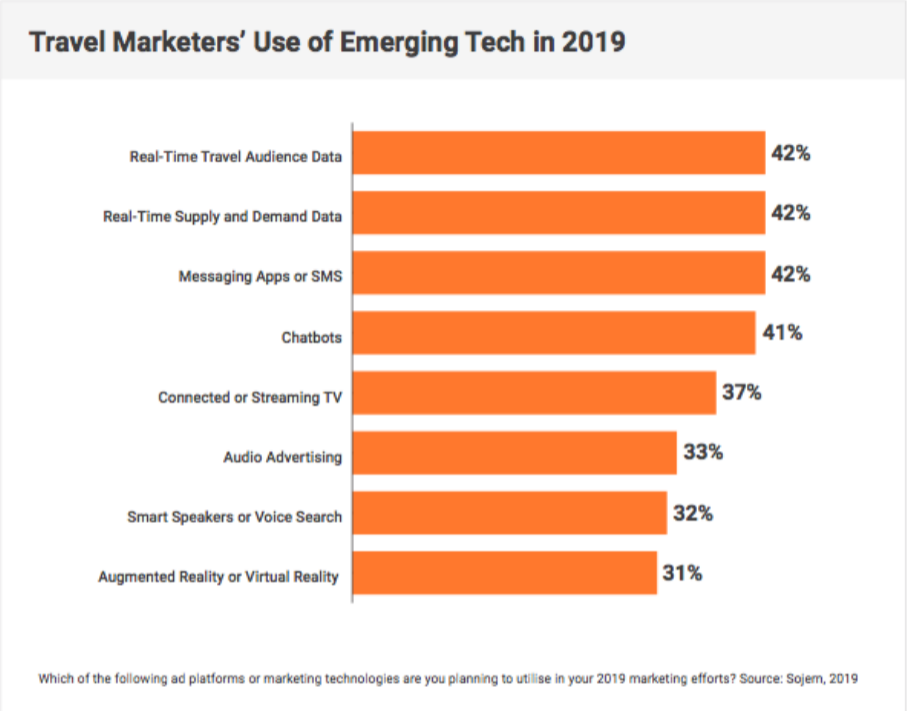 Even within the region, the types of emerging technology differ. For example, India and Indonesia are most interested in real-time travel audience data. More mature digital markets such as Singapore and Australia are more likely to already use real-time travel audience data as part of their marketing strategy.
Messaging apps are of more interest to the Asian market than compared to the Australian and New Zealand market. We surveyed interest in using messaging apps as part of their 2019 strategy and an average of 42% indicated intended use - Indonesia came in high at 63%, India at 52%, Singapore and Japan both at 48%. This does not come as a surprise as the top three mobile apps with the most monthly active users in these four countries are chat apps.
Well over one-third (36%) of travel marketers in the Asia Pacific plan on investing in connected TV (CTV), a relatively new offering, this year. This may not be surprising when looking at the high levels of TV viewing in the region. Japanese travel marketers show the highest level of interest in CTV, at 42%, which reflects the fact that Japan ranks as the country with the third highest level of TV consumption globally.
Where do we go from here?
Digital is the largest portion of ad spend and is increasing year-over-year, with 74% of travel marketers in the Asia Pacific planning to spend more on digital this year. Notably, because of today's complex traveller path to purchase, it is now even more important to target the right traveller at the right time on the right device with the right message. Recent advancements in digital advertising technology allow this to happen, and to measure the impact of those interactions. But this rapidly changing digital landscape makes it difficult for marketers to keep up, especially when almost all (99%) of Asia Pacific travel marketers intend to maintain or grow ad spend on Social Media platforms. Other trends, such as the increased interest in Connected TV (36% of travel marketers plan to invest in 2019), and continuous ad spend growth on Instagram stories (56% plan to spend to explore in 2019), are sure to have an impact as well. However, by making use of real-time travel audience data, you can invest in the right channels to further target potential travellers to drive direct bookings with your brand (travel marketers' top challenge in the Asia Pacific).
Because of the vast differences in media and content consumption across the Asia Pacific region, travel marketers have to understand that there is no one size fits all solution. For example, marketing to a Filipino who probably spends most of their time on social media is completely different from marketing to a Japanese, where one out of every four people in Japan is over the age of 65. The way to get ahead of the competition is to be where your travellers are, which means adopting a multi-channel strategy and data-driven approach to empower your digital marketing decision-making.