How Can Advertisers in Asia Tap Into the Cultural Phenomenon of Esports?
by Mathew Broughton on 5th Jul 2019 in News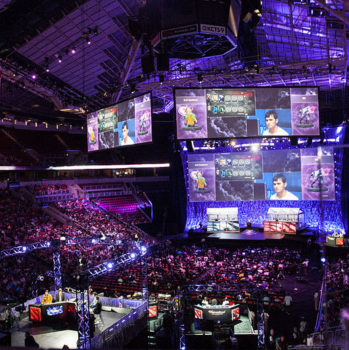 In association with The Trade Desk.
2019 marks a key year in the development of the relatively nascent esports movement, with the global market set to exceed USD$1bn (£0.79bn) in value this year. Within these estimates, advertising is estimated to bring USD$189.2m (£150.4m) to the table, a figure which is surely set to grow.
Writing exclusively for ExchangeWire, Matt Harty (pictured below), senior vice president of Asia Pacific at The Trade Desk, discusses the rise of competitive gaming, and how advertisers in Asia can tap into the cultural phenomenon of esports.
At the upcoming 2022 Asian Games, an unusual sport will make its debut. Not wakeboarding, breakdancing, or tug-of-war (just a few of the suggestions put forward for inclusion at a recent International Olympics Committee meeting). Competitive video gaming, or esports, will be officially included as a medal sport. There is some discussion that the inclusion of esports in the Asian Games sets the stage for the event to be included in the Summer Olympics of 2024.
For clarity, it is important to note the difference between esports and casual gaming. Casual gamers battle each other in multi-user games in their own time, for leisure. Competitive gaming is when individuals, sometimes professionals, play against other users in an organised tournament with trophies, a stadium audience, television coverage, and prize money. Casual and competitive gamers play the same games, for example, League of Legends, Call of Duty, or Fortnite, but for competitive gamers the stakes are much, much higher.
China is undoubtedly a world leader in casual gaming, and it follows that esports will rapidly gain in popularity there. Going hand-in-hand with the rise of competitive gaming is the rise of esports as a spectator sport. According to a Tencent report, by 2020 esports is expected to reach a viewership of 350 million users in China, accounting for 59% of the world's total audience in the sport. The same report predicts that esports revenues in China will climb from USD$760m (£602.2m) in 2017 to USD$1.5bn (£1.19bn) in 2020 – mostly driven by advertising spend within the gaming ecosystem.
But back to the Asian Games. Chinese internet powerhouse Alibaba will officially partner with the Olympic Council of Asia to introduce the sport to the Asian Games. When Alibaba gets behind something, it's generally for pretty good reason.
In my view, Alibaba has correctly identified that esports sits at the nexus of two giant trends in Asia. The first is the revolution of CTV – whereby people are increasingly favouring streaming services in place of traditional terrestrial TV or cable, especially for watching sports. A recent PwC report noted that over the next three to five years, worldwide digital media rights will see the highest growth of all the sports revenue streams, increasing by 11.5% in that time period. Traditional TV rights has a projected growth rate of only 3.2%.
In some emerging markets, traditional TV or cable services are being bypassed by consumers, who are accustomed to going straight to their phones for video content. It seems that whether an economy is developed or emerging, across Asia consumer demand for live sports on any screen, at any time, will rapidly change the dynamics of sports broadcasting – and with it, how advertisers should allocate their media budgets.
The second trend is the remarkable rate at which esports has been so enthusiastically taken up both as a profession and as a spectator sport. While traditionalists might be skeptical at the idea of gaming as an athletic pursuit, anecdotal evidence shows increasing acceptance of esports as a legitimate sport. In the US, esports participants now qualify for a P1 visa, henceforth reserved for professional athletes.
So, what opportunities do esports represent for marketers? For gaining reach with millennials and younger, it's a tough audience to beat. Based on findings from a Nielsen survey published in early 2018, the age cohort of 25- to 34-year-olds made up almost half (45%) of esports fans in China. In India, the average age of Twitch's audience for esports is between 18-34 (Twitch is the world's number one online game streaming platform). Across South East Asia, esports enthusiasts are similarly skewed towards a millennial-and-younger demographic, and interestingly, the gender divide is fairly equal.
Additionally, because esports are predominantly viewed via streaming platforms, theoretically advertisers have all the advantages of advanced targeting, cross-device measurement, household mapping, and more. It is worth noting though that as of 2019, the advertising capabilities for esports are still largely nascent. The sponsorship structure of traditional sports advertising faces headwinds when it comes to implementation in the largely fractured, brave new world of esports. However, I firmly believe the potential of esports advertising will be realised as streaming platforms evolve and the sport becomes an even greater cultural phenomenon.