How 2020 is Reshaping Social Media
by Grace Dillon on 11th Nov 2020 in News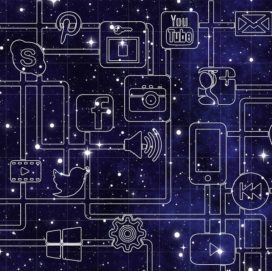 If it's been said once, it's been said a million times: 2020 has been a year like no other. Amidst a global health crisis, a divisive US election, and increased public consciousness of pressing social issues, brands have been forced to reassess how they reach out to consumers. Nowhere was this more the case than on social media platforms, which, having long served as arenas for social discourse, became ever more vital communication tools as swathes of the world's population were told to stay at home. In this exclusive article, Deolu Deborah King (pictured below), VP head of paid social, EMEA at Essence, considers the impact that 2020 has had on the nature of social media, and outlines how brands can successfully adapt to these changes.
2020 continues to be a rollercoaster; so much has happened that I've had to pause and re-write this piece a number of times. Social media, the barometer for public sentiment, is changing. It's been one of the main connectors of this year, and to many, a lifeline.
Its change of use has been in some ways surprising – during lockdown, for example, my PE teacher friend wanted to see how she could capitalise on the TikTok boom to get her students to practice their dance routines. It's also come into its own for breaking news, something we've seen a lot of this year. It's been used to hold virtual protests for Black Lives Matter and has shifted the dial with conversations, particularly around race.
Although the year continues to unfold, as we look beyond the end of the year and start to redefine what our new normal is, let's focus on what the events of 2020 mean for social media and how marketers should adapt.
Getting the paid, owned and earned strategy right
For years people have been viewing organic content on social media the wrong way. We assumed it was all about publishing organic content at the right time or reaching at least 10% of organic followers, when really 2020 has shown us something true for other areas of marketing – that owned social media should be about experiences.
The barrier to digital interaction has well and truly been knocked down this year. Users have tuned into live events in their droves – most notably Joe Wicks, aka The Body Coach, who was one of the clear winners of the Lockdown, with one YouTube live stream gaining 955,185 views. Live concerts like Swizz Beatz and Timbaland's Verzuz battles also pulled in the fans and millions of views. These experiences have shown us that we should be thinking about using organic content to engage people in a different way, just like my friend thinking about using TikTok to teach her PE class.
For marketers, live events offer the opportunity to explicitly build large audience clusters who really are engaged with your content, on a scale that we wouldn't have imagined possible pre-2020. My prediction is that live experiences will continue to become the norm and marketers need to find a way to make this an authentic part of their strategy.
Evolving from brand voice to brand values
In June the world (finally) recognised the systemic and overt racism that Black people are subjected to around the globe. This realisation left brands compelled to join the conversation and stand in solidarity against the unjust impact of racism. But motives and past actions were publicly scrutinised and questioned by consumers. They held brands to account for reactive pledges and Snapchat, Instagram and YouTube gave consumers a voice and platform to express themselves and influence their audiences.
It's a fairly modern concept that brands should act in times of a sociocultural crisis – before, the priority was achieving the right tone of voice. In 2020, it's clear that authentic representation is increasingly sought by consumers who see brands as a reflection of their own values and identities – brands are unable to simply jump on a social media trend, such as turning an Instagram profile black, if the brand has not previously been actively engaging with the social issue.
To determine how best to act, it is crucial for brands to understand differing public opinions and consider how their own historical behaviour, company values, and existing audiences align with the cause at hand – and whether it's appropriate for them to act at all.
Ecommerce became a thing, but don't lose sight of the full funnel strategy
As the world moved into lockdown, physical shop doors were closed and ecommerce boomed everywhere (particularly on social media) creating a spike in marketers and brands focusing on performance to make up for footfall and sales in store. As we have seen with brands such as TM Lewin, which went into administration in June, brands that are not able to create and maintain an online presence suffer loss and, in extreme circumstances, closure of business.
This is not new news. But we need to consider that, as we continue to drive sales communications out on social, and as consumers engage with this content, there will be an increased echo chamber of performance messaging to consumers (the more someone engages with a particular type of content/message on social, the more they will continue to see similar content/ads). So, for some consumers, a performance message might be their first interaction with a brand. We should ask ourselves – is this the kind of first message we want them to see?
When finding sales online, there is still a need for activating brand tactics. Whilst it may be harder to justify media spend towards it during a recession, on platforms where content and context are so important, it is hugely important that companies are not just blasting sales messages, but instead amplifying the full brand identity.
As we move into 2021 and ecommerce on social becomes a staple, the new challenge for marketers is building a full funnel strategy that works for your business objectives and really evaluating the role of each platform.
Looking forward
2020 will no doubt continue to surprise us and social media will continue to evolve with each change.
As this happens, it's important to remember to be more intentional with how paid, owned and earned strategies come together, to understand more clearly how we're attributing value to our paid social campaigns, and (above all else) to remain authentic to not just the brand voice, but brand values.
TagsBrandsCovid-19ecommerceMarketerSocial Media