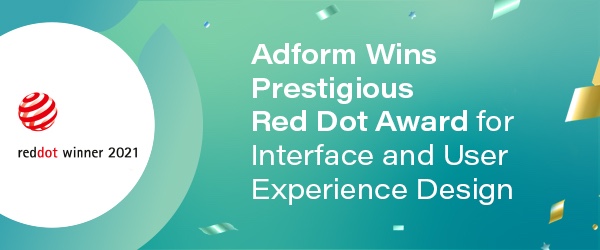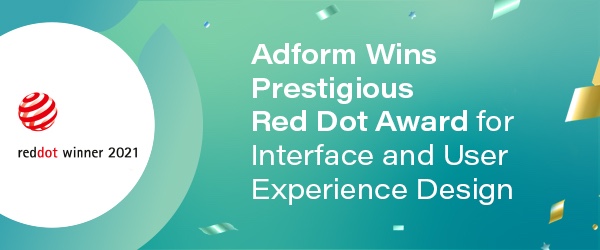 Adform FLOW, the only global, independent, and fully integrated advertising platform built for modern marketing, has won the prestigious Red Dot Design Award for outstanding Communication Design in the Interface and User Experience category.
True to the competition's guiding principle, 'in search of good design and creativity', the international judging panel of 24 members assessed Adform FLOW for excellence in idea, form, and impact. Factors evaluated included originality and creativity, design quality and innovation, as well as comprehensibility and emotional significance.
This latest accolade is testament to Adform's client-focused approach to technology, and central mission to reduce complexity in the ad tech ecosystem. By designing an intuitive platform that guides users along campaign workflows with AI-driven recommendations, Adform provides clients with a holistic overview of the campaign life cycle, helping them to easily drive optimisation in the most effective way.
Jochen Schlosser, chief technology officer at Adform comments: "At Adform, our ongoing mission is to achieve a state of 'Augmented Intelligence', where the UX becomes so fluent, that human guidance and machine automation feels like a left and right hand, smoothly interoperating and simplifying all workflows within our ecosystem. While the journey is far from over, this is a moment to applaud the various teams and departments at Adform for successfully executing the vision for Adform FLOW from conception to materialisation".
Prof. Dr. Peter Zec, founder and CEO of Red Dot: "In today's world, digital solutions are essential to the success of brands and companies – especially under the current circumstances. For the Red Dot Award: Brands and Communication Design 2021, our jury has selected only the very best projects in this area to receive a distinction. As an award-winner, Adform has proven themselves to be a company that thinks outside the box. They know how to react with agility in times of crisis and utilise upheaval as an impetus for new design approaches. They have thereby mastered important challenges while also making a valuable contribution to the evolution of society".

Adform
Adform is the only global, independent and fully integrated advertising platform built for modern marketing. Its unique enterprise technology – Adform FLOW – harnesses superior user experience and a scalable, modular and open architecture...
Powered by PressBox
Ad TechAdvertisingAwardsMartech