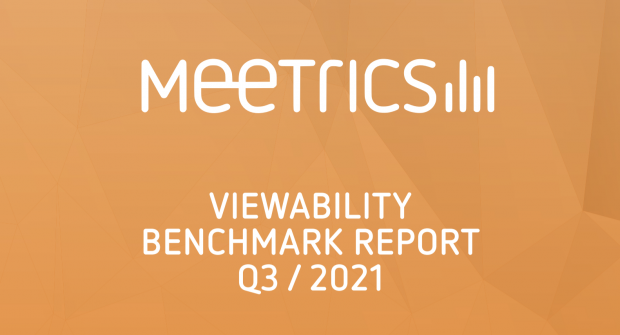 Both video and display ads were less visible in the third quarter of 2021. The high volatility of the viewability rates is striking when comparing different advertising formats with each other as well as when looking at ad formats at different time periods.
The viewability rates of ad formats are highly volatile. Depending on the ad type and environment, individual formats become 27 percentage points less visible within a given three month period. This is the result of the latest "Viewability Benchmarks" report published by Meetrics, the leading European measurement and analytics company for digital advertising. The benchmark report also includes a detailed overview of individual display and video ad formats and benchmarks for specific markets. The report shows common reasons for lack of visibility by percentage distribution as well as what positive and negative trends need to be taken into account on the different markets. Not enough visible area has become the most common reason for lacking ad viewability before non-optimal positioning.
"Our analysis of viewability trends on the ad formats level revealed that the effectiveness of digital ads is highly fluctuating. These differences increase further across markets and advertising environments," explains Max von Hilgers, managing director and co-founder of Meetrics. "If brand advertising is to generate reliable advertising effects, then analyses and optimisation strategies in the area of ad verification must be well implemented in order to keep strong fluctuations in check."
In the quarterly reports, Meetrics provides an overview of viewability rates and average viewability duration. The basis for Meetrics' Viewability Benchmarks is the "50/1" guideline of the IAB and the Media Rating Council (MRC). Accordingly, at least 50% of the advertising space must have been in the visible area of the browser for at least one continuous second. For video ads, the recommendation is "50/2", which means the video ad must have been visible for at least two seconds with at least 50% of its area.
Digital MarketingResearchViewability