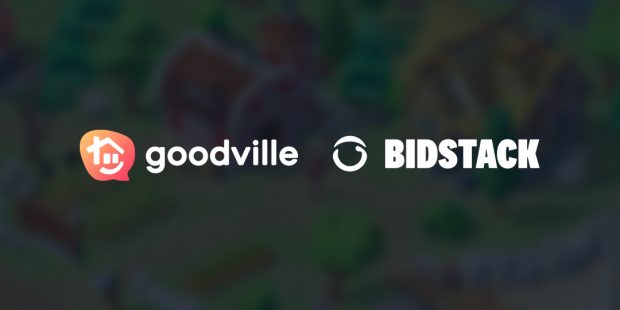 Bidstack, the leading in-game advertising platform, has announced an exclusive new partnership with Stork Limited for the popular farming game Goodville.
The partnership will see Bidstack's lightweight SDK integrated into the title allowing ads to be served seamlessly onto banners and billboards around the game's virtual world without intruding on the playing experience.
Goodville is a farm adventure game that blends farm simulation with an emotional wellbeing app which is designed to improve wellness amongst gamers. Players work to renovate their farm and slowly discover more about Goodville, meeting characters that assist them as they work through in-game challenges and explore the game's map. It was developed in collaboration with neurophysiologists and psychiatrists based on clinical research, and is available to players on iOS and Android devices. The title is popular with gamers in the US, Canada, Germany, France, and the UK, and has garnered over 1m downloads since it first launched.
Stork Limited is a leading mobile game publisher with an experienced team that have overseen more than 40 product releases to a combined audience of more than 210m gamers. By integrating Bidstack's technology, Stork Limited are creating a new, sustainable revenue stream that complements their existing monetisation strategies and respects the experience of their audience.
Of the new partnership Mikhail Mironchik, product marketing manager at Goodville said "We are very excited to explore this opportunity together with our new partner Bidstack. Native in-game ads are more likely to be seen in AAA games on PC or console in games, and for us this has been a process of discovery in previously uncharted territory.
During our negotiation process with Bidstack, we found their offering to be a perfect fit in terms of our audience and the range of advertisers they have relationships with. We hope with this partnership that we can widen the boundaries of a "classic" mobile advertising approach."
Manpreet Kaur, partnerships manager at Bidstack added "We're really pleased to be working with Stork Limited on Goodville and to add a new simulation game to our growing portfolio of titles. Our aim now will be to deliver the best user experience possible with in-game branding that is designed to enhance the playing experience."

Bidstack
Bidstack is the leading in-game advertising and video game monetisation platform.
We bridge the gap between the interactive entertainment industries and advertisers by enhancing the gaming experience with immersive advertising.
We unlock gaming...
Powered by PressBox