Anuncio de Seminario Web How to Build the Optimal Monetisation Machine?
by ExchangeWire PressBox on 25th Apr 2022 in News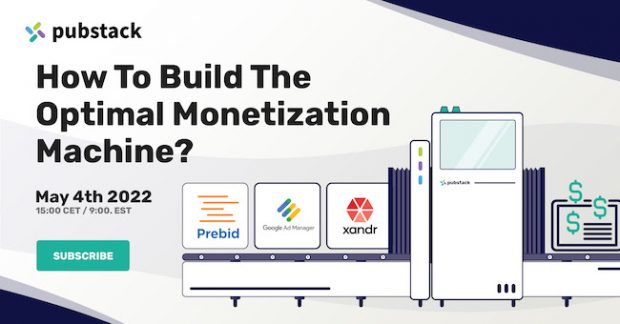 En los últimos años, el número de socios de demanda ha aumentado significativamente, al igual que el número de SSP utilizados por cada editor, y ahora es común que los editores trabajen con más de 20 SSP diferentes. 
Esto ha significado que los editores tengan muchas opciones para construir su máquina de monetización, pero también los ha hecho navegar por opciones cada vez más complejas para encontrar la máquina de monetización más rentable para su negocio. 
Durante su próximo webinar, Pubstack repasará los tres pasos principales para construir una máquina de monetización óptima: 
 Seleccionar los socios de Prebid adecuados para obtener unos ingresos óptimos; 

 Asegurarse de que sus socios tienen un rendimiento óptimo en todo momento; 

 Generar el máximo valor posible con su configuración actual. 
Únase a los expertos en programación de Pubstack para aprender técnicas operativas y probadas para transformar su negocio programático en una verdadera máquina de
generación de ingresos publicitarios. El evento tendrá lugar el miércoles 4 de mayo de 2022 a las 3:00 pm CET (9:00 am EST). Para registrarse y obtener información adicional sobre el evento, puede ir a https://hubs.la/Q017_GFc0

Pubstack
Pubstack, established in 2018 in Paris, is a web publisher Ad Management platform collaborating with 100+ European premium publishers.
It revolutionises Ad Management by using a data-driven approach to build, maintain, optimise, and monitor ad sta...
Powered by PressBox