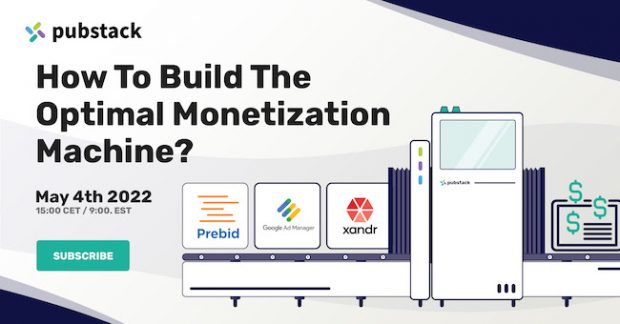 Over the last few years, the number of demand partners has significantly increased, as has the number of SSPs used by each publisher, and it is now common for Publishers to work with over 20 different SSPs. 
What this has meant is that Publishers have plenty of options to build their monetisation machine, but they also need to navigate increasingly complex options to find the most profitable monetisation machine for their business. 
During its next webinar, Pubstack will go through the three main steps to building an optimal monetisation machine: 
Selecting the right Prebid partners for optimal revenue; 

Making sure your partners are performing optimally at all times; 

Generating as much value as possible with your existing setup. 
Join Pubstack's Programmatic Experts to learn operational and proof-tested techniques to transform your programmatic business into a real ad revenue generation machine. The event will take place on Wednesday, May 4th, 2022 at 3:00 pm CET (9:00 am EST). You can register and get additional info about the event here.

Pubstack
Pubstack empowers publishers' monetization teams with real-time ad revenue analytics and actionable insights to help them make better decisions and maximize their outcomes....
Powered by PressBox