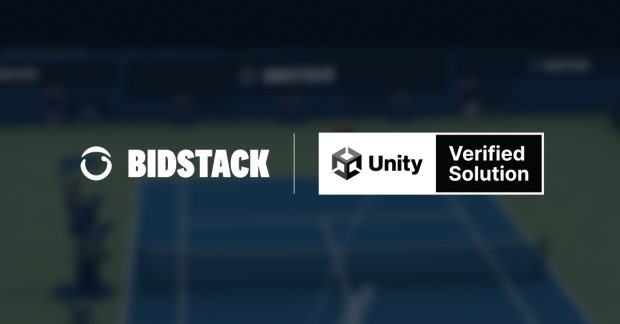 Bidstack, the in-game advertising and video game monetisation platform, today (November 7th, 2022) announces it has become a Unity Verified Solution. 
The Bidstack toolkit of non-intrusive advertising formats is now available to a global audience of Unity developers, having been tested and verified by Unity engineers to ensure rigorous technical quality and compatibility standards. Verified Solutions status will see the Bidstack SDK made available in the Unity Asset store and as a best-in-class solution for game developers that are exploring non-intrusive monetisation strategies. Bidstack technology enables developers to enhance the authenticity of virtual environments by placing realistic advertising within video games, without interrupting the user experience. 
Bidstack already works with a growing cross-platform portfolio of developers and AAA studios, and the partnership will further accelerate the adoption of Bidstack technology, with 50% of games across platforms being created using Unity tools and solutions. Unity holds the largest portfolio of mobile partnerships in the industry, and content created with Unity is consumed by over 3.9 billion monthly users across 190 countries globally. 
Antoine Jullemier, VP of gaming at Bidstack, commented: "Our status as a Verified Solution from Unity signifies another milestone for Bidstack within the global game development ecosystem. Our world-class in-game advertising solutions have been rigorously tested by Unity, ensuring performance, stability, and security within its vibrant community-driven ecosystem. The Bidstack mission is to empower developers and publishers of all sizes, and across all platforms, with the ability to seamlessly integrate our pioneering non-intrusive advertising solutions into games, with zero impact on game performance. Bidstack currently works with leading Unity games such as Top Eleven, Mad Skills Motocross 3, Football Cup 2022, and Hollywood Story, which use our lightweight technology to open up additional revenue streams, enhance gameplay and increase player retention with non-interruptive ads."
Jan Kalafut, chief executive officer at InLogic Software, a leading Unity developer and publisher, added: "At InLogic, we are thrilled about this partnership between Bidstack and Unity. All of our games are developed in Unity, and the integration of the Bidstack SDK within them was always smooth. We hope that by Bidstack becoming a Unity Verified Solutions Partner, other studios will have the opportunity to adopt this monetisation channel as we know for sure our users value the unintrusive formats". 
Bidstack technology bridges the gap between interactive entertainment and premium brands seeking to communicate with a highly engaged and diverse global player base. Learn more about how your game can unlock new revenues here.

Bidstack
Bidstack is the leading in-game advertising and video game monetisation platform.
We bridge the gap between the interactive entertainment industries and advertisers by enhancing the gaming experience with immersive advertising.
We unlock gaming...
Powered by PressBox