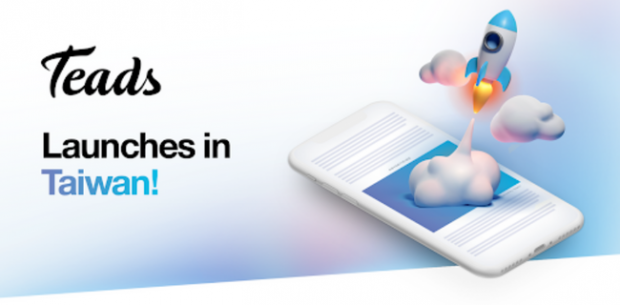 Teads, the global media platform, is proud to announce the expansion of its APAC presence to Taiwan. This will be Teads' 7th office in the APAC region.
Teads' innovation in ad tech is renowned, with recent announcements including Teads Ad Manager becoming the first cookieless platform on the open web, as well as the announcement of its partnership with Impact+, the solution to reduce greenhouse gas emissions of digital advertising. The partnership's goal is to measure and optimise the carbon footprint of all campaigns run through the platform. With its continued expansion into the APAC market, Teads will further discover and nurture local talent as well as support local Taiwanese businesses to achieve their goals for sustainable growth, long into the future.
Teads Taiwan is launching with the significant hires of Sonic Chen, Jovy Lin and Daniel Li as business directors to drive continued success in the region and deliver business outcomes for Teads' partners and clients.
"As we continue to expand our APAC presence, with new projects, innovation, and consistent double-digit growth, we are excited to launch Teads in Taiwan and are thrilled to be able to kick off with three senior Teads members. Taiwan is an advanced advertising market and a strategic country for global clients and partners. I look forward to seeing the Teads Taiwan team thrive." Christian Guinot, chief executive officer, Teads APAC.
"As we continue to expand our APAC presence we are pleased to welcome Daniel, Jovy, and Sonic to the team. Their collective track record and industry reputation will contribute greatly to the success in the Taiwan market for Teads" Christopher Maksymuk, MD North Asia.
Teads' Taiwan office is located at Teads Taiwan Co Ltd, 10F, No. 235, Section 4, Zhong Xiao East Road, Da'an district, Taipei City, 10692, Taiwan. For more on Teads in Taiwan, please contact Sonic Chen at: Sonic.Chen@teads.tv

Teads
Teads operates a leading, cloud-based, end-to-end technology platform that enables programmatic digital advertising across a global ecosystem of quality digital media. As an end-to-end solution, Teads' modular platform allows partners to leverage b...
Powered by PressBox
APACAppointmentCookielessMeasurement