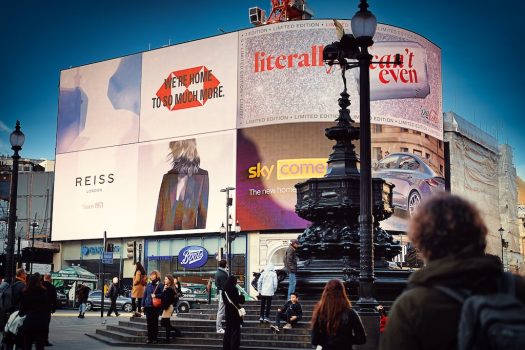 By the start of 2020, the Out of Home (OOH) advertising had experienced growth for 36 consecutive quarters. Despite being one of the oldest forms of advertising, OOH has seen tremendous development in tandem with technological advancements. This has been especially evident throughout the last two decades, wherein the global shift towards digitisation prompted a revolution in OOH advertising. By the end of the decade, the global Digital Out of Home (DOOH) market is predicted to reach USD$21.35bn (~£17.73bn), suggesting OOH's evolution is far from over.
In this piece, we assess how OOH advertising has adapted to the global shift to digitisation, how the medium can help advertisers overcome industry issues such as privacy, and how programmatic is propelling OOH into a data-first era.
OOH: the past?
While traditional OOH has laid the foundation for DOOH and pDOOH, the channel has sustained relevance despite the rapid development of digital technologies. Traditional OOH remains highly utilised to this day, with global spend in the channel forecast to reach USD$21.28bn (~£17.62bn) in 2023. Old-school billboards, vehicle posters, and other static adverts still have the potential to reach vast and widespread audiences, however gauging their efficacy can be challenging. For traditional OOH advertising, research into population, geolocation, and visual attention only provide estimates for how an ad or campaign has performed. 
Regardless, traditional OOH has its merits, particularly in the aftermath of the Covid-19 pandemic. Research has indicated that 77% of American consumers take more notice of their physical surroundings than they did prior to the pandemic and 52% are reconnecting with the outdoors while reducing their screen time. In this sense, traditional OOH may offer consumers temporary relief from engaging with digital media without shutting them out of advertising completely.
The present is digital
In addition to enhancing the visual capabilities of static adverts through sound and movement, DOOH provides a wealth of tools to help marketers take full advantage of the OOH landscape. Digital ads' potential for interactivity, as demonstrated by GMC's 2016 ad campaign for its SUV Acadia, may be appealing to advertisers through their ability to increase audience engagement. When compared against other channels of digital advertising, such an online and in-app, DOOH possesses a critical advantage in bypassing a lot of concerns regarding privacy. Despite veering towards omnipresence, DOOH is far less invasive than other forms of advertising and yet still highly impactful, with 84% of consumers who notice a brand or product through a DOOH advert likely to consider purchasing in the future. As the ad tech industry as a whole shifts towards privacy centricity, DOOH is well placed in offering advertisers the means to deliver ad campaigns that balance impact with adhering to evolving privacy regulations.
DOOH does have its own shortcomings, with measurement proving almost as much a concern for DOOH campaigns as for traditional OOH. The one-to-many delivery of DOOH ads, although beneficial in enabling one ad to, theoretically, make numerous impressions, makes it difficult to gauge exactly how many impressions a DOOH has made, creating some potential reservations for advertisers. Despite these shortcomings, however, DOOH has experienced significant growth in recent years; the medium accounted for around 18% of global OOH sales by 2018 and shows no signs of slowing down. 
This year, emarketer reports DOOH's momentum will continue, with the medium forecast to take around 30% of market spend away from traditional OOH.
So, if DOOH holds the potential for effective, wide-scale ad campaigns but falls short when it comes to measurement, how can the medium adapt?
Enter: programmatic
Although programmatic DOOH (pDOOH) has been available for over a decade, adoption of the medium has only really gained momentum in recent years, with global ad spend climbing to approximately USD$418.4bn (~£347.3bn) in 2021. The data-targeting and measurement capabilities of programmatic can go beyond resolving the measurement shortcomings of OOH and DOOH, instead helping advertisers to shape their OOH campaigns around data. Real-time bidding (RTB), for example, can provide advertisers with enhanced reporting capabilities and enable them to fine tune their campaigns in response to live geolocation data, increasing responsiveness and agility.
Crucially, however, pDOOH's capabilities offer the potential to reposition OOH in advertisers' marketing strategies. While DOOH began the process of transitioning OOH away from being a standalone media channel, the addition of programmatic now means advertisers can integrate DOOH into their omnichannel campaigns and build presence across mediums. Digital OOH has already proven to be a highly impactful method of advertising, with 50% of consumers stating they notice DOOH "all the time" or "most of the time". By adding programmatic to the mix, advertisers can understand the impact of their DOOH ads at a granular level and simultaneously use dynamic data to deliver campaigns in the locations where they will be most effective.
Where next for OOH?
With the pDOOH market expected to rise at a CAGR of 41.59% until 2027, OOH's growth appears unstoppable - but what of its evolution? With pDOOH already leveraging automation and machine learning, the channel may be well positioned to take advantage of the development of AR and generative AI - a trend which already is emerging across Asia. Whatever the next phase of OOH will be however, it is undeniable that the medium holds a powerful position in the advertising landscape, one that appears to be strengthened, rather than weakened by change. And for an industry so rarely static, OOH serves as an invaluable tool.
DOOHOmnichannelOOHProgrammatic