Lumen Announces Partnership with IAS, Becomes First Attention Product to be Assessed by PwC
by ExchangeWire PressBox on 4th May 2023 in News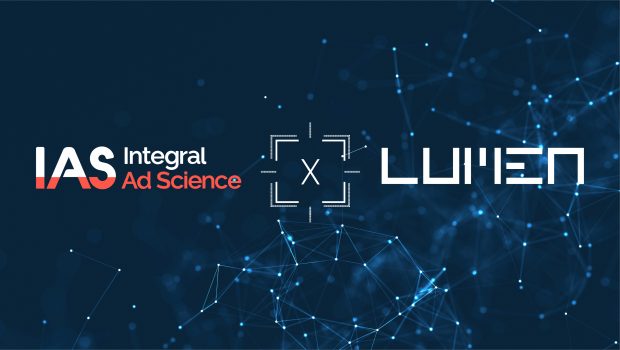 Lumen Research, the leading global attention technology company, has been named an official partner of Integral Ad Science, the global leader in digital media quality. By integrating Lumen's eye-tracking technology and predictive attention datasets into the IAS Attention Model, this partnership represents a first-of-its-kind collaboration to accurately track advertising impressions which capture attention. 
The attention model, which is built with signals from visibility, situation, and interaction, will now be supported by Lumen's technology as a way to measure human focus on the screen and how long focus is fixated on a specific image. Specifically, Lumen's eye-tracking and attention tags will give even more insight into the interaction signals of the model.  
"Lumen Research is bringing new eye-tracking signals that are unique to the signals we have," says Jeremy Kanterman, vice president of research and insights at Integral Ad Science (IAS). 
"Our new partnership with IAS is a big step forward for the future of the attention economy," says Mike Follett, CEO at Lumen. "In selecting Lumen to collaborate on the IAS Attention Model, IAS has selected the only attention technology company with a predictive attention model that has been validated by a third-party like PwC. With this joint collaboration, IAS clients will be able to seamlessly add a layer of attention measurement to their campaigns in order to better understand attention - and what consumers really see on the screen – at the impression-level."
Recently, Lumen Research also became the first attention technology to undergo an independent assessment by global consulting firm PwC. PwC reviewed the application of Lumen's methodology for three blue-chip advertisers and found that Lumen's attention model correctly predicted whether an impression was viewed 70% of the time, where "viewed" is measured by a detected eye gaze on an ad for at least 100 milliseconds. 
The review's findings demonstrated that attention per impression was correlated with superior click-through rates and conversion in comparison to viewability. This indicates that Lumen's attention methodology and model is a way to drive better performance across both engagement and purchase orders.  

Lumen
Lumen is the leading attention technology compnay. We use eye tracking data to build powerful predictive models of attention that can be used to plan, buy and report on digital media. Our creative testing tools allow brands to optimise their creative...
Powered by PressBox
AttentionDigitalMediaPartnership