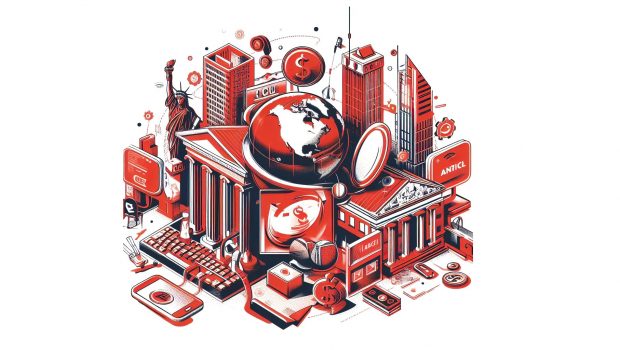 Welcome to the first in our quartet of quarterly articles assessing the state of play of the industry, through its array of publicly-listed companies. First out of the block were the big tech companies and social platforms, namely Amazon, Apple, Google, Meta, Pinterest, and Snap.
Google - The machine rumbles on, but is a spanner looming?
Revenue up 11% year-over-year to USD$69.1bn ▲
Net income up 42% to USD$19.7bn ▲
Ad revenue up across the board ▲
Ridiculous revenue continues to grow. Ad revenue up in all segments. Belt-tightening powering a near 50% boost in net income. At first glance the picture looks very pretty, but, like a DALL-E rendering of a human face, if you look a little closer things seem a little less put-together. There's been a slowdown in cloud revenue growth, which sparked a post-results selloff (more on that below), and then you've got the most important antitrust trial in decades taking place in Washington…
Coverage from Yosef Weitzman on the trial has been both excellent and comprehensive, no small feat given that much of the early part of proceedings were shrouded in a level of secrecy that befouled a government trial into alleged monopolistic practices. Consensus from those covering the trial is that the DOJ presented its case against Google well, but it's too early to call how Judge Amit Mehta will rule - though the revelation from Google's own witness that it pays 36% of the revenue it makes on Safari to Apple has certainly thrown the cat among the proverbial pigeons. Any ruling would have serious implications on the whole of Google's advertising business, so we'll certainly keep an eye on proceedings and bring you all the updates.
Meta - Contrasting fortunes of the big tech chameleon
Net income soared 164% to USD$11.6bn ▲
Revenue climbs 23% to USD$34.1bn ▲
Ad impressions up 31% ▲
Another trio of green arrows as Meta's "year of efficiency", coupled with its greatest quarterly revenue growth since 2021, lights a fire under the proverbial buttocks of the company's profitability. Ad impressions grew by close to one-third, only slightly countered by a fall of 6% in the average price per ad.
This spike in ad impressions is largely due to the impressive performance of its TikTok-esque short-form video offering Reels, which has bolstered time spent on Instagram by 40% since launch according to Meta execs. The performance of its other copycat product, Threads, is somewhat less eye-catching, stagnating in terms of users and time spent in app, though remains in pole position if/when Elon Musk makes a further decision that simultaneously irks both users and advertisers across X.
Finally, Meta continues its impressive money-pissing effort as Reality Labs division loses USD$3.7bn over the quarter. While this may be somewhat mitigated by the launch of its Quest 3 headset, it's easy to wonder how much more rope executives will give its new-age division (or textbook example of sunk-cost fallacy) based upon two technological fields that have fallen out of public and investor favour (VR and the metaverse).
Amazon - Advertising powering profitability
Revenue up 13% to USD$143bn ▲
Net income up 243% to USD$9.9bn ▲
Advertising sales up 25% to USD$12bn ▲
Amazon continues its now-not-so-quietly-whispered-anymore journey to becoming a true advertising powerhouse. Growing ad sales of billions of dollars by 25% over a year is testament to the potential of retail media, and indicates that much more is yet to come. Amazon execs attribute this growth to its lower-funnel offerings such as sponsored products listings, alongside efforts to enhance its measurement capabilities. In turn, advertising has helped improve free cash flow to the tune of some USD$41bn.
Speaking on its advertising offering in the earnings call, CEO Andy Jassy waxed lyrical on the potential for further growth for Amazon's ad business, highlighting currently under-explored areas such as video, audio, and advertising in its grocery segment.
Apple - Record ad revenue from the public face of third-party ad hating
Record advertising revenue ▲
Record services revenue of USD$22.3bn, up 16% ▲
Net income up 11% to USD$22.9bn ▲
Frustratingly, Apple continues to clump its advertising revenue within its services segment, which includes the App Store, Apple Music, and a healthy clump of wonga from Google as we've discovered. However, on its earnings call, CEO Tim Cook confirmed its advertising segment as hitting all-time highs, a somewhat ironic herald given it has spent much of the past five years hamstringing competitors in the name of privacy. "Machiavellian" as some have put it.
In other news that speaks towards Apple's perceived duplicity, at least in terms of its messaging, it has drawn the ire of European environmental groups over alleged greenwashing. The firm's latest sustainability report boasts multiple times of carbon-neutrality on corporate emissions, while still having an overall annual carbon footprint of 22.5 million tonnes, after offsetting. It even has posted a lovely video discussing how kind Apple is towards the planet (warning: it's complete and utter "turd-bilge").
Pinterest - Winning at retail media pinning
Strong revenue growth of 11.5% ▲
Operating loss slashed from USD$69.4m to USD$5m ▲
Users up 11% ▲
Number of advertisements served up 26% ▲
Pinterest proved to be one of the biggest winners among the social platforms through the quarter, with strong revenue and user growth, and a dramatic felling of its operating loss. While revenue is up globally, it's up most dramatically in Europe, up one-third (33%) from last year.
Growing the number of advertisers by over a quarter, while simultaneously increasing its user figures, speaks to the success of its growing commerce media initiatives, with partnerships including those with Tesco, LiveRamp, Walmart, and Etsy. As the market invests further in the retail media space, Pinterest's efforts to carve out a niche for both sellers and advertisers outside of the Amazon colossus are surely set to provide solid returns in the months ahead.
Snap - Diversification or spag
Revenue up 5.4% year-over-year to USD$1.2bn ▲
Operating loss widens to USD$368m ▼
Daily active users up 12% to 406 million ▲
For better or worse, Snap results have always been somewhat of an enigma. One quarter causing celebration and cheer, the next statements of "doomed to fail in the TikTok era". This quarter proves no different, with steady revenue increases and an impressive bump in users countered by a widening operating loss (an exclusive use of the red triangle).
To reverse its ongoing lack of profitability, their quarterly summary is packed to the brim with new initiatives. Commercial partnerships across retail media and AR, ML improvements to its ad offering, and of course a new generative AI feature. With a positive hat on, it all reads like a company diversifying their advertising offering at pace. With a more pessimistic hat perched upon my bonce, it looks like Snap executives have discovered the wall-sticking abilities of spaghetti.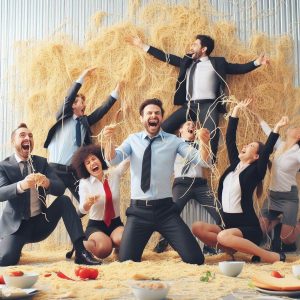 Summary - sunshine and rainbows, but clouds looming
All-in-all, this was a positive quarter for the big tech and social platforms, as they continue their impressive recovery through 2023. Advertising continues to be a leading focus of all the platforms, even those for which it isn't the main revenue source, due to its benefits in terms of profitability.
Optimisation made possible through algorithmic advancements, and the rich ore veins of retail media, adds further advertising uptick fuel for the largest companies in the industry. Clouds remain on the horizon for some: antitrust for Google and ongoing losses at Snap to name but two, but overall expect to see growth continue, or at worse stabilise, heading into next year.
Initial investor reaction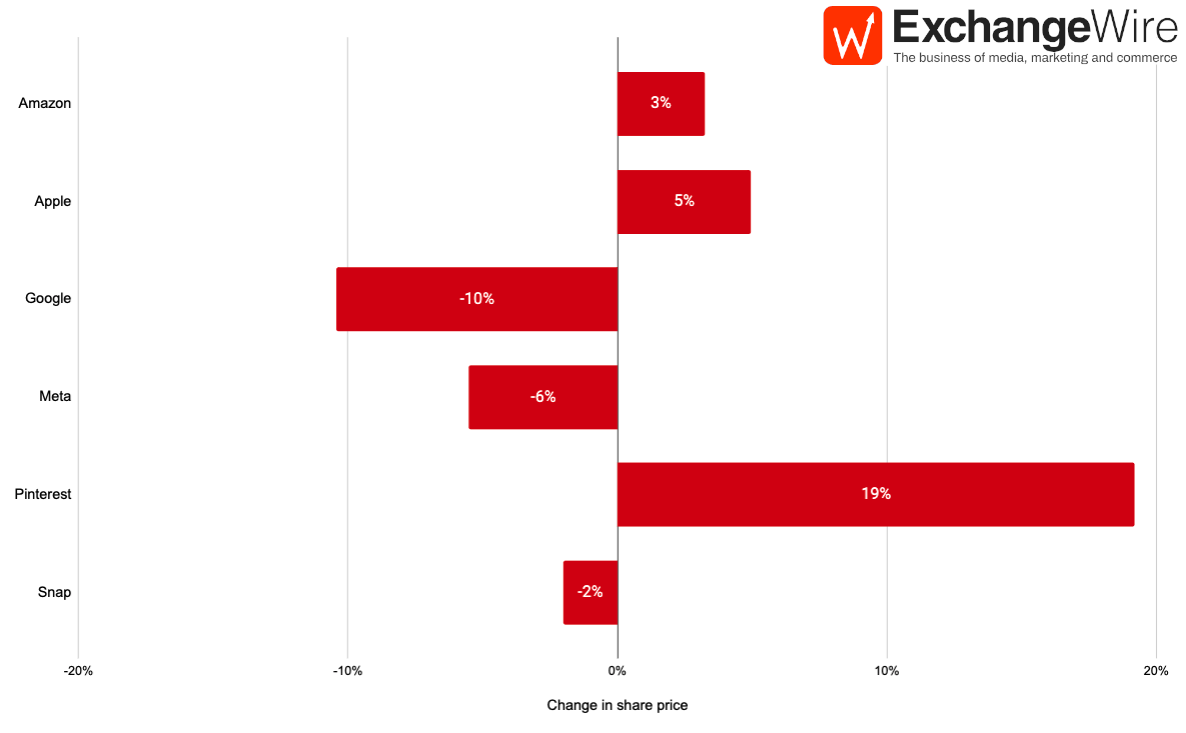 Pinterest was undoubtedly the big winner in the immediate aftermath of their results, climbing by 19% as investors swooned over their healthy revenue and user growth. By contrast, billions of dollars plopped away from Google's market cap in the two days post-earnings, predominantly due to panic over a slowdown in cloud revenue growth compared with rival Microsoft. Alphabet's share price has since clawed back some of those losses, but with the DOJ trial set to wrap up in the coming weeks, its future investment potential is less than certain.
Five-year share price performance
| Company | Share price change* |  |
| --- | --- | --- |
| Amazon | 130% | ▲ |
| Apple | 304% | ▲ |
| Google | 136% | ▲ |
| Meta | 72% | ▲ |
| Pinterest | 23% | ▲ |
| Snap | -33% | ▼ |
| Big Tech† | 87% | ▲ |
| S&P 500 | 57% | ▲ |
| NASDAQ | 86% | ▲ |
*Performance from 01.01.2018, or when publicly-listed, to 01.11.23
†Equal-weighted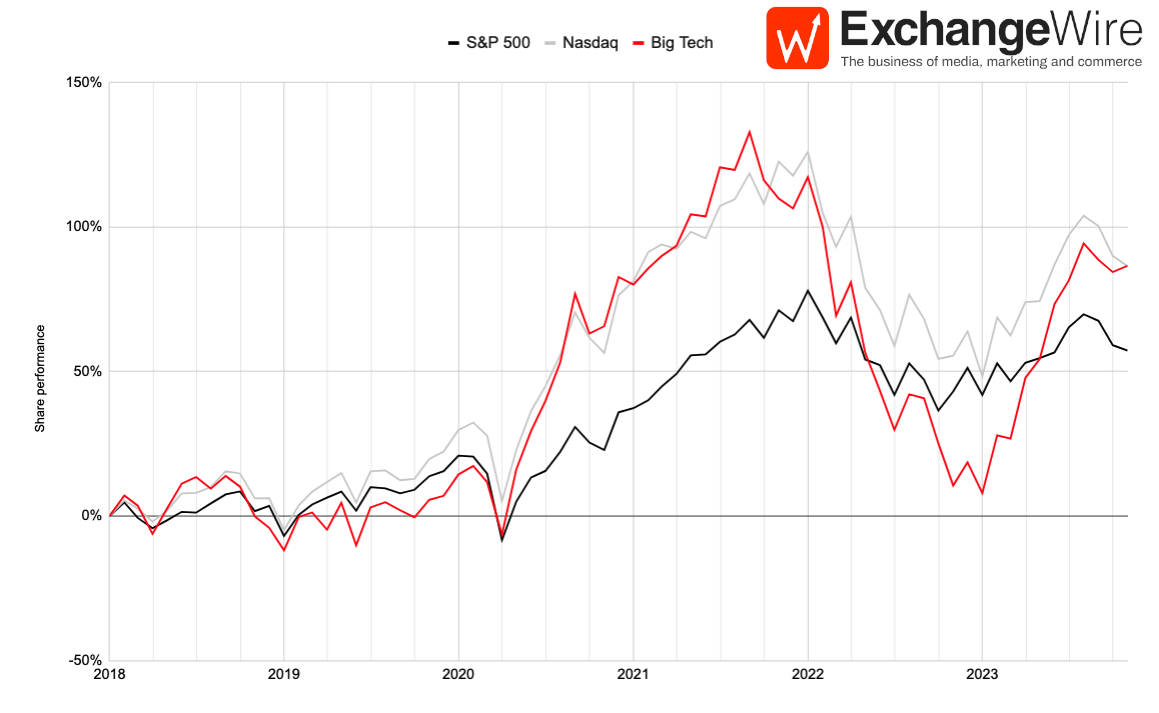 ---
Next up, we turn our attention to the sell-side, tracking publisher performance over the previous quarter. Want to have your say on the topics driving industry earnings? Get involved with Industry Review 2024.