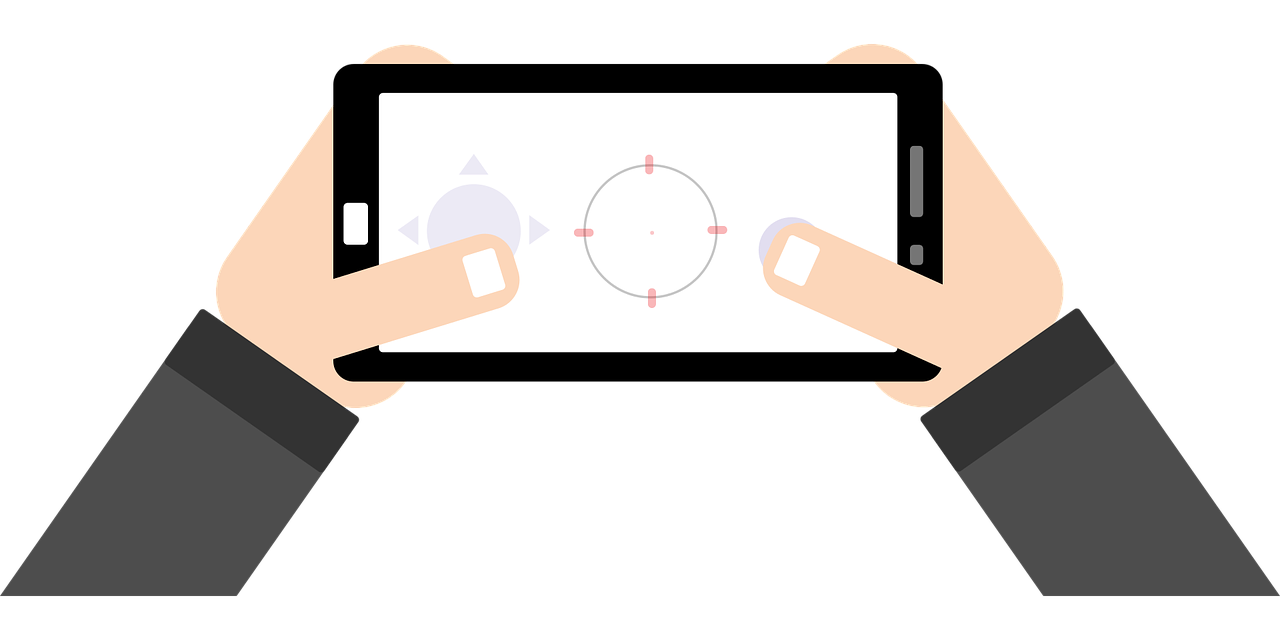 The Best Channel for Brands is Mobile Gaming — But Do They Know That?
While the challenges for publishers have never been greater, this is also true of the opportunities. For starters, the phasing out of the third-party cookie is set to benefit all parties with access to first-party data assets, which publishers have already amassed through logins and subscribers.
Utility publishers, with savvy content divisions alongside modern technological products and digital storefronts, are already gaining impressive footholds in global industries. Moreover, a swathe of developing marketing channels, such as in-app, gaming, and out-of-home, are all increasingly embracing digitised and programmatic advertising, opening up new opportunities for alert, disruptive, and nimble publishers.
Indeed, these next-generation publishers are not only set to benefit from market fluctuation and resultant opportunities, but are best placed to drive innovation and shape the future of the advertising industry over the course of the next decade.
AdColony has produced this DeepDive special, in partnership with ExchangeWire, covering the opportunities for brand advertisers in mobile gaming, and how publishers can capitalise on the market. AdColony is a leading in-app marketplace platform, with over 1.5 billion worldwide users, which specialises in driving successful outcomes for publisher and brand clients through its range of rich media formats and extensive SDK footprint across industry-leading apps. With the mobile gaming industry expanding at a prolific rate, with diverse and engaged audiences, coupled with the continuing innovation in the in-app sector, marketers and publishers are well placed to take advantage of the clear opportunities in the market.
In this DeepDive special:
- Addressing misconceptions on gaming audiences
- The inherent brand-safety challenge in mobile gaming environments
- Creating engaging ad experiences
- Why gaming is protected from the shuttering of the third-party cookie
- Predictions for the in-game advertising industry in 2020
---
For some time, there has been a disconnect between where audiences spent their time and where brands spend their advertising budget. As smartphone adoption rates have risen, so have the number of users playing games on their smartphones. Despite these growing audiences, brands have been apprehensive on investing ad dollars in this channel.
In 2018, DeltaDNA's data showed that mobile gaming had grown globally by 19% to USD$46.1bn (£35.3bn), but brand spending in mobile games only accounted for 15% of that. While some brands have since warmed up to in-game advertising, many are still unaware of the valuable opportunities it offers.
Mobile gamers are not who you think
While the mobile gaming audience expands worldwide, brands are still holding on to old misconceptions of who gamers are. Research studies have shown that mobile gamers span both genders. Data from mobile advertising company Jun Group suggests that 63% of mobile gamers in the United States are female, contrary to the belief that most gamers are adolescent males. Although females and males both enjoy mobile gaming, their preferences for the type of games could differ. Jun Group's study found that female mobile gamers preferred strategy and puzzle games, while males favoured sports and adventure games. With a wide variety of game apps available, advertisers can reach any kind of user so long as they know where to find them.
Another misconception about mobile gamers is that they are mostly of a younger generation. A 2019 survey from Newzoo and Activision Blizzard Media found that millennials (ages 21 to 35) were the largest age group of mobile gamers (39%), but players aged 36 to 50 age weren't far behind (33%). Additionally, almost one-fifth of mobile gamers were 50 or older. Smartphones have also given users of all ages the chance to enjoy games frequently without having to keep up with the latest console or PC hardware. AdColony's research discovered that 59% of mobile gamers aged 35 and older played games on their mobile devices several times per day. Based on multiple research studies, in-game advertising gives brands the opportunity to reach a diverse audience of engaged users.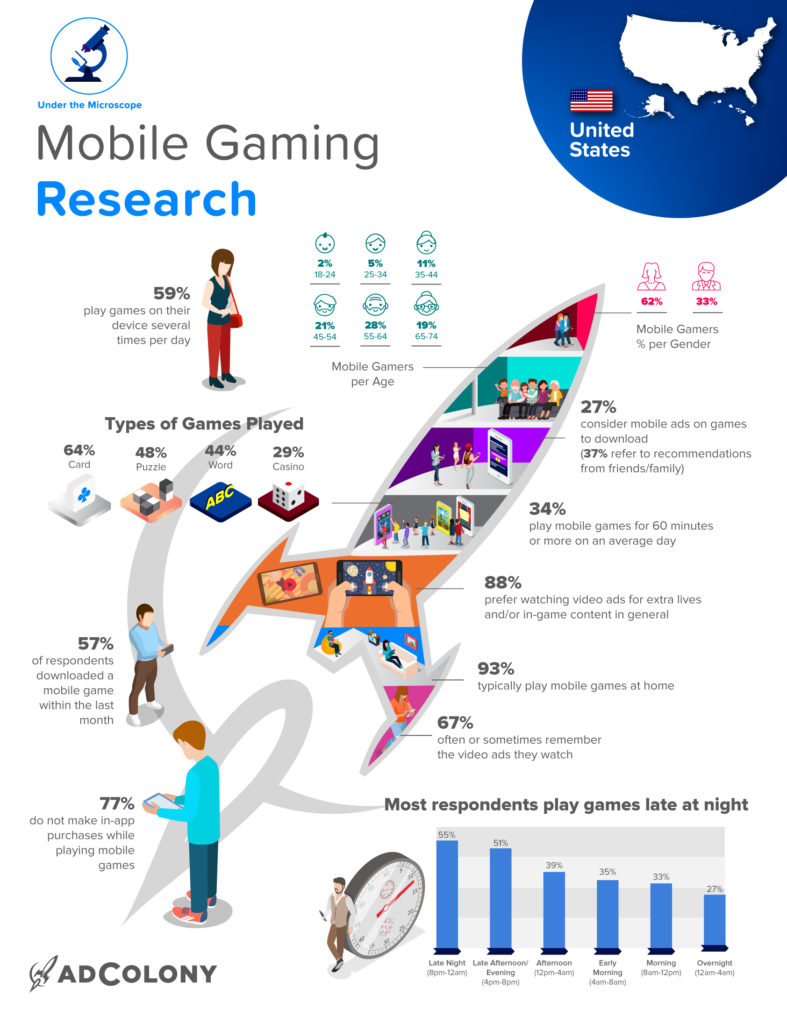 Worry less about brand safety
When considering digital advertising options, it's hard to ignore the massive amount of impressions on social media. Comprised almost exclusively of user-generated content, which these channels cannot fully control (some would say 'at all'), which puts advertisers at risk of having their brand be seen next to unfavourable content. According to the AdColony Brand Safety Survey, consumers said they saw the majority of non-brand-safe content on Facebook (60%) and YouTube (31%). Placing an ad next to inappropriate content could not only affect brand perception but also sales. A survey conducted by the Trustworthy Accountability Group (TAG) and Brand Safety Institute (BSI) found that more than 80% of consumers would reduce or stop buying a product if it were advertised next to 'extreme or dangerous content'.
In contrast to social media apps, AdColony's data said that only 18% of consumers said they saw non-brand-safe content in mobile games. When it comes to in-game advertising, marketers can choose the environments they want their ads to be run in. Brands can work with ad networks to blacklist and whitelist specific apps based on what is compatible with their content. Over the years, consumers have become more conscious of the reputations of brands they spend money on. Advertisers need to take an active approach to place ads in brand-safe environments and working with partners who demonstrate their efforts in providing that.
Create engaging ad experiences
Mobile games can host a variety of innovative and engaging ad formats. Rewarded video is the much-talked-about method that will keep developers, advertisers, and users happy. By offering an incentive for watching an ad, rewarded video allows for an uninterrupted experience that users prefer. Jun Group's survey results showed that 74% of respondents preferred rewarded video over any other video ad format. Since the user isn't rewarded unless the ad is viewed completely, brands see higher completion rates and more exposure for their ad spend. Because users are opting in, rewarded video ads can deliver more valuable metrics to an advertiser like better engagement results, rather than just impressions.
The takeoff of hypercasual games has also seen the comeback of banner ads in mobile games. Many casual and hypercasual games don't have strong purchase economies so the opportunities to use rewarded video are limited. Banners are a clean and simple way to showcase a brand or product for casual gamers who may be playing limited amounts of time. Banner ads can also complement other ad formats like rewarded video and interstitials. Unlike banners, interstitial ads (video or display) are full screen so users will need to interact with them. When done with the right frequency, interstitials and banners can be quite effective in offering brand exposure to quality users so long as they don't hinder the game experience too much.
Cookies? What Cookies?
Much has been made of Google's recent announcement on the phasing out of cookie support in its near-ubiquitous Chrome web browser, both on desktop and mobile web. This decision obviously strengthens Google's near-monopoly in some ways, and it has major industry organisations concerned about the smaller players in ad tech.
Putting all of your eggs in one basket isn't the best idea in any situation, and the same goes for trying to reach your audience. Luckily, the demise of the cookie has no real impact on mobile games, because the in-app space doesn't use them. Instead, networks and marketplaces use advertising IDs and mobile device IDs and, based on the success of the mobile attribution industry, these methods are here to stay.
Put simply, when advertising in mobile games, advertisers never have to worry about having the rug pulled out from under them. As worldwide smartphone adoption continues, the industry and its technology have been evolving in tandem. Gaming apps will create more and more opportunities for brands so it's up to them to take advantage. Brands just need to let go of outdated misconceptions and realise the creative, safe, and diverse landscape that mobile gaming has become.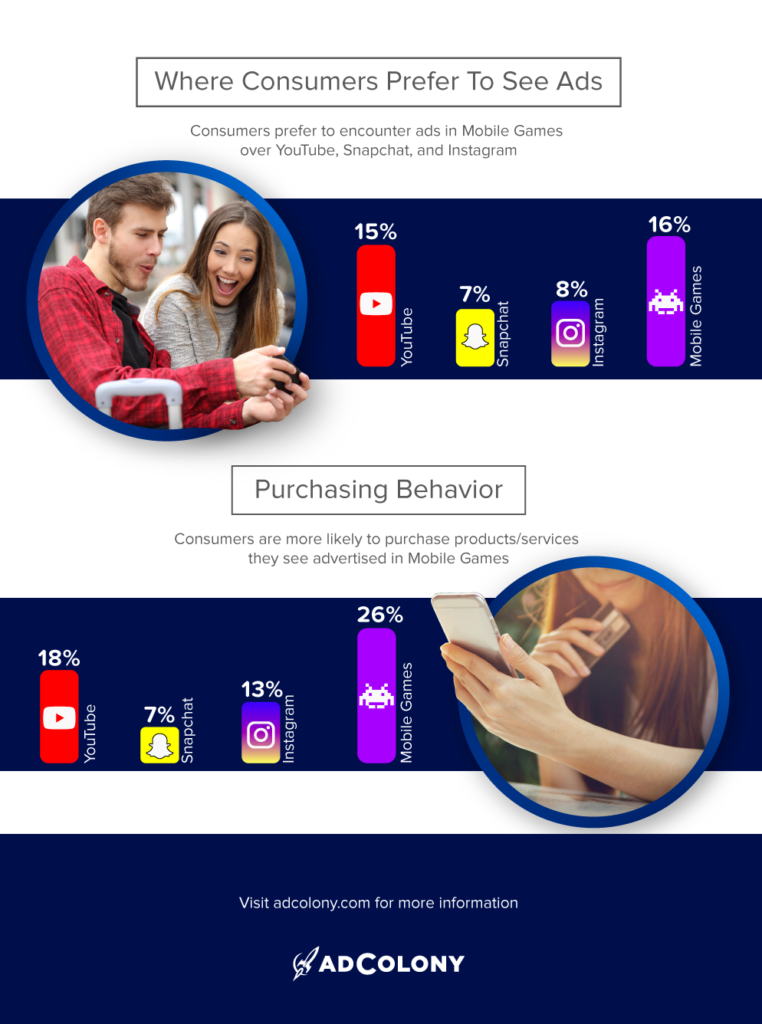 ---
Predictions for 2020
Looking back on 2019, the big splashes were around privacy (hello iOS13), ad fraud, brand safety and new distribution platforms. But 2020 will not be a celebration of the splashes seen in 2019, but the beginning of an entirely different wave that formed because of it. Here are some changes to look out for in the coming year, and beyond:
In the quest for a universal identifier, we will unite. Method TBD.
As cookies become more and more depreciated, thanks to Google's ever-higher wall to their walled web garden, and privacy regulations become clearer, the search for a way to effectively identify consumers may start to seem impossible. Media companies will create their own methods; there will be a CBS token, an NBC token, a Warner Media token, a Xandr token, and so on.
"Suck it up and come together to find an open identifier that will work for all"
These individual approaches will take us farther away from the ultimate goal: frictionless buying. The complicated solutions being used will make media buying even more challenging, creating friction, not more efficiency. Companies are going to have to suck it up and come together to find an open identifier that will work for all.
In the mobile in-app space, this bridge has already been crossed. Apple and Google both have their own OS-level identifiers, and thanks to their vested interest in the app economy (which is now more ad-driven than ever) are already building in measures to give users the privacy they demand, whilst still enabling some semblance of device identification. MAIDs are here to stay.
Transparency will be what separates the winners from the losers.
In 2020, ad tech companies will have to rapidly improve their accountability if they're going to survive.
We all know the agency model as we know it is about to be blown up. (What is unknown is what the buy-side is going to morph into.) The primary contributing factor to this explosion is the fact that the programmatic space is completely eclipsing traditional buying and selling, but we've also seen the price paid for the transition into automation.
"How transparent you are will be the baseline for your success"
Supply chain management will be paramount and publishers must comply with standards dictated by the buy-side if they want to see any agency and brand-marketer dollars in the coming year. How transparent you are will be the baseline for your success. Fortunately, measures are already in place to ensure that; sellers.json and ads.txt, among others, will be essential for every digital ad seller.
5G adoption will come faster than any of its predecessors.
Three out of four mobile connections in North America are already on 4G LTE, and the switch to 5G is right around the corner, forecasted to be nearly half (46%) of connections by 2025. China, Japan and Korea are all adopting at a similar rate, with Europe a bit behind, but still moving. 5G speeds vary by country, but in the US it is about 2.5X faster than 4G and the number of connections per access point is in a whole other category.
"Users will be able to experience content like never before, wherever they go"
With that, the potential for user experience in general to grow is huge. 4K video streaming may have issues on LTE, but users will be able to experience content (including AR and VR content, which can be very data-heavy) like never before, wherever they go. That higher fidelity content requires more development cost and pricing pressure on mobile is always pushing down. Premium games and apps are the exceptions, not the rule, and so developers will need to monetise these experiences via ads, just like today.
Advertisers will need to ensure the quality and fidelity of their ads evolve hand in hand with the content they support for mobile developers. Mobile-first ad tech companies will be the key to delivering these experiences and giving consumers engaging ad experiences they actually engage with, rather than passively ignore.
The shift to siloed streaming services will falter
Apple TV+, Disney+, HBOMAX, CBS All Access, NBC Peacock. Media companies are launching custom bundles of content, adding to their already confusing offerings and trying to convince consumers that those extra plus signs = more value. But are the sum of their parts truly worth the cost? And I'm not talking about dollar-cost; I'm referring to the convenience cost of having to individually measure the value of each service and come up with your own unique combination. With Netflix as the base – since it's still the juggernaut in the streaming space – consumers now have to decide what else they need. Are you a Hulu Premium kind of person? A Disney+ person? Or an ESPN+ kind of person? Or a Disney+ AND an ESPN+ person?
"A fragmented mess in an already complicated world"
In 2020 consumers are going to get hit hard with subscription fatigue, as these new siloed streaming services create a fragmented mess in an already complicated world. Consumers may think fondly back to the days of cable TV when they could just pay USD$100/month for whatever they wanted, rather than decide on five different services for anywhere from USD$4.99 to USD$25 each.
Moreover, how many of these services can keep their customers delighted and sustain members? Disney+ got 10 million sign-ups right away, but how many stayed after Baby Yoda left? There are plenty of apps that come out of the gate with massive download numbers but never actually hit scale because they can't sustain a high number of users. Some services will fizzle out and we will go back to aggregated media bundles served on major platforms, like Hulu, with special consortiums created through joint ventures to ensure scale.
These are all imminent and potentially disruptive trends that could transform our industry in the near (and in some cases, immediate) future, just as we've seen a series of major events over the past decade that have changed how media has been transacted.
With disruption comes at least a little bit of chaos… but with chaos, comes opportunity!
Download Report