Oracle Data Cloud's Chris Stark on UK Ecommerce Spend, Asos, and YouGov's Esport Focus
by Grace Dillon on 26th Feb 2021 in Podcast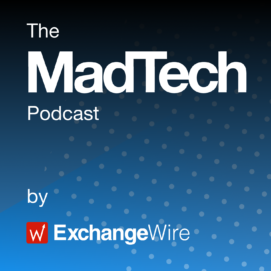 On this week's episode of the MadTech Podcast, Chris Stark, senior director of product management at Oracle Data Cloud, joins ExchangeWire's Rachel Smith and Ciaran O'Kane to discuss the latest news in ad tech and martech.
Together, they discuss:
– Retail Tech News reports that UK consumers spend more money online than any other country. According to data from Merchant Machine, the average UK shopper shelled out USD $4,516 (£3,250), generating total ecommerce revenue of USD $223bn (£160bn) by the end of 2020.
Despite recording the highest average spend per person, the UK ranked third for overall spend, behind China's USD $1276.2bn (£918.5bn) and the USA's USD $830.7bn (£597.8bn). Average individual spend in China came to USD $2,386 (£1,717) and USD $3,680 in the US (£2,648), according to the data.
Unsurprisingly, Amazon emerged as the most popular ecommerce brand. The company, whose marketplace is now available in 16 countries, reported record-breaking revenues of over USD $100bn (£71bn) in Q4 2020. Somewhat of a surprise was JD.com pipping Alibaba to the post to become China's most popular ecommerce brand.
– Asos are setting their sights on building a programmatic ad business, according to a report from Digiday's Seb Joseph. Recent job vacancies posted by the fashion retailer indicate a desire to ramp-up their inventory output, having begun selling advertising slots on their website last October.
Whilst Asos has remained tight-lipped about their ad plans, the four job listings posted indicate that the company's programmatic journey is just getting started, says Joseph, who also notes the timeliness of the move – with the deprecation of third-party cookies imminent, the value of first-party data has multiplied, giving publishers and retailers who operate with log-in models the upper hand. Furthermore, the explosion of ecommerce against the backdrop of the stay-at-home measures has not just given online retailers like Asos a boost in terms of sales (the group reported a 19% YOY rise in revenue to £3.2bn), but has also sent ad spend sailing their way.
Analysts anticipate this trend to continue, with 47% of 506 marketers surveyed by Criteo last September stating that they expect to invest a "reasonable" amount in retail media, and a further 15% anticipating they'll divest a "significant" amount of their ad budget to the segment. However, this will naturally depend on the amount of data that retailers are willing to share with advertisers, as well as of course how much information consumers elect to share with ecommerce firms.
– YouGov, British owned market research & data analytics firm, have expanded their Global Fan Profiles Tool to cover esports. An extension of YouGov's connected data solutions, Global Fan Profiles continuously collects over 300,000 interviews each year to provide a comprehensive overview of fans' attitudes towards their favoured sector. Now, the tool will be able to provide details on the size, demographics, sentiments, and behaviours of fan bases across 32 integral esports markets, including China, India, Brazil, Germany, South Korea, Malaysia, and the US.
According to a report from Arab News, YouGov created the tool to help companies, sponsors, and rights holders identify and understand their audiences. Global sector head of esports and gaming at YouGov, Nicole Pike, explains that, despite esports' universal growth in popularity "the differences in the industry landscape across regions and even individual markets are crucial for marketers".
As Profiles is connected to YouGov's other consumer data, marketers can connect esport data with information on their audiences' demographics, media consumption habits, brand preferences, and more. At present, the tool holds data on 200 leagues, 50 events, over 45 game titles, and 2,000 teams across the sport and esport industries. 
TagsAd TechecommerceesportsProgrammaticUK