Euro Round-Up: Wildfire Integrates Adaptly; AppNexus Gets Tough On Piracy; And SpotXchange Brings Premium Supply To Automated Channel
by Ciaran O'Kane on 1st Mar 2012 in News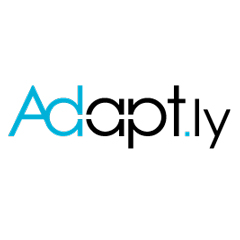 Wildfire Integrates Adaptly's Social Advertising Technology To Optimise Engagement

Wildfire, a global leader in social media marketing software, announced this week the integration of Adaptly's social advertising and optimisation technology within the Wildfire Social Marketing Suite. Wildfire's Marketing Suite is currently used by more than 10,000 customers, including Facebook, Amazon, and Target. Adaptly's ad optimisation technology gives marketers unified control over the combined effect of paid, earned and owned social media in an endeavour to maximise consumer engagement with the brand.
Unlike first-generation ad serving solutions, which focus on traditional metrics such as cost-per-clicks, fans or impressions, Adaptly's proprietary technology aggregates more than 160 social metrics from a brand's earned and owned channels, then analyses the impact of paid media on earned media in real time to continuously refine ads.
According to Wildfire's analysis, their beta customers have experienced significant results with the Adaptly ad optimisation technology, on average more than doubling the size of their fan base while beating their goal for cost per fan by 49%.
Wildfire CEO, Victoria Ransom, explains why they chose to partner with Adaptly: "Integrating a brand's ads with its content is key to maximising engagement through social media, yet powerful ad management had been a missing piece from social marketing software suites. We evaluated many solutions in the market and Adaptly was the clear leader, with a best-in-class technology that is science-based, data-driven, and results-focused. Adaptly is fully aligned with Wildfire's philosophy of developing highly scalable software solutions that automate social marketing processes to generate maximum impact at the lowest cost and effort for customers."
Given the recent acquisition of Brighter Options by Buddy Media, could there be further M&A in the social channel later in the year.
AppNexus Announces Initiative To Stop Piracy On The Web

AppNexus announced this week at the IAB Annual Leadership Meeting a new advertising industry initiative to combat piracy on the internet. As part of the initiative, AppNexus is making a firm public commitment to actively monitor traffic and refuse to allow clients to run ads on those sites that are found to feature pirated intellectual property. Microsoft Advertising and the Interactive Advertising Bureau (IAB) are among the first organizations to officially support the effort.
Although many online advertising companies have anti-piracy policies already in existence, the enforcement rate is "lower than ideal". AppNexus' initiative is designed to encourage other industry leaders to promote similar guidelines in their own business practices, increase financial pressure on torrent sites and attract additional public commitment to the cause from around the industry.
AppNexus CEO Brian O'Kelley said, "AppNexus maintains that advertising has a higher purpose as the lifeblood of the free Internet. It's time for the advertising industry to take a strong stand and to stop putting money in the pockets of those facilitating piracy. Most of us in the industry believe that the proposed SOPA legislation was the wrong direction for the Internet, and would rather encourage all those in the online space to self-regulate. As for advertising, it should be a force for good and not a means to elevate rogue players."
Dave O'Hara, Chief Operating Officer, Microsoft Advertising, explains his support: "One of the reasons we decided to power the Microsoft Advertising Exchange with the AppNexus platform was because of its focus on providing a brand-safe environment for both buyers and sellers of online inventory. We strongly support AppNexus' anti-piracy initiative."
SpotXchange Putting Premium Inventory On The Exchange
SpotXchange announced this week the launch of First Call – a new service that allows online publishers to capitalise on premium inventory demand via an exchange. More than 20 publishers already use SpotXchange First Call, employing the service as a new sales channel.
With SpotXchange First Call, publishers set their minimum ask price in their online self-service tool at a level that justifies placing ad requests to the SpotXchange marketplace first before serving direct sold or ad network campaigns. SpotXchange then auctions the impression opportunity in real-time to hundreds of advertisers competing through its video ad exchange. Publishers can tap directly into SpotXchange's large video RTB ecosystem and the impression is sold to the highest bidder. If no bids meet the publisher's minimum price, the impression is automatically passed to the publisher's next buyer in the daisy chain to mitigate any loss of revenue.
Leta Sweasy, Ad Operations, RealNetworks, Inc. on the First Call solution: "In just the first few days, we saw a significant increase in our CPMs on the inventory sold. These initial findings will enable us to defend our rate card and support higher rates in our other sales channels. First Call provided us with access to a robust ecosystem of buyers who were willing to pay higher prices to reach their target audiences at the right time."
Michael Shehan, president and CEO of SpotXchange, comments: "Since we rolled out First Call, we've been able to offer an even more transparent video ad buying and selling process, which ultimately delivers greater levels of trust with publishers. By giving them the necessary tools through our portfolio of solutions and greater visibility in how they are selling, publishers can apply the right technology to maximise the value of their video inventory while driving down their cost of sales and ad operations."