The Changing Face Of Mobile Advertising
by Ronan Shields on 3rd Jul 2014 in News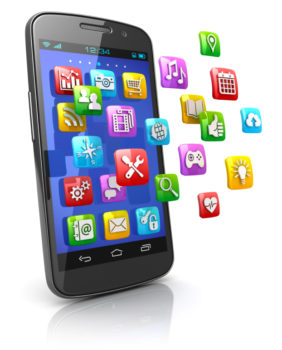 Researchers have tipped the UK mobile advertising expenditure to pass the £2bn mark this year as companies including Twitter, and mobile operator joint venture Weve aim to challenge the hegemony of Facebook and Google in the sector.
UK mobile ad spend continues to soar and is expected to rise 96% this year to just over £2bn, up from more than £1.03bn last year, although this is amidst an overall slowdown in the digital ad market, according to eMarketer estimates published this week.
The research firm further estimates mobile will generate almost 40% of total media spend in the UK by 2018, up from 13.4% of total media spending this year, see chart below.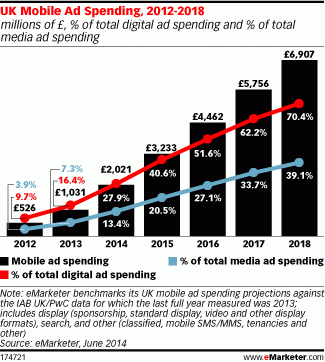 In 2013, spending on paid-for digital ad formats (i.e. all paid-for ads served to internet-connected devices) rose 16.3% to top £6.3bn. But this year, digital ad spending growth will slow to 15%, and by 2015, digital spend will slow further registering just 10% year-on-year growth.
A further breakdown of the figures reveals the growth of mobile ad spend – formerly dominated by amounts spent on SMS and MMS ad campaigns – will be driven by a shift to more media-rich ad formats.
EMarketer forecasts that more than half of all digital ad dollars will go toward search formats, while spending on display formats will amount to one-third of the UK's digital ad market.
"[Mobile] display revenues from Google, Facebook and Twitter-three of the UK's largest display ad publishers-are each expected to rise significantly in the coming years," reads the report.
This backs the findings of an earlier eMarketer study which shows that Facebook and Google accounted for the majority of mobile ad market growth worldwide last year.
Both companies claimed 75.2% of the additional $9.2bn that went toward mobile in 2013 (the report valued the total global mobile advertising market at $17.96bn in 2013, see chart).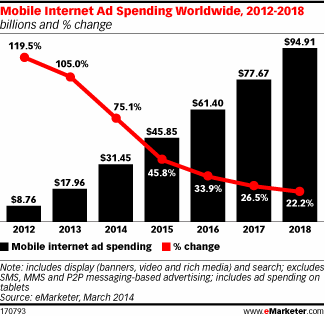 Twitter tweaks mobile offering 
The report was published the same week as Twitter announced significant developments in its mobile advertising strategy with the global roll out of its mobile app install service after a period of testing, with brands including Lyft, Dots, and games publisher EA.
The social network this week announced the global rollout of mobile app promotion ads — units that either take users to app downloads, or to the apps themselves if they're already installed (see video here).
This announcement also coincided with Twitter unveiling its new cost-per-app-click pricing (CPAC) structure for the ad unit as well as a dashboard to track usage. This structure basically means a publisher will only be charged when a user actually goes to the relevant app store from the Twitter ad unit, or when the user opens the app directly from the prompt.
Incidentally, Twitter's purchase of mobile ad retargeting service TapCommerce was also confirmed this week, building on its earlier purchase of Namo Media .
Writing in a blog post describing the purchase, Richard Alfonsi, Twitter, VP, global online sales, wrote:  "Consumers are starting to use their phones not just to install and use apps, but for making purchases of both virtual and real-world products and services."
He added: "Advertisers spend aggressively to get new users, but re-activating existing or previous users can provide just as attractive a return on investment. Programmatic buying is increasingly the method of choice for advertisers and brands who want to buy in mobile, because it allows for more granular targeting and messaging.
"Together with the TapCommerce team, Twitter will be able to offer mobile app marketers more robust capabilities for app re-engagement, tools and managed service solutions for real-time programmatic buying, and better measurement capabilities."
Nielsen data show value of the app install market 
This signposts Twitter's intentions to enhance its standing MoPub MarketPlace offering which lets advertisers drive downloads of their mobile apps both on- and off-Twitter, and comes the same week as Nielsen data shows just how valuable it is for businesses to have their app installed on smartphones. 
The research house this week released figures indicating that the amount of time the average smartphone user spends within an app, as opposed to accessing content via a browser, is continuing to rise. However the number of apps the average user engages with is largely stagnating.  
In the final quarter of 2013, the average US smartphone user spent 30 hours and 15 minutes engaging with apps each month, up from 18hours, 18minutes in Q4 2011. But the average number of mobile apps users engage with has risen little in that time. In Q4 2011, the average number of apps used per month was 23.2. The following year (Q4 2012) it grew to 26.5, and as of Q4 2013 it was just 26.8 (see chart).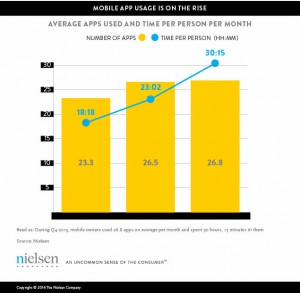 Hence, if we take into consideration the basics of market forces, advertisers are likely too bid even higher against one another for premium advertising space to encourage users to download their apps, thus inflating the market even further.
Facebook and Google eager to rule the roost
Facebook, which was pilloried by investors for its initial launch of mobile advertising products in the initial aftermath of its IPO, recently demonstrated just how lucrative the app-install economy is in its most recent earnings call. The social network posted revenues of $2.5bn for the first quarter of 2014, an increase of 72%, with mobile app install ads providing the bulk of its growth. 
A closer inspection of the results, demonstrates just how much traction app-install ad units have gained with advertisers. Facebook revealed that mobile ad revenue was approximately $1.34bn during the quarter, compared to $374m a year ago.
This equates to 258% year-on-year growth a sterling vindication of Facebook's strategy of opting to monetise using mobile app install ads, which have clearly resonated well with both long tail app developers, and major brands alike.
This was subsequently followed by Google unveiling similarly-themed app install products that let publishers target users that have downloaded similarly themed apps, as well as a complementary service that will lets developers re-engage with users that have downloaded their app, and subsequently left it dormant.
EMarketer's figures also show just how important it is for Google to diverge its revenues as the shift to mobile continues, as its studies show how search's dominance of the mobile advertising market is starting to wane, with display's share beginning to increase (see chart).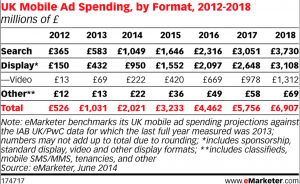 Operators strike back in anticipated divergence of spend
However,  the dominance of Facebook, Google (and even Twitter) will not go unchallenged, as mobile operators are eager to cash-in on their vast swathes of consumer data as the mobile advertising market matures. 
Weve, the UK mobile operator joint venture which this week formally announced its display ad service's full roll out, is eager to point out how its ad targeting and measurement capabilities (based on its vast swathes of customer data), along with the rise of mobile-optimised websites built using responsive design software will significantly alter the dynamics of the market here. 
Weve, whose shareholders include EE, O2 and Vodafone, has announced significant updates to its display ad service and is eager to point out how its audience data, and reporting toolscan attract brand spend to mobile .
At launch, Weve will be delivering audience segments of age and gender-based demographics, BARB regions, social grades, supermarket catchment areas (with primary shopper data such as Female 25+) and even behavioural, interest-based data for brands targeting sport, travel and entertainment products and services.

Sean O'Connell, Weve's head of product, told ExchangeWire: "We're starting to meet with digital buying teams this week to explain the testing we've been doing, and just how granular our audience data is."
Talking about the prospects of unlocking brand spend on mobile – which typically means bigger budgets, he added: "If you can apply intelligence and data to mobile you can really drive impact."
O'Connell also said the company's targeting capabilities are much more granular compared to its earlier test phase. For instance, Weve is able to target audiences that roam frequently.   
Nigel Clarkson, Weve's commercial director, also told ExchangeWire the joint venture was about to introduce a service called Weve Sync an "industrialised data matching service" that will let advertisers cross-reference their CRM databases with Weve's targeting data to improve the efficiency of their campaigns.  
This will enable the joint venture company to attract brand spend as it will be better able to perform prospecting and  lookalike modelling, according to Weve. 
"A lot of people out there are using probabilistic modelling, whereas we have verified first party data," said Clarkson.  
After a six month beta period, where it worked with 15 brands including supermarket and banking groups. In one partnership, along with research group OnDevice, Weve campaigns demonstrated a 64% uplift in brand awareness, and 39% uplift in purchase intent among consumers aged 18-54, according to the data. In addition,  click-through (CTR) stats have been running at 0.8%, against an industry average of 0.55%, according to Weve.  
Henry Howe, Weve's head of display, said: "Through things like this, we've been able to prove uplifts in brand perception, as well as other KPI features," he added.  
Another aspect of its services that Weve is keen to point out is its scale.
"We're nicely positioned as we're part of three big brands, that we're a consolidated point of entry in the market [Weve also offers access to ad inventory on this-party properties through its tie-up with Byyd]," added Howe.
A market ripe for consolidation? 
James Connelly, CEO and co-founder of mobile specialist agency, argues that the mobile media market is unique to the desktop space due to the sheer amount of companies in the space. 
"The big difference in mobile is that it's very fragmented, so there's no dominant player, and what we're seeing is a very important chess game being played out," he said.  
"Roughly there's about 200 mobile media suppliers worldwide. But there's likely to be a lot of consolidation in the space, as you find that a lot of the companies don't have their own inventory." 
Ad NetworkAd TechAdvertiserAnalyticsBrandingCreativeDataDigital MarketingDisplayEMEAExchangeFacebookIndustry InfrastructureMedia SpendProgrammaticSearchSSPTargetingTechnologyTrading