ExchangeWire European Weekly Round-Up
by Ronan Shields on 5th Dec 2014 in News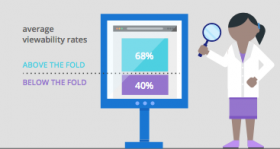 ExchangeWire rounds up the week's biggest stories in ad tech, and in this week's edition: Google's viewability study; AdForm claims marketers are getting good at programmatic; Cross-screen is top of mind among European advertisers. 
Google says less than half of all ads are seen 
A study released by Google this week shows that 56.1% of all ad impressions are not seen, and that the average publisher viewability is 50.2%, as it aims to shore-up accountability standards in online advertising.
The online advertising behemoth released the study – called 'Five Factors of Viewability' – this week, exploring which ad formats, and their positioning on a webpage, are most likely to be seen by consumers, and also claims the most 'viewable' ad spot is right above the page fold, not at the top of a page.
It goes on to state that pages positioning isn't always the best indicator of viewabilty, as not all ads positioned above the fold are viewable, with ads served above a page fold 68% likely to be seen, while those served below a page fold 40% likely to be seen.
Meanwhile, the most viewable ad size is vertical ad units, with those sized 468×60 pixels the most likely to be seen by consumers.
The study indicates the rising awareness over accountability in online advertising among brand-side marketers especially, with many shifting from paying for ads served, to ads seen models of payment.
Commenting on the study, David Ellison, ISBA, marketing services manager, said: "online ad impressions which aren't viewable is a big issue for advertisers. In 2012, the first concerns were voiced by advertisers when one of our members demanded a move from 'served' to 'viewable' ad impressions. In April this year, a cross-industry Ad Viewability Working Group launched a Viewability Standard to provide greater confidence and accountability for advertisers, making it easier for advertisers to move towards a 'viewable currency'."
"Last month the Audit Bureau of Circulation (ABC) certified four viewability measurement products: comScore, DoubleVerify, Integral AdScience and Moat. This initiative makes it easier for advertisers and their agencies to employ companies whose capabilities have been successfully certified.
"Viewability will of course continue to be an important issue for advertisers until they are satisfied that they are getting value for money, i.e. they are paying a fair price for viewable rather than served impressions."
AdForm: Marketers are gaining significant expertise in programmatic advertising
AdForm this week revealed its quarterly study which found the European average programmatic click-through rate (CTR) jumped 30% between 3Q13 and 3Q14, additionally claiming that 2014 was 'The year of the tablet'.
Programmatic spending on tablets shot up by 591% between 3Q13 and 3Q14, according to Martin Stockfleth Larsen, AdForm, CMO.
He added: "Across Europe, the CPC declined by 7%, even as CPMs for inventory increased by 21% — a clear indication that buyers are getting super smart about campaign execution and optimisation. By opting to focus on higher-quality inventory (i.e. premium inventory offered publishers who go to great lengths to combat fraud and to increase viewability), rich-media ad formats, and targeting consumers on their most-used devices, marketers have learned how to drive both strong campaign performance and ROI."
Commenting on the rise of tablet advertising, he added: "Marketers are willing to pay 93% more for impressions targeting consumers on tablets than they are for inventory destined for desktops. Moreover, competition for programmatic tablet inventory is heating up, as evidenced by the escalating CPMs, which jumped 95% from 3Q13 to 3Q14."
Cross-device is top of mind for advertisers
A Conversant study published this week reveals that 69% of UK advertisers are focused on conducting cross-screen advertising campaigns, with 62% focused on campaigns targeted solely towards mobile screens.
The study – dubbed 'How the Media Buying Process Really Works' – surveyed advertisers across Europe and found 94% media professionals across Europe used display advertising in the last year, with mobile and video showing strong adoption at 90% and 76% respectively.
Buyers in charge of large budgets show stronger interest in mobile, video and social than buyers who spend less than €5m, the study revealed.
It also found that respondents in France were most interested in measurement/attribution and cross-device advertising, at 56% and 40% respectively. Meanwhile, 62% of respondents in Germany favoured cross-device advertising, followed by 56% for mobile advertising.
YOC announces restructure
Berlin-based YOC this week announced it will focus its efforts on mobile programmatic advertising following a restructure this quarter that has seen it repay all its debts.
The company this week issued a release claiming it has a positive equity effect amounting to €6.1m, as well as a cash inflow of €4.5m, following the sale of its Bellboon subsidiary at the beginning of the third quarter of this year, and that it paid all outstanding loans it had taken out during the course of 2014.
Dirk Kraus, YOC, board member, commented: "In the past 12 months, we have worked with discipline and passion on the successful realisation of the restructuring concept, as well as the transformation of our business model."
AOL buys Vidible
AOL this week announced the purchase of cross-screen video management and exchange firm Vidible, for an undisclosed fee.
Vidible's self-service platform lets content creators use the platform to expand distribution reach and increase magnetisation options of their video content, and will now be integrated into the ONE by AOL platform  according to the firm. The platform also lets publishers source and manage content to create new advertising based revenue streams.