DoubleVerify Ramp Up European Operations: Q&A with Steve Brown, MD EMEA & Wayne Gattinella, CEO
by Lindsay Rowntree on 14th Oct 2016 in News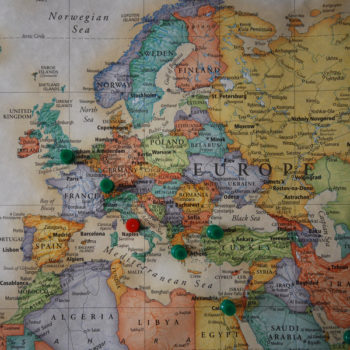 Today (14 October), ad verification company DoubleVerify are announcing further European expansion with the appointment of Steve Brown, managing director EMEA, to lead the charge. ExchangeWire spoke exclusively with Brown on his appointment and his remit in his new role, as well as with DoubleVerify CEO, Wayne Gattinella, about the changing face of ad fraud and ad verification.
According to Gattinella, the expansion into the EU is an important representation of DoubleVerify's growth. Launched eight years ago, and profitable for the past two, DoubleVerify authenticate digital ad quality for some of the world's largest brands. In the past, larger brands relied on traditional channels to verify that their ad dollars were being spent in the right places. Now, their ad dollars are being spent increasingly online, but they require the same level of confidence in their investments. They want to ensure their ads will appear in brand-safe places and be viewed by a human being. They want to be assured of the quality of engagement with that media.
Following the success of DoubleVerify with their global brand portfolio, they are seeking expansion across Europe. Brown will be the leader of the EU organisation, tapping into his vast experience and market insights. Brown, who joined DoubleVerify just under three months ago, has already doubled the team and has plans to increase it again by 50% by the end of the year. As Brown says, it's clear there's an appetite for it in these markets, with advertisers striving for 100% faith and confidence in their investments. It's vital the data coming into marketers' systems is clean and the decision-making process stems from that clean data.
So, how to DoubleVerify stack up against their competitors? According to Gattinella, it comes down to the technology itself – it's about quality and the ability to manage brand safety, ad fraud, and measurement, empirically. DoubleVerify see themselves as an analytics and measurement company. They don't just detect the issues, but they measure, flag, fix, and optimise them. The data used in those steps is what differentiates them from their competitors. There's also the important layer of service: "We are a technology business, but a people business too", says Brown. "We are not a faceless company. We offer a high touch service and we build personal relationships." It's a consultative relationship and this is where Brown's previous experience, which includes sales director at Yahoo, MD at Adconian, as well as setting up his own consultancy service in the digital space, SGB Consultants, make him an important asset to the business.
According to Gattinella, there also aren't many other market players that offer the same product suite as DoubleVerify: "Only a couple of other competitors provide full services. Many have point solutions – for example, focusing either on viewability or digital fraud." As Gattinella says, advertisers are busy and are trying to address the full solution to ensure a fraud-free environment for their brands, which isn't best addressed by point solutions.
It's one thing to offer all these services to the advertiser, but what about how they function in differing markets with differing challenges? EU expansion is difficult, with different market nuances, cultural differences, and rules and regulations. As Brown pointed out, DoubleVerify already have a presence in those markets, due to the many global brands they work with, and his task is to take their strong market proposition and expand their existing footprint. Of course, Brown concedes, there will be challenges due to local market nuances, but they are an established business working on behalf of the advertiser and will do whatever due diligence is required to ensure they can continue and grow those business relationships.
As the industry evolves, fraudulent operations continue to develop, as do consumption habits and, indeed, the metrics advertisers focus on, to determine campaign success. DoubleVerify, in their eight years, have also experienced significant changes in their business model to be able to cater to these trends. So, what does the next stage of evolution look like? "The ecosystem is going through continuous change for the better", says Gattinella. "We started as a brand safety company. Then, as digital fraud came into play, with robots emulating human behaviour, we built sophisticated tech to determine the difference between bots and humans. Only a couple of years ago, 15-30% of ad buys were seen by non-human traffic – that's a third of an advertiser's budget. An important capability of our company has been to detect as soon as a browser is infected and identify this across the ecosystem with speed, thus ensuring that advertising budget is being used correctly."
Gattinella highlights that today's marketplace is looking very different, as fraudulent activities change. Not only are advertisers seeking out brand safety, but also maximum engagement. DoubleVerify understand that these elements often go hand-in-hand for advertisers as, ultimately, they want to know the ad was delivered as expected when they bought it. Looking at all these factors in one place helps to remove the unexpected variables. As Brown confirmed, it has become a hygiene factor for advertisers, who want to be able to know that side of their ad delivery is in safe hands, allowing them to focus on other priority aspects of a campaign, such as creative.
Discussing the priorities for advertisers alongside the priorities for other players across the ecosystem and the fact that brand safety is often cited as the most important factor for the advertisers. Gattinella confirms that it all really comes down to transparency: "Advertisers want transparency across all media sources; and that encompasses brand safety, fraud, and engagement. As a third party, with an objective view, and with no interest in the media transaction, we are able to ensure what is being measured is transparent."
Speaking of the publisher stance on industry priorities, Gattinella isn't trying to imply publishers are making measurements non-transparent, but admits that can be the case. Many companies can tackle measurement and ad verification themselves, and they have done. Google, for example, used to operate ad verification internally, but advertisers, pointing to their increasing control in the digital industry, demanded third-party, impartial verification, outside of Google. Even the largest social networks, like Facebook, are opening up their ad placements to third-party verification companies. It signifies a big change in the market, but there is still a long road ahead. The walled gardens of the world don't allow DoubleVerify, or their competitors, to verify their inventory, at least not in the way the verification companies would like. Walled gardens operate a signal-based approach, which doesn't allow verification tags inside the walls – they feed the data out to the verification partners, meaning they still, largely, have the control. But, as Gattinella says, it's a start. It's not only the walled gardens that have started operating this way. Many won't allow any of their inventory to be verified, which leaves much of the web open to continued abuse when it comes to brand safety, ad fraud, and engagement measurement.
Given the journey the industry has already been on, what will come next? According to Gattinella, there is a lot of work to do, but the key will be enabling measurement across multiple platforms and geographies. As user behaviour continues to evolve, from single to multiple devices; from individual sites to news networks; from search to social; from static display to video; and from interstitial to real time messaging, it creates with it challenges and opportunities for advertisers – and the likes of DoubleVerify will continue to build technology to sit across all those platforms. As it stands, says Gattinella, many mobile platforms don't offer transparency, yet are the dominant platforms for consumption, so significant opportunity exists there. Native also doesn't provide full measurement transparency. On top of that, and a key point for DoubleVerify's expansion, is that many nations are also not ready to provide full measurement transparency. It is the extension of new platforms that drives the DoubleVerify business. Their overarching mission is to provide a service across platforms, and across geographies, and expansion of their European operations signifies that their mission is becoming realised.
Ad FraudAd VerificationBrand SafetyMeasurement