Snap's Q2 Earnings Report Fails to Meet Expectations
by Rebecca Muir on 11th Aug 2017 in News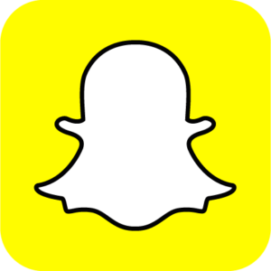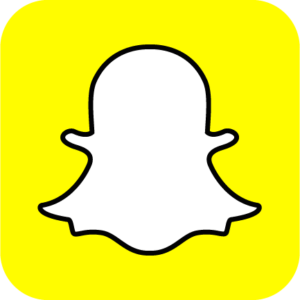 Snap (NYSE: SNAP) had a disappointing start on Wall Street, and yesterday (10 August) Snap Inc. Q2 2017 results missed analysts' expectations.
Financial results for the quarter, ended 30 June, reveal the messaging app has 173 million active users, versus expectations of 174.61 million (FactSet). Furthermore, the social media prodigy fell further behind revenue estimates reporting USD$181.7m (£140.0m) in revenue compared to USD$186.2m (£143.5m) (Thomson Reuters).
Since the IPO, shares have been under pressure, falling nearly 41% over the past three months, in part driven by the company's spending sprees on marketing, R&D, and new hires.
Operational highlights
– Daily active users (DAU) grew from 143 million in Q2 2016 to 173 million in Q2 2017, an increase of 30.5 million, or 21% year-on-year
– DAUs increased 7.3 million, or 4% quarter-on-quarter, from 166 million in Q1 2017
– Average revenue per user (ARPU) was USD$1.05 (£1.81) in Q2 2017, an increase of 109% over Q2 2016, when ARPU was USD$0.50 (£0.39)
– ARPU increased 16% over Q1 2017 when ARPU was USD$0.90 (£0.69)
– Hosting costs per DAU were USD$0.61 (£0.47) in Q2 2017, as compared to USD$0.55 (£0.42) in Q2 2016 and USD$0.60 (£0.46) in Q1 2017
– 60% of Snap ads are now delivered programmatically, according to Imran Khan, chief strategy officer, Snap
Twenty-five percent of people in the US, UK, and France with smartphones use Snapchat every day; and the average daily user of Snapchat creates more than 20 messages, or 'snaps', per day, according to Evan Spiegel, CEO, Snap. Those are pretty high engagement figures. Furthermore, Stories created by Snapchat's Discover partners saw a 30% bump in viewership this quarter
Growth in DAUs around the globe was predictable with steady growth seen across all regions.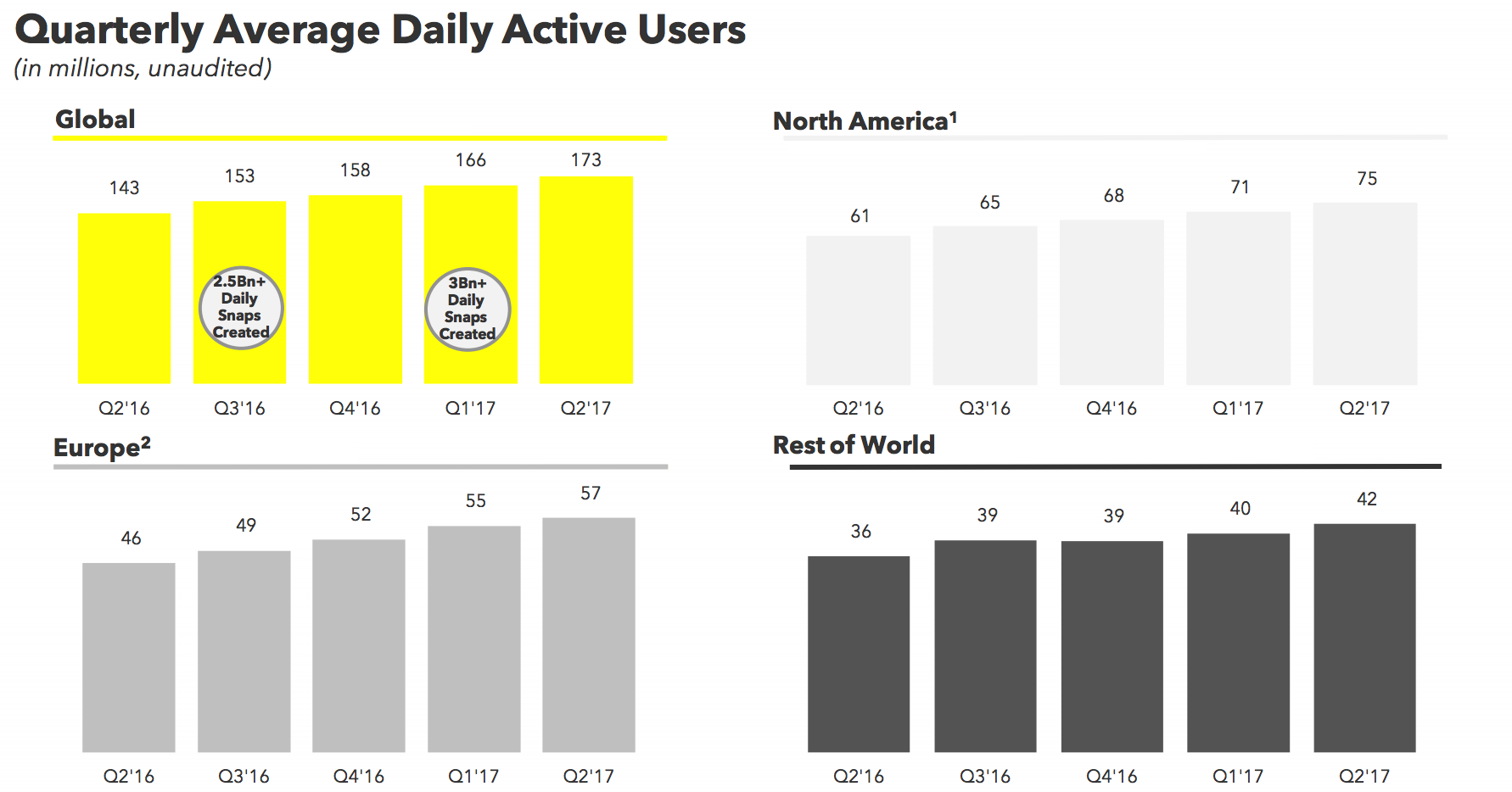 Source: Snap Inc. 
Revenue, and revenue per user by geography, breakouts show that Europe is growing at a higher rate than North America and the rest of the world quarter-on-quarter.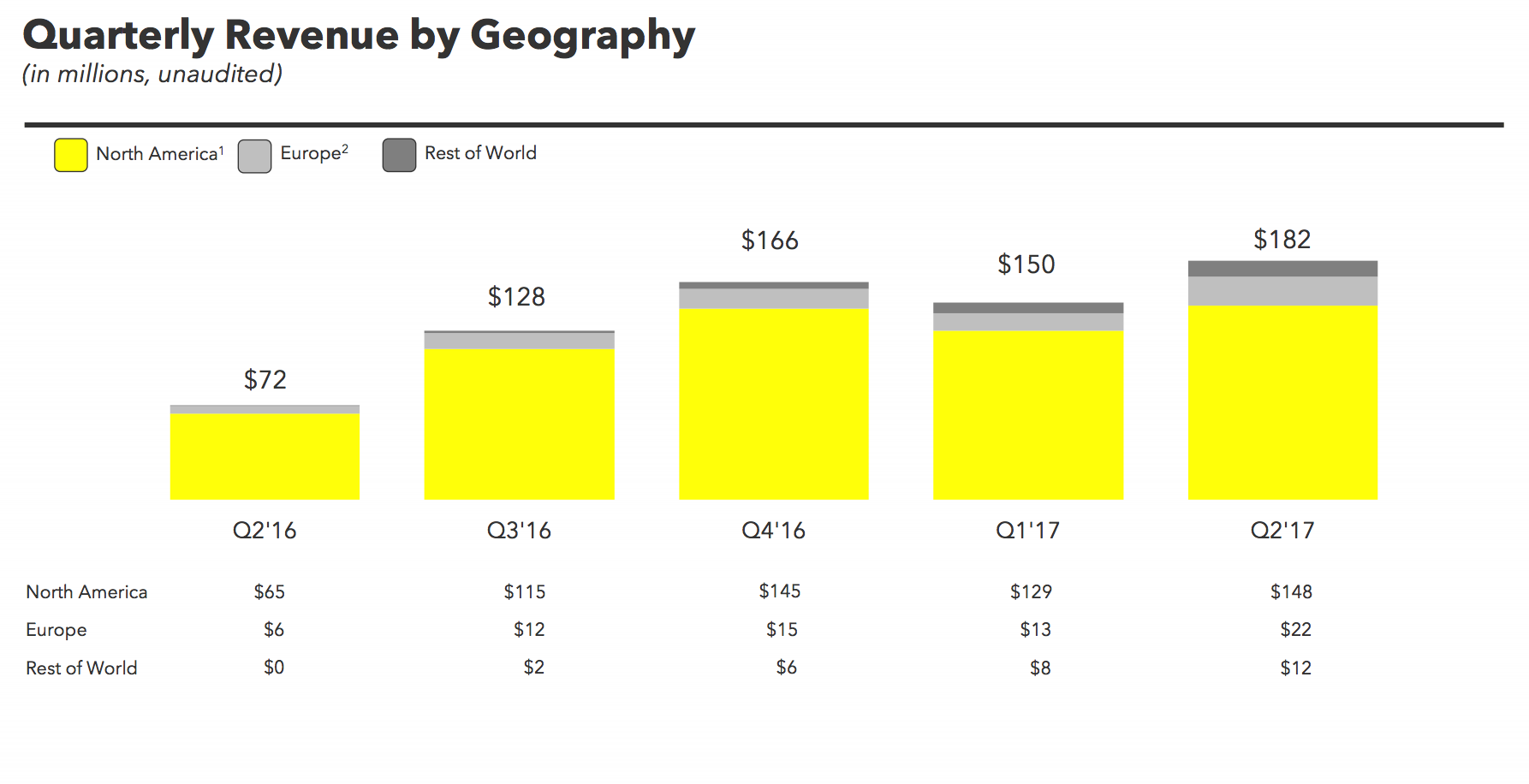 Source: Snap Inc.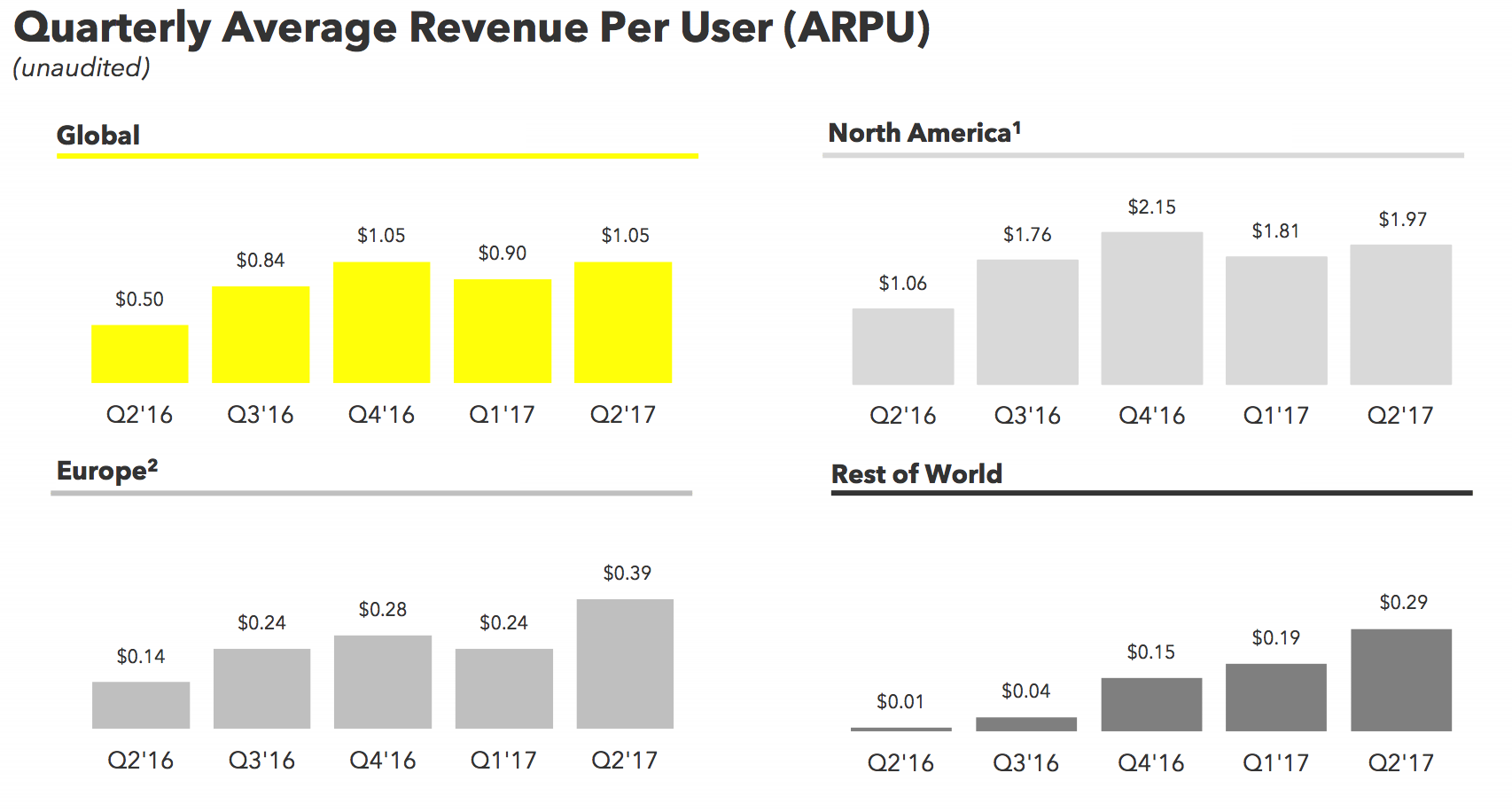 Source: Snap Inc.
However, the growth reported is not enough to offset the social media company's spiralling expenses. Q2 earnings show a net loss of USD$(443.1m) compared to a USD$(115.9m).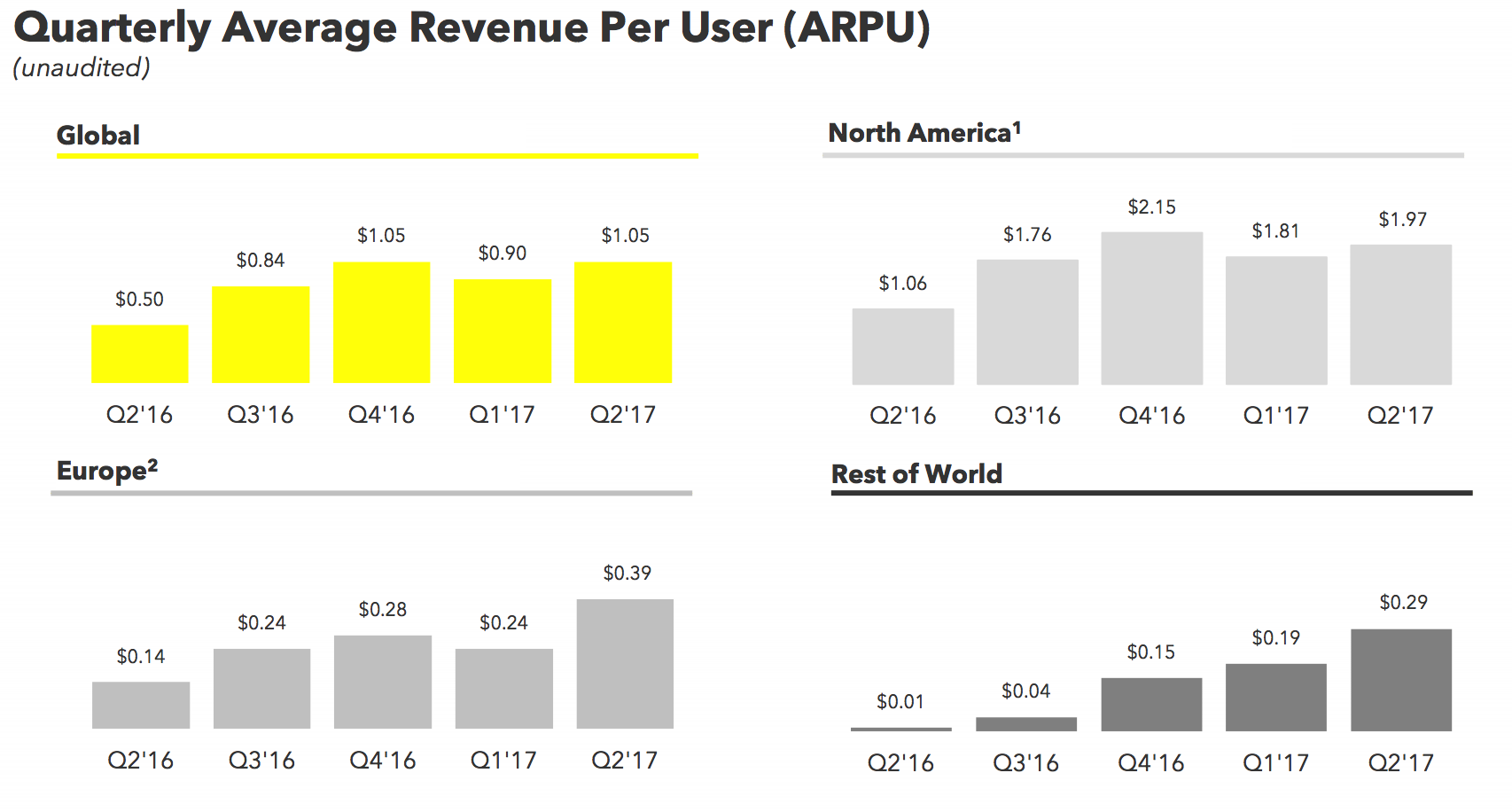 Since the IPO in March, Snap stock has tumbled steadily, in much the same way as many other tech startups post 2015.
Snap's post-IPO story shows that even the most innovative of startups is not going to play in the same league as the big-5. Their dominant share of consumer eyeballs is surpassed only by their stranglehold on advertising budgets.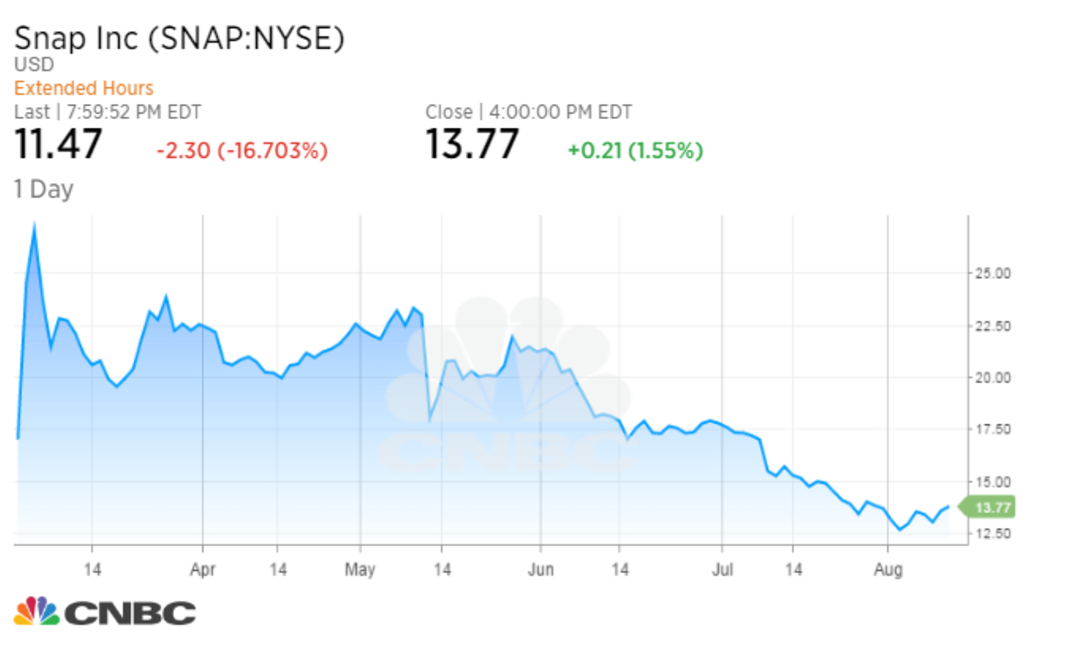 Snap's lockup period ends this month, meaning insiders and early investors will finally be able to trade their shares on the public market come 1 September. This is the time that often places a strain on a company's stock value as investors look for signs that the core backers still believe in the company's long-term value. In the month before the lockup expiration for Facebook, Twitter, and LinkedIn, their stocks were down by an average of 24%, according to MKM derivatives strategist Jim Strugger.
Spiegel and his cofounder, Bobby Murphy, will not sell shares this year. "We believe deeply in the long-term success of Snap", Spiegel said.
Through the rest of this year, Snapchat will face growing competition from Facebook and Instagram as copycat functionalities are launched. In particular, Mark Zuckerberg has stated clearly that he intends to rival Snapchat in augmented reality.
Another risk to Snap is the fact that the majority of its customers are reported to be iPhone users. In Snap's IPO filing it was recorded that: "We have prioritised development of our products to operate with iOS operating systems rather than smartphones with Android operating systems". This makes Snap vulnerable should iPhone users flock towards Android, a threat that cannot be ignored.

Source: Google Finance