Weekly Focus: Google Rebrands Payment App in India; Expansion Plans Underway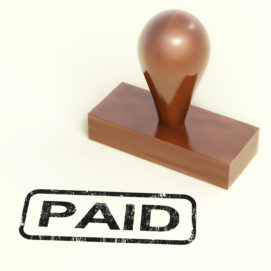 This week, Google has unveiled a rebranding of its digital payments service and plans for further expansion of the platform in India, where consumers have made more than 750 million transactions with the app.
Called 'Tez', when it was launched in the country last September, the payments platform since has chalked up more than 22 million users – including 1.2 million local businesses – each month, according to Caesar Sengupta, Google's general manager for payments and the company's next billion users initiative.
Over the past year, he revealed that more than USD$30bn (£23.31bn) in transactions were processed, with Indians from more than 300,000 suburbs, towns, and villages using it to book bus rides, spilt a meal bill with friends, and pay for various services, including utilities.
Because Tez is built on India's unified payments interface (UPI) BHIM (Bharat Interface for Money), the Google service allows its users to send and receive money from different payments apps.
Sengupta added that monthly UPI transactions in the country had climbed 14-fold, placing the Indian market as "one of the world's leading innovators in digital finance".
"We have learnt that when we build for India, we build for the world; and we believe that many of the innovations and features we have pioneered with Tez will work globally", he said.
He added that governments had noted India's success with digital payments and asked to work with Google to bring similar services to their local markets.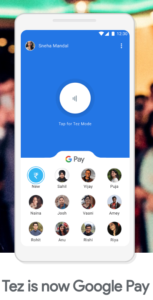 Such requests prompted the need to unify Google's global payment offerings and the rebranding of Tez to 'Google Pay', he said, adding that the app's homescreen interface and functions would remain unchanged.
Sengupta said there also were plans to expand the number of retail outlets and places that supported Google Pay, including in-store and online. He pointed to upcoming support from large retail brands in India later this year, including Big Bazaar, e-Zone, and FBB.
For local businesses currently on Google Pay, more features (apart from the ability to receive digital payments using their mobile phones) would be introduced to help boost their business, he said. For instance, the app would help consumers discover these companies on Google Search and Maps, as well as facilitate customer engagement through messages and offers.
These new features currently were being tested by merchants in Bangalore and Delhi, he said, adding that more cities would be included in coming months.
In addition, banks such as HDFC Bank, ICICI Bank, Federal Bank, and Kotak Mahindra Bank already have been brought in to facilitate pre-approved loans to customers on Google Pay. Customers soon, within the coming weeks, also will have the option of using Google Pay to take out "customised" loans from their bank, Sengupta added.
Alibaba Takes Flight with Singapore Airlines
Alibaba has inked a partnership with Singapore Airlines that encompasses various aspects of the Chinese company's businesses, including its payment platform Alipay, logistics service Cainiao Network, and travel service platform Fliggy.
The tie-up also spans various areas such as flight ticket sales, customer loyalty programmes, marketing exercises, payments, and logistics.
Alibaba said the partnership builds on existing collaboration between the two companies. Alipay was added as a payment option on Singapore Airlines' website in 2013; while Chinese consumers could purchase the carrier's flight tickets via the latter's official online store on Fliggy since 2016.
The e-commerce giant said plans currently were underway to allow the two partners' respective customer loyalty programmes to interoperate, allowing members to access services from both programmes. Singapore Airlines' Krisflyer members would be able to convert their miles to Fliggy points and vice versa for Fliggy members.
Both companies also were keen to identify further opportunities for cross-promotion of their membership services.
In addition, Alipay support would be extended to include Singapore Airlines' in-flight products and services, airport services, retail merchandise, and ancillary touchpoints.
The airline also would collaborate with Cainiao Network to improve international air cargo services.
Alibaba's president of global business group, Angel Zhao, said: "The lessons we have learned in helping to transform e-commerce and drive important initiatives, like New Retail, will help drive our partnership with Singapore Airlines and provide our consumers with higher quality global travel services. This strategic collaboration will mark a new chapter in our complementary relationship, as we share resources and co-operate with each other to create a new digital service experience for consumers."
Alibaba E-commerce Revenue Climbs 61%
The Chinese internet giant has reported a 61% growth in its core commerce business, which includes e-commerce, generating USD$10.45bn (£8.12bn) for the quarter ended 30 June, 2018.
Across the company, its overall revenue grew 61% to USD$12.22bn (£9.49bn) year-on-year.
Alibaba's executive vice chairman Joe Tsai said it added 24 million customers for the quarter, pushing its total annual active consumers to 576 million. Furthermore, the average consumer placed 90 orders across 16 product categories each year on the vendor's retail marketplaces, which included Tmall and Taobao.
Some 80% of the growth in annual active consumers were from lower tier cities in China, according to Alibaba.
Another 17 million mobile monthly average users were added on the platforms, driving the total number to 634 million.
In a further push of its New Retail strategy, Alibaba said it had been expanding its physical supermarket chain Hema, with 45 outlets currently operating across 13 cities in China.
Indonesia E-commerce Site Fires Employees Over Fraud
Indonesian e-commerce site Tokopedia has dismissed several employees whom it says committed fraud during a flash-sale promotion campaign.
The company's head of corporate communications, Priscilla Anais, told local media site, tempo.co, that Tokopedia had built its business based on trust and would not tolerate employees who strayed from such practices.
The report noted that the fraudulent activities had prevented Tokopedia users from purchasing products offered on a lower price during the sales campaign.
This content was originally published in RetailTechNews.