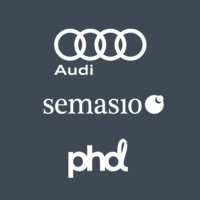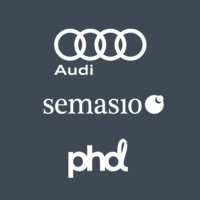 Unified Targeting test with PHD Media Denmark and Semasio bridges the gap between audience and contextual targeting, paving the way for the privacy-first era.
Today Audi Denmark announced the results of a first-of-its-kind Unified Targeting test deployed in a largely cookie-less environment through a partnership with PHD Media Denmark, an Omnicom Media Group Company, and Unified Targeting provider Semasio. It revealed that novel targeting strategies such as excluding consumers not in the market to buy a specific car model or least likely to purchase one is an effective, privacy-friendly way to reach new prospects and content not captured by more traditional targeting methods.
Additionally, seamless extension of available modelled first-party data to similar user profiles and content they have in common open up net new pockets of value for reaching the most likely buyers. The Unified Targeting test took place in Denmark, which is an interesting market as only around 35% of Danish consumers are targetable on the user-level owing to high Safari market share coupled with one of the strictest interpretations of GDPR's consent collection rules.
"With competition intensifying over fewer known users and premium content, it's crucial to find future-proof alternatives now," said Frederik Meincke of PHD Media Denmark. "We're always looking for full control and transparency over campaigns to generate actionable insights and optimize the bidding strategy at run time to meet the performance requirements of Audi Denmark. With Semasio technology we're able to do exactly that."
Working alongside PHD Media Denmark and Semasio, Audi Denmark ran two Unified Targeting test campaigns to respond to these market changes.
In the first campaign Audi targeted personae of the most likely buyers and excluded personae of the least likely buyers based on their typical media consumption patterns and socio-demographic characteristics, both on a user-level (Audience targeting) and page-level (Contextual targeting). With equal spend on all four targeting approaches, Audi generated 70% of total conversions in the test through the novel Audience and Contextual Exclusion strategies.
"This was somewhat of a surprise to us, and it shows the power of taking a different approach to targeting by specifying what you don't want instead of specifying what you want, especially in a market with low user-level targetability and thus intense competition for limited relevant users and contexts," added Meincke.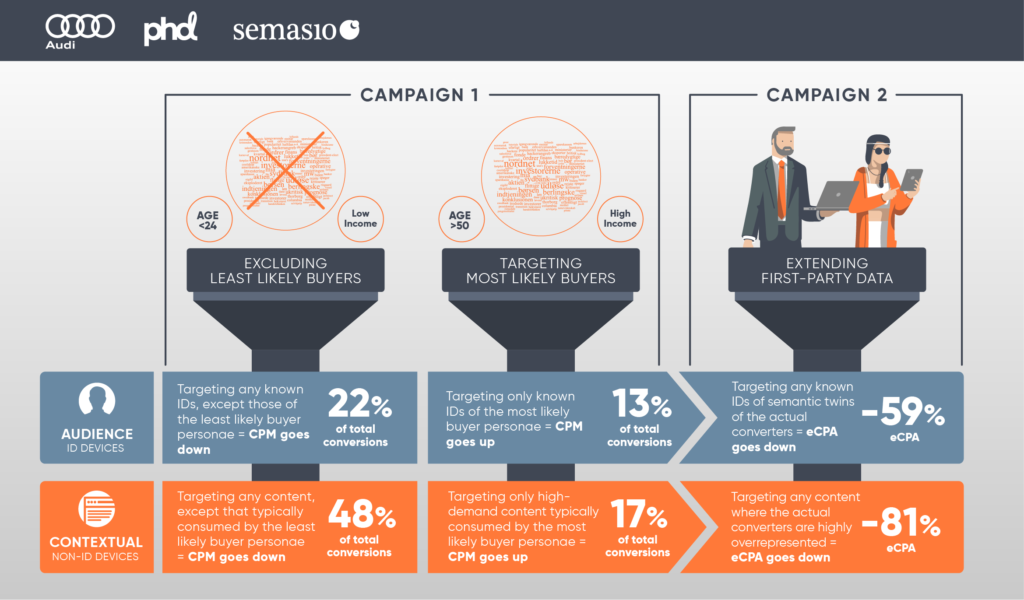 In the second campaign, Audi used its first-party data to model and find more users with similar semantic profiles to the actual converters. Additionally, these first-party audiences were projected onto contexts using Semasio's Contextual Audience Extension, which identifies sites and pages, where the converters are greatly overrepresented. Both first-party data-based strategies – the more traditional Audience Extension and the novel Contextual Audience Extension – outperformed personae inclusion strategies of the most likely buyers, reducing eCPA by 59% and 81% respectively, and proving to be as effective as inferred exclusion strategies in the first campaign.
Niklas Theakston, Digital Manager at Audi Denmark, is very pleased with the outcome: "The two test campaigns we ran with Semasio and PHD Media Denmark have improved our understanding of what it takes to be successful in the privacy-first era. We have gained valuable insights into how we can continue to reach our target audience through future-proof intelligent media buying in the changing media landscape that will soon become a reality for advertisers worldwide."
"The elephant in the room we don't like to talk about today is that a large portion of internet users are no longer targetable via third-party cookies. The Danish Digital Dystopia with only 35% user-level identifiability is an exacerbated version of the market dynamics we see in most countries and thus a great sandbox to study the effects of cookie-less targeting strategies," says Kasper Skou, CEO and co-founder of Semasio. "What this test shows us is that unifying user- and page-level targeting as well as tapping into the surprising potential of exclusion targeting create a resilient strategy, which will dynamically adapt to the percussive ecosystem changes we are headed for."

Semasio
Semasio is the first provider offering Unified Semantic Targeting that enables programmatic advertising professionals to seamlessly combine Audience, Contextual and Brand Fit targeting solutions. The company is active in more than 30 countries, suppo...
Powered by PressBox
BrandsCookielessCookiesTargeting