Why Digital Out-of-Home is the Most Exciting Advertising Channel Around
by Mathew Broughton on 2nd Nov 2021 in News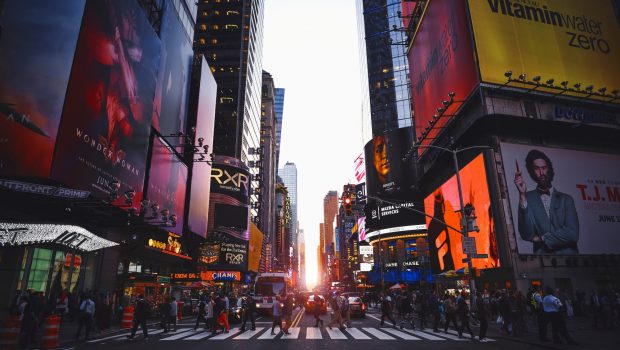 In association with Broadsign.
On the eve of ATS London 2021, ExchangeWire interviews Christian Dion, marketing director, programmatic solutions, Broadsign, to discuss how digital out-of-home (DOOH) is set to thrive in the era of identifier deprecation, and how marketers can capitalise on the channel.
What are the main factors driving the growth in digital out-of-home right now?
Pre-pandemic, DOOH was one of the fastest-growing traditional media channels around, while channels such as radio, newspapers and magazines were in decline. Right now, digitization of outdoor screens is gathering pace once again, enabling publishers to monetise their screen inventory much more than with static ads.
Another factor driving the growth of DOOH is that more screens than ever are now accessible for programmatic transactions. Major Demand-Side Platforms (DSPs) have been working hard to integrate DOOH into their omnichannel offering.
There are several studies showing how DOOH can deliver positive uplift as part of an omnichannel campaign: it can boost factors such as search traffic, website visits and social media mentions, as well as delivering unrivalled brand recall metrics. Simply put, when combined with other channels, DOOH can increase the effectiveness of your entire campaign.
Many DOOH screens have the ability to carry 'dynamic' creative, which adjusts to the context of an individual screen and/or audience (such as the current weather conditions, the time of day, traffic patterns, or the screen's proximity to a store location). This capability is also allowing advertisers to expand their creativity and generate some amazingly exciting and engaging campaigns. The fact that digital screens can be refreshed regularly with up-to-date content proved very useful during the pandemic, as brands reacted to the latest announcements on regional lockdowns.
Will the restrictions placed on the use of cookies and mobile IDs to track and target customers provide a boost to DOOH?
The move away from third-party cookie-based tracking will be a good reset for the ad industry; an opportunity to get back to the fundamentals of what makes great campaign messaging and creative.
Contextual targeting based on the contextual environment of the media consumers are present on is projected to be the dominant form of consumer online ad targeting within a year, overtaking behavioural targeting based on the tracking of people's identities and usage behaviours of digital media and devices. That's the recent finding of a study of advertising executives conducted by Advertiser Perceptions for MediaPost in September.
With this increased awareness and importance around 'context', Digital OOH is the perfect channel for ID-free, privacy compliant, contextual campaigns. That's one of the many reasons why heavily invested advertisers in online media have already started to shift dollars away from top of funnel tactics such as display advertising to leverage the power of digital screens in the real world. Advertisers can start bidding on screens layered with a wide range of contextual trigger factors, such as only when it rains, or only on a Sunday, or only when your favourite football team is winning or a combination of these. There's an infinite range of data that we can push into the DSP to make a transaction and create an amazing, relevant and contextual message for consumers.
What do marketers need to know about DOOH as they plan for 2022?
If you're a consumer-facing brand and you aren't currently incorporating DOOH into your media plans, it's time to take a fresh look at what the channel can do. Lots of media planners hesitate around OOH as, traditionally, it hasn't lent itself as well to measurement and attribution as one-to-one channels like online display. Today, there are lots of innovative technology solutions that show clearly how DOOH boosts performance KPIs alongside brand awareness metrics.
DOOH is a cookieless, privacy-compliant channel that's future-proofed against any changes to the major online platforms. Creatively speaking, the potential of DOOH to deliver dynamic, contextual campaigns makes it the most exciting advertising channel around right now.
Finally, as a global leader in OOH advertising solutions, Broadsign recently launched a brand new Media Buyer's Guide to Programmatic Digital OOH where you can access strategies to help you take advantage of the global transformation in outdoor advertising.
---
ATS London 2021 will take place on 3rd-4th November at Lee Valley VeloPark. Tickets and further details are available via the ATS London 2021 events hub.

Broadsign
Broadsign empowers publishers, agencies, and brands to harness the power of out-of-home and connect with audiences across the globe. Powering over 425,000 signs along roadways and in airports, shopping malls, health clinics, transit systems and more,...
Powered by PressBox