OMG Teads Successfully Carry Out Cookieless Campaigns in Malaysia for LG
by ExchangeWire PressBox on 29th Mar 2022 in News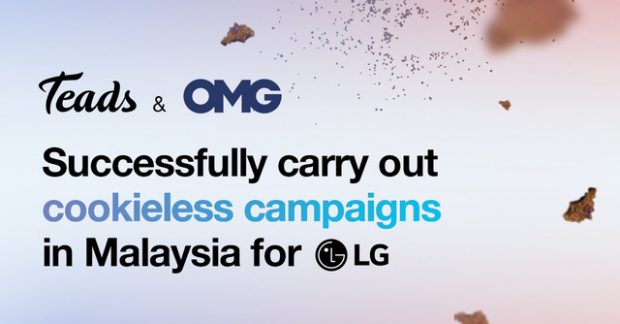 Teads announced the results of the first cookieless test campaign in partnership with OMG Malaysia for its client, LG. Amid a transition deriving from the imminent removal of third-party identifiers in Chrome, this digital implementation is also the first of its kind for these brands in APAC.
Through these campaigns, carried out towards the second half of 2021, LG sought to position themselves amongst their core audiences with a safe and easy-to-use tool. LG was promoting its OLED TV's series that uses self-lit pixels during this time. 
OMG Malaysia scoured through the initial audience and targeting approach, while Teads fine-tuned the audience selection through analysis within the Cookieless Translator tool.
The audiences were segmented into two groups with similar interests and demographic characteristics, and were exposed to ads in video and display formats.  The only difference between them was the use of cookies in one group, and the use of cookieless segmentation in the other. The campaigns reached over 2.3 million consumers for the brand. 
At the end of the campaign, the brand achieved a similar average CTR across the different campaigns. This result reflects the tool's ability to match and get better performance in a cookieless world. 
The parity in metrics between both audiences is a practical demonstration of the trend foreseen by Teads: digital campaign effectiveness won't be negatively impacted by the removal of cookies. What is more, the results are slightly better in worldwide standardised marketing metrics. In these cookieless tests, it was also remarkable that the effective cost per 1 million impressions (eCPM) was lower for the cookieless audience, which shows cost efficiency through the implementation of these new methodologies.
"Artificial intelligence and media platforms such as Teads', evolve for the purpose of reading and activating beyond cookies. This technology triggers powerful insights that are at the centre of the patterns that we are identifying, understanding, and executing in each one of our results. While it is possible to live without cookies, we need to start testing audiences identified under other models, and we need to be better prepared to use this change in our favour, said Andrés Castillo, regional client lead at OMG.
Daler Kendzhaev, head of annalect at OMG Malaysia shared, "Preparing our clients for the biggest change in the digital ecosystem has always been a key priority for OMG. On a global and local scale, we have been building solutions and partnerships such as the one we have with Teads. Teads' Cookieless Translator has been instrumental in identifying and building the right targeting approach to remain relevant with consumers. We are happy to pioneer this approach in Malaysia with our clients and achieve fantastic results." 
As a global media platform that acts as a single access point for brands, Teads has analysed and implemented new campaign efficiency measurement and monitoring tools that segment users without third-party cookies and, in this case, Teads has tested the successful implementation of campaigns targeting various segments of retail users.
"We have planned cookieless tests with over a dozen of advertisers in APAC this year and the number is rapidly increasing as brands are looking to future-proof the effectiveness of their targeting strategy for the cookieless era. A goal that our tests constantly meet and exceed. Many of our clients have tried our solutions recently and quickly changed to a 100% cookieless approach after subsequent campaigns have performed better and better. Most brands continue to refine their audience targeting approach over time and the same is true for the transition to cookieless targeting," commented Benjamin Rehberg, head of data APAC at Teads.
Audiences are now aware that an increasing number of users in APAC cannot be targeted anymore with traditional audience segments that rely on third-party cookies. Still, many are surprised when they realise the potential for optimisation and cost savings that comes with regaining access to relevant audiences in cookieless inventories today.
The Teads Cookieless Translator helps planners and programmatic buyers to discover strategic information in order to build custom audiences without cookies. 

Teads
Teads operates a leading, cloud-based, end-to-end technology platform that enables programmatic digital advertising across a global ecosystem of quality digital media. As an end-to-end solution, Teads' modular platform allows partners to leverage b...
Powered by PressBox
APACCampaignCookielessTargeting