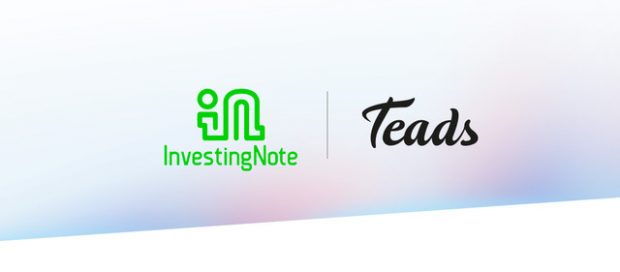 Teads, the global media platform, today (June 15th, 2022) announces a strategic partnership with InvestingNote, one of Southeast Asia's (SEA) largest, most interactive finance platform. The site allows traders  and investors to connect and access stock information on a daily basis to make better investments.  This strategic partnership with InvestingNote comes as a next step to their already existing relationship with Teads, enabling Teads to utilise all of InvestingNote's inventory across all devices.
As one of the founding and largest sources for stock investments in SEA, InvestingNote owns the most inclusive and vibrant stock investing community of investors and traders in the region. The fast-growing investing community now comprises of 70% males and 30% females, with almost 80% aging 25 to 54 years old. The delivery of video and display inRead, Teads' flagship ad format, will strongly support InvestingNote in creating interactivity within its fast-growing community. InvestingNote attracts advertisers of all categories, not limiting audiences to only the financial category. 
An essential part of the partnership is that both Teads and InvestingNote focus on offering solutions and community-driven platforms with stringent data privacy and easy access to information and inventory, allowing visitors and users to make more  informed decisions. Having similar goals and outlooks help grow the strategic partnership between Teads and InvestingNote. 
"We are happy to be partnering on a long term with Teads, over the years we have found them as aligned and respectful to user experience and brand safety advertising as we are at InvestingNote" - Shanison Lin, founder, InvestingNote
"It's an honour to be able to strategically partner with InvestingNote, a market leader focused on the investor community in Singapore. Shanison and team are focused, responsive and an absolute delight to work with. We look forward to their continued support and a fruitful partnership with InvestingNote." - Julian Fernando, VP publisher solutions, Teads APAC

Teads
Teads operates a leading, cloud-based, end-to-end technology platform that enables programmatic digital advertising across a global ecosystem of quality digital media. As an end-to-end solution, Teads' modular platform allows partners to leverage b...
Powered by PressBox
ContextualInvestmentPartnershipTargeting